In all cases, minimising downtime is important when it comes to essential flooring refurbishment work. If people or machines are idle, then products/services are not being made, which certainly affects the business's bottom line. However, when it comes to installing industrial flooring, ensuring there is adequate drying time is actually part of the installation process. So, it must be accounted for.
If adequate drying time not allowed and the floor is used before being fully cured, then it can cause irremovable marks. Additionally, it could cause indentations, which over time will collect dirt and could cause cracking. 
Related: Dilapidated No More
Martins Motor Services – Vehicle Workshop Flooring
PSC Flooring was approached by a busy car garage Martins Motor Services in Strawberry Lane, Willenhall. They offer Car Repairs, Car Maintenance and have an Auto Repair Shop. Furthermore, PSC Flooring as always tried to accommodate the minimum downtime. However, it was necessary to start the flooring refurbishment work on the Friday. This was in order to allow the floor a full 24 hours curing time.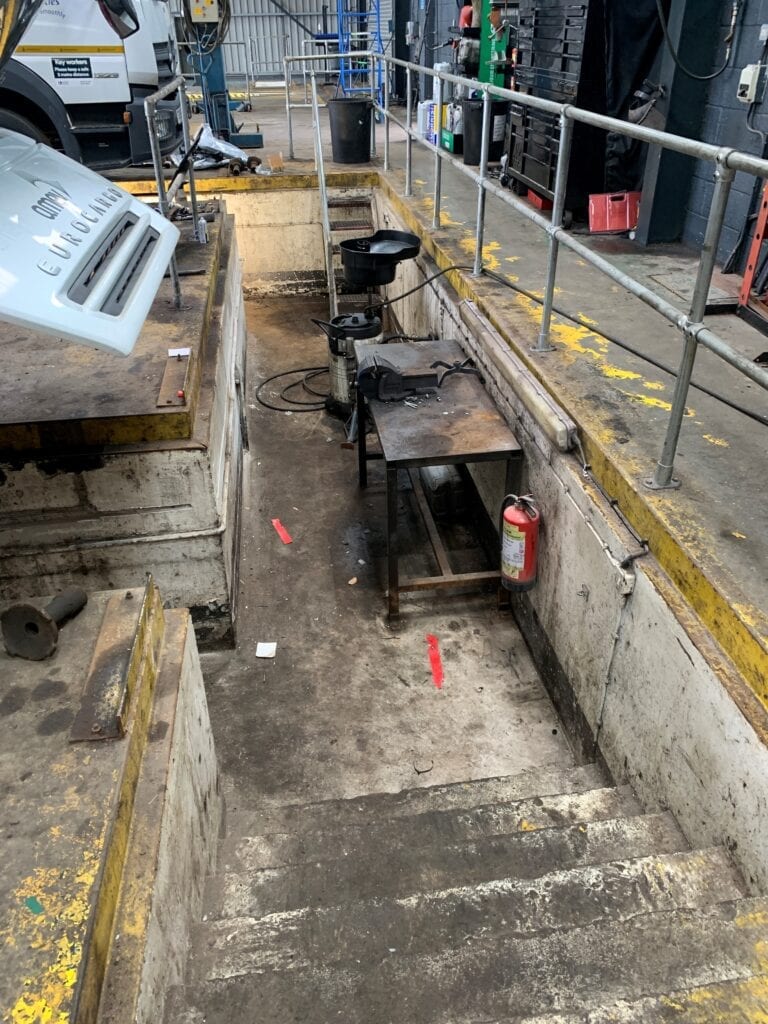 Flooring Refurbishment Work | Preparation Of The Surface Area
The floor surface in the workshop area, including a pit and entrance corridor area, was a total of 373 square metres. Therefore, it was in need of a thorough cleaning and preparation of all existing concrete surfaces. This was done using the totally enclosed diamond grinding floor surface preparation system.
Furthermore, the edge work and pit area were prepared by diamond grinding, with a totally enclosed handheld 110v diamond grinder. The whole area was vacuumed clean to remove all residues and dust. Additionally, localised damaged concrete and cracks were repaired as required. This was done using an epoxy mortar compound and epoxy resin filler.
Flooring Refurbishment Work | Applying The High Build Epoxy Resin
Two coats of Resdev Pumatect, high build epoxy resin flooring system was then applied to the workshop floor. This totalled 373 square metres. It was applied in the clients chosen Mid Grey Ral 7046 and a 0.2 to 0.4mm polymer bead anti-slip aggregate.
After that, in order to comply with VOSA and Health and Safety Executive guidelines, a 100mm wide demarcation line was masked out.The Resdev Pumatect V high build epoxy resin safety yellow, Ral 1004 was applied around the pit area and rolling road. Totalling 51 linear metres. Also, in order to make the pit light and bright, the 50 square metres pit area was given two coats of Resdev Pumatect. This was a very high build epoxy wall resin system in the clients Light Grey Ral 7035.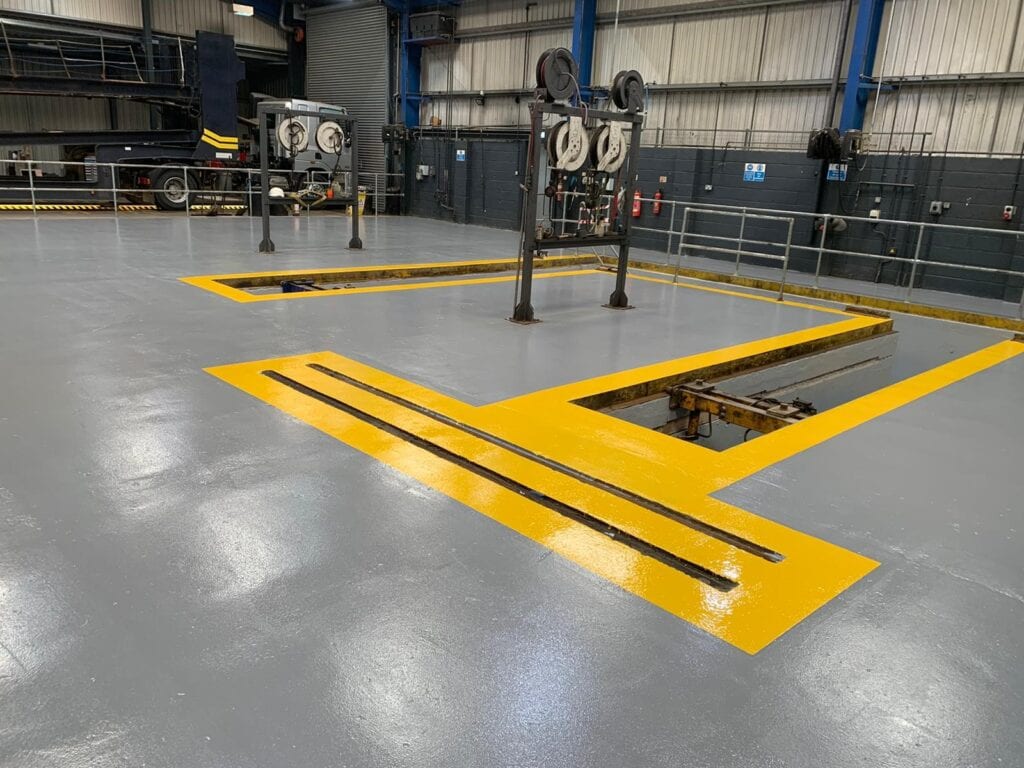 Mr. Paul Martin, M.D of Martin Motor Services Ltd commented "PSC has done a great job. The floor is completely transformed within the space of just 2 days. We couldn't be happier." In conclusion, the flooring refurbishment work was completed on time and within budget. Therefore, it only took just two days for the client to be back working on the floor, on the Monday morning. 
If you enjoyed this blog, why not have a look at Vehicle Workshop Flooring – Shorade Accident Repair Centre or Overwhelmed by a Schedule of Dilapidations?