Polyurethane Resin Flooring
Polyurethane Resin Flooring
When it comes to the heaviest of industries, the most hardworking of workspaces and most intensive of activities, any manager of an industrial environment needs peace of mind in the equipment and amenities they provide for their workers and vehicles.
Accidents must be rigorously avoided, risks must be dramatically reduced, and the materials used must be carefully selected for their durability, reliability, safety and hygiene. As a result, when it comes to selecting flooring materials for such industries as heavy engineering and similarly intensive work types, you will always require a material which is going to guarantee a healthy lifespan which won't need touching up or replacing, and as such interrupting the flow of activity taking place.
Polyurethane resin flooring is widely regarded to be the most durable and reliable of all resin flooring types, thanks to its tough chemical makeup, and proven effectiveness in any environment which is going to encounter higher than average footfall or interior vehicle use.
Safe, Secure and Hygienic Solutions
Anti-slip resin coatings consist of poured resin, which covers the desired area without any of the visible joins or cracks. This can cause problems down the line by accumulating dirt and dust, or warping due to climatic changes.
An anti-slip system is scored into the protective coating, making it ideal for walkways and guaranteed to increase the effectiveness of grip whether beneath normal shoes or wheels, ensuring a higher level of safety, security and hygiene for all who need to walk upon it.
Anti-slip resin flooring removes the risk and provides peace of mind for anybody interested in providing their customers, employees or even family members with a safer, trustworthy foundation.
Here at PSC Flooring, we are proud to be leading industrial flooring contractors. Contact us today to find out how we can help your business.
PSC Flooring Ltd. – Industrial Flooring Contractors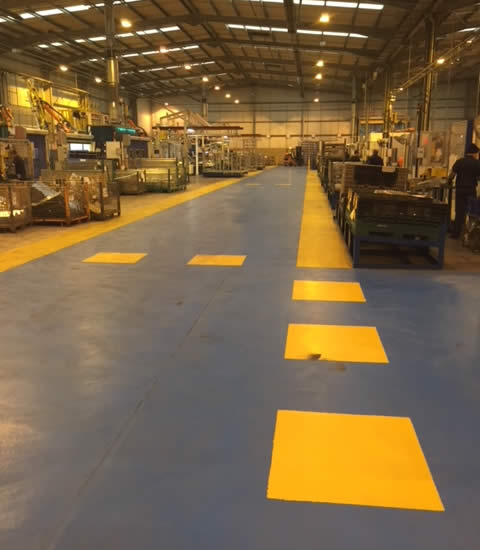 Long Lasting, Seamless Finish
Industrial resin flooring screeds have been carefully designed and can be expertly applied to create a hard wearing, seamless finish that can handle almost anything thrown at it. Ideal for food and drink manufacturing, metalworks, high-output retail units and almost anything in between, polyurethane resin flooring can be laid at a density that suits your demands and will last for up to a decade before needing to be re-laid.
Click images below to view larger version :