Industrial Flooring Experts
Withstand organic acids
Withstands high temperature steam-cleaning
Non slip finish
Experienced team of flooring experts
Here at PSC Flooring, we are proud to cater to many different industrial environments, including breweries. Brewery flooring requires a range of specific properties to make the floor coverings suitable for sites. Due to the fact that a brewery is a working environment, the flooring also needs to meet high health and safety standards.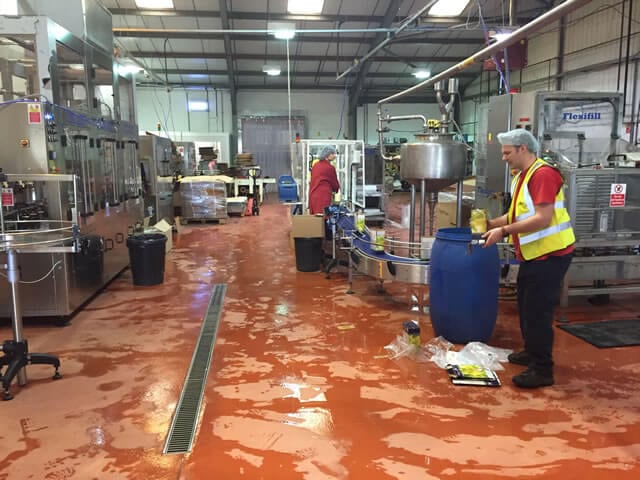 Choosing PSC Flooring Ltd to provide your brewery with a floor solution, will offer you the reliable and heavy duty Polyurethane RT or HF resin screed flooring. A popular choice of flooring for breweries, it offers a wide range of advantages. All of which are guaranteed to provide the best support to your site.
Polyurethane resin floor systems boast anti-slip properties which make it ideal for breweries. As a result, it helps to improve the safety for any employees or visitors to the site. The flooring is also chemically resistant, therefore you can rest easy knowing the quality and durability of your floor will not be jeopardised, should any chemical spillages take place. For added convenience, this system can be cleaned in temperatures up to 120 degrees. Therefore, you can be sure to kill any harmful bacteria without risking any damage to your brewery floor.
These industrial floors are available in either 6mm or 9mm thickness. We'll assess your site to help you decide which option will work best for your brewery. Hardwearing, hygienic and offering a flawless finish, Polyurethane resin is the go-to system if you are looking for flooring that offers you and your site safety and reliability.
As industrial flooring contractors, PSC Flooring Ltd understand that brewery floors require specific needs to ensure that the highest health and safety standards are met. The normal choice of floor for this sector is a heavy duty polyurethane RT or HF resin screed, either 6mm or 9mm thick.
Polyurethane RT and HF resin floors are a must for the brewery industry, owing to their chemical and physical properties.
Brewery Floor Contractors
Beer is acidic by nature, and it will, if unchecked, slowly corrode concrete. As a result, it becomes structurally unsound. Polyurethane resin screed systems offer the best chemical protection. They are designed to be impervious and withstand organic acids, which are very common with beer production. Polyurethane RT and HF resin can be steam cleaned up to 120 degrees. As a result, it will kill any harmful bacteria but will not affect the integrity of the resin floor.
Due to the fact resin screeds are also seamless, they are very hygienic. This makes them perfect for breweries, where cleanliness and hygiene levels are very high. Most breweries have wet production areas, either from spillages or from cleaning down. It is vital that these areas are not a slip hazard. With their high anti slip properties, polyurethane resin screeds are the ideal choice. They offer excellent slip resistance in the wet, helping to create a very safe working environment that meets high health and safety standards.
Polyurethane resin is exceptionally hard wearing and can withstand the hardest physical abrasions. The brewery industry can be a harsh environment, with heavy processing equipment and materials and with full beer barrels. That is why it's important to hire expert flooring contractors to install a robust polyurethane resin floor. The flooring is designed to withstand heavy loads and gives great protection against high abrasion and impact.
At PSC Flooring we are expert flooring contractors. Therefore, we are experienced in all types of industrial floor coatings. Additionally, we will always select the best floor for your working environment. To find out more about our helpful and friendly team are waiting for your call on 01562 702047.
Advantages of installing a polyurethane resin floor in a brewery
Anti slip properties in wet conditions
Chemically resistant
Very hard wearing, withstanding heavy loads
Hygienic & seamless
Can be laid to falls to help drainage
Easily cleanable up to 120 degrees.