Industrial Flooring Experts
Features
Heavy duty flooring
Slip resistant
Thermal shock resistant
Can be steam cleaned up to 120 degrees
If you are looking for commercial bakery flooring, you will need a system that offers your site hygiene. As well as safety, longevity and convenience. Bakeries like any commercial kitchen are environments for food production. Therefore, sites that need exceptionally clean floors to meet the highest of safety and hygiene requirements.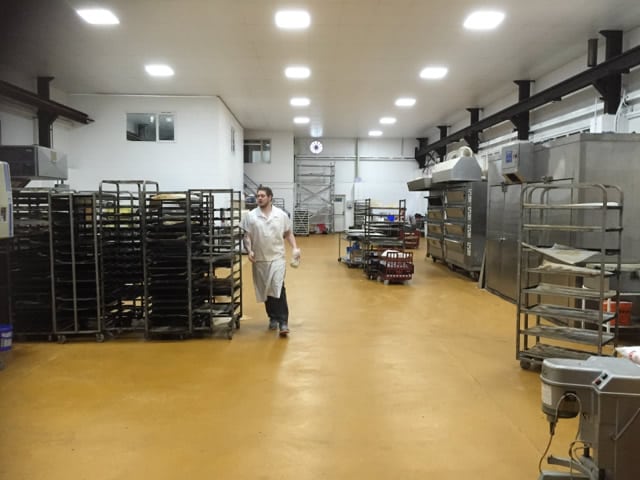 Here at PSC Flooring Ltd, we proudly work with many different commercial bakeries. We install new flooring solutions that offer long-lasting support to the site and its workers. Our go-to bakery flooring is in the form of the reliable and durable, Polyurethane RT or HF resin screed flooring. This system has a whole host of benefits that are guaranteed to help you maintain the highest standards in your bakery workplace.
Polyurethane flooring is incredibly hard-wearing, and can withstand heavy loads. This is perfect for when your site is receiving deliveries. Being slip resistant flooring means it is ideal for bakeries as, naturally spillages can occur in such environments. However with Polyurethane, the safety of your employees will not be compromised. One of the most impressive features, however, is that this type of food safe flooring can be steam cleaned by temperatures of up to 120 degrees. This guarantees the removal of any harmful bacteria. All without jeopardising the quality or finish of this industrial floor system. If you are looking for a strong, dependable and resistant bakery floor, then Polyurethane will be sure to tick all of your boxes.
Hygiene, safety and longevity are amongst the most important factors when selecting any new bakery flooring surface. A Bakery environment must be exceptionally clean and hygienic and having the correct floor is key to this.
PSC Flooring Ltd have worked closely with many bakeries and understand the industries needs when choosing the correct floor. The normal choice of floor for this sector, is a heavy duty polyurethane RT or HF screed. Normally either 6mm or 9mm thick.
Bakery Flooring by PSC Flooring
Polyurethane RT and HF resin floors are a must for the bakery industry, owing to their chemical and physical properties.
It is common in bakeries to have flour, oils, baking soda, yeast, icing sugar and butter which can be highly slippery underfoot. As a result, it can create a health and safety hazard. Therefore, it is vital to have a floor that is slip resistant in both wet and dry conditions. Polyurethane RT and HF screeds offer the maximum anti slip properties. This, therefore, makes them ideal in bakeries and give bakers total confidence in the floor.
Bakery flooring can be subject to extremes of heat. Therefore, any floor must be thermal shock resistant, especially near the ovens. Polyurethane screed floors are very durable and offer excellent thermal protection. They can withstand direct temperatures up to 120 degrees or up 130 degrees at 12mm.
Polyurethane RT and HR resin can be steam cleaned up to 120 degrees. This will kill any harmful bacteria but will not affect the integrity of the resin floor. Therefore, as resin screeds are also seamless they are very hygienic for bakeries where cleanliness and hygiene levels are very high.
Polyurethane resin is exceptionally hard wearing and can withstand the hardest physical abrasions. The bakery industry can be a harsh environment with heavy processing equipment and materials. That is why it's important to install a robust polyurethane resin floor, designed to withstand heavy loads that gives great protection against high abrasion and impact.
At PSC Flooring we have over 30 years of experience providing the highest quality of industrial flooring, for any working environment. To find out more about our bakery flooring and other industrial floor coatings, please contact our helpful team who are waiting for your call on 01562 702047.
PSC Flooring Ltd. – Industrial Flooring Contractors
Advantages of installing a polyurethane resin floor in a bakery
Seamless bakery flooring
Easily cleanable bakery floor up to 120 degrees
Very hard wearing, withstanding heavy loads
Hygienic & seamless
Can be laid to falls to help drainage
Anti-slip bakery floor in wet and dry working conditions
Click images below to view larger version :