Cementitious Pump Screeds
Cementitious pump screeds provide a high performance, heavy duty, cost effective flooring solution to any industrial environment.
Fast Track Solution
Cementitious Pump Screeds are a type of rapid hardening system that can provide a fast, self-smoothing compound of cementitious flooring. Cementitious screeds is a fast-track solution to ensuring flooring is fit-for-use as soon as possible. The system is ideally used to renovate flooring, which is either damaged or has deteriorated over time. A pumped screed is fast-drying and has the ability to allow foot traffic onto the project within a few hours, it can also be ready to receive vehicle traffic within 24 hours. Alongside renovating old floorings, Cementitious Pump Screeds can also be used within new build projects, creating robust flooring systems with a highly reduced curing time. This type of pump screed is extremely beneficial for either last-minute projects or projects that need to be completed fast without jeopardising the quality.
Minimum Disruption
Using these heavy duty pumping solutions allows vital work to be undertaken and completed in the shortest time possible minimising loss of productivity time and disruption. In harsh environments, such as warehousing or engineering plants, timely work can be extremely inconvenient and disruptive to staff and machinery. This is when a cementitious screed is ideal to use.
Highest Standards
All of our screed pumps at PSC Flooring Ltd are manufactured to the highest standards in order to produce the best results time and time again. All of our screeds, including pumped screeds are guaranteed to provide our clients with a high-performance, cementitious floor system. They are perfect for providing a quality underlayment, which can be topped with a wide scope of floor finishes or additional flooring components.
Pump screeds can be laid to a thickness of between 6mm to 20mm, and up to 2000 sq mtrs per day can be laid.
This system is ideal to renovate any old or badly damaged floor in the shortest time possible. They are quick drying and can allow foot traffic within a few hours and can be ready to receive vehicle traffic in 24 hours.
Pump screeds provide a fast-track, high performance, heavy duty flooring system which can be used in the harshest of environments, such as engineering facilities, warehousing, food processing, and manufacturing.
With over thirty decades dedicated to the pursuit of excellence in the industrial sector, PSC Flooring Ltd are proud to have developed into a well-respected business, supplying only the highest quality flooring systems. Our cementitious flooring systems are particularly popular with our customers as they consistently demonstrate high strength, reliability and durability. Our team of industrial flooring contractors know what they're talking about and when it comes to getting the job done. We get it right every time!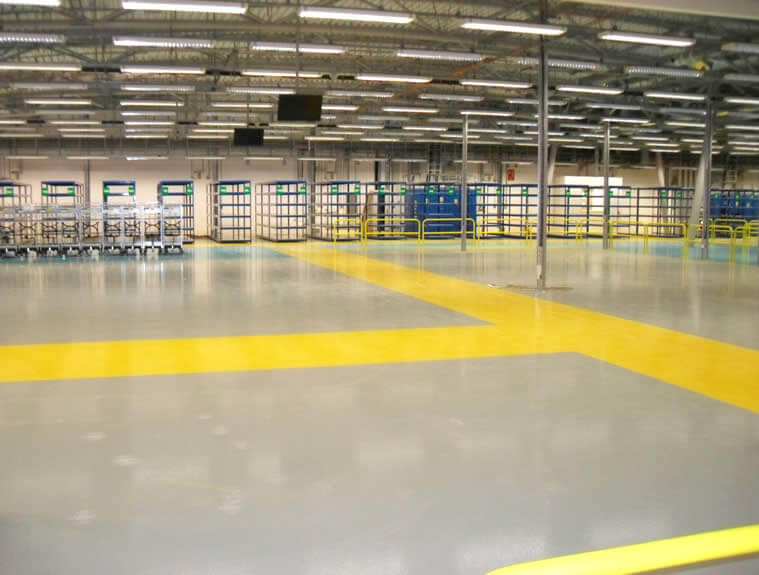 Expert knowledge and advice
Here at PSC Flooring Ltd our wide range of industrial floor screeds can cater to a huge variety of requirements and applications. We've covered thousands of square metres with our high value resin flooring systems, and by supplying to some vital industries such as the pharmaceutical, automotive, engineering and warehousing industries, you can trust that we have the tools, materials and skills to create long-standing projects that won't let you down. With over thirty years in the screeds and coatings industry, we can provide you with the expert knowledge and advice you need in order to pick a flooring solution that is just right for you.
Contact us today
Our Cementitious Pump Screeds are heavy duty and cost effective flooring solutions to industrial environments. If you are looking for screed pump at extremely competitive pumped screed prices, choose PSC Flooring Ltd.
Click images below to view larger version :