We offer a total industrial flooring contractor package: encompassing site survey, specification, surface preparation and product installation. PSC Flooring have laid thousands of square metres of commercial flooring systems throughout the UK. Servicing the Pharmaceutical, Food & Drink, Automotive, Engineering, and Warehousing & Electronics Industries. Furthermore, ensuring the highest standards in safety, quality & customer care.
Site Surveys & Specification
In order to provide an accurate quotation, the first step in the process is to conduct a full site survey. On site we will be able to accurately measure the space, answer your questions and discuss your requirements. This is including decorative designs, brand colours, and specialist floor coatings required. It is important to be able to assess the state of the existing flooring substrate first-hand and to confirm the processes required to complete your project on budget.
A site survey can take place at a time of your convenience in order to minimise downtime. It is normally completed within a couple of hours, depending on the size of the area you wish to cover. After the preliminary site survey is completed, we will provide you with full technical specifications. As well as, a detailed professional product recommendations and a project estimate.
How Much Does Cost To Have A Site Survey?
Site surveys are FREE – book an appointment today
Surface Preparation
In all cases when installing a resin floor system the substrate (existing floor surface) needs to be thoroughly prepared for the resin. In most cases of industrial and commercial floors, the substrate is a concrete slab. It is important that regardless of the age of the concrete slab, it is completely stripped of any stains, adhesives, varnishes or paints to form a key for the resin.
If the surface is not prepared properly, the floor coating will not adhere. Therefore, it will not offer the highest levels of performance. At PSC Flooring, as an industrial flooring contractor, we offer both a shot blasting and diamond grinding preparation service.
Will Grinding Make A Lot Of Dust?
The amount of dust is dependent on how flat the surface is – we use a totally enclosed triple headed diamond grinder to reduce the amount of dust as much as possible.
Crack & Joint Repairs
Resin flooring systems are exceptionally tough and hard wearing. Nonetheless, cracks and other damage may sometimes appear, if so, cracks and other damage should be addressed promptly.
As a leading industrial flooring contractor we offer a comprehensive crack and joint repair service that can be tailored to suit your needs. In addition, we provide floor inspections and regular servicing.
What Is Used To Fill Cracks And Joints?
Localised damaged concrete, holes and bolt holes can be filled as required using a resin filler.
Resin Flooring Systems
Are you looking for an industrial flooring contractor in the West Midlands? At PSC Flooring we have over 35 years of knowledge and experience of installing all types of commercial and industrial resin flooring. As industrial flooring contractors, we have laid thousands of square metres of resin flooring systems throughout the UK. Therefore, PSC Flooring prides itself on its competitive nature but without sacrificing on quality. Whatever the situation we have a commercial or industrial resin flooring system to suit your needs. This includes, for the Pharmaceutical, Food & Drink, Automotive, Engineering, and Warehousing & Electronics Industries.
With a skilled resin flooring team, we are able to offer Epoxy High build coatings and screeds, Polyurethane coatings and screeds, and Cementitious Pump Screeds. As well as, Anti slip and Anti-static flooring, Damp proof membranes, Hygienic resin flooring and Food grade flooring. Additionally, our contractor services offers bespoke industrial flooring decorative systems and associated coving works.
Will The Floor Need To Be Clear In Order To Put Down The Resin Flooring System?
Immovable objects such as bolted down machinery, racking etc an stay in place and the resin flooring system can be installed around them, however be aware that should you ever move or remove these objects there will be no resin flooring system in that area.
Coving
Keeping the risk of food contamination low in the food industry is tough. It is recommended that a 100mm high coving is added to food safe screed flooring to create a link between the wall to floor finish. The addition, coving allows the floor material to extend seamlessly up the walls providing a seamless, connection between the floor and the wall/ vertical surface creating "one surface".
As a result, you eliminate the hard-to-reach areas where bacteria can grow. The seamless cove is easy to clean and maintain. Coving is applied to floors with resin and polyurethane seal.
What Advantage Does Coving Give?
The addition of coving allows the floor material to extend seamlessly up the walls. Therefore, leaving dirt, dust, and germs with no place to hide.
Demarcation Lines
Demarcation lines help to keep people separate from vehicles, subsequently reducing the risk of accidents and injury. They are placed on the floor as pointer/guide to visitors and staff. Demarcation lines are ideal for separating one larger space into different areas / zones. For instance, indicating pedestrian walkways, different floor levels or areas that are out of bounds/No entry.
There are many colour options available with the most popular being Safety Yellow – Warning zones and signage can be defined in any colour that stands out from the base colour.
Can Demarcation Lines Be Added At A Later Date?
Yes, demarcation lines can be added at a later date. However it is more cost effective to have them installed at the same time as the floor.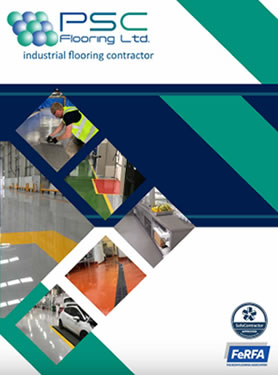 Want to know more about the services and products we offer?
Download our latest brochure.
Contact us
For a free on site survey and quotation please contact us:
PSC Flooring Ltd
Unit 24 Hoobrook Enterprise Centre
Worcester Road, Kidderminster
Worcestershire
DY10 1HB
Tel: 01562 702047
Email: enquiries@pscflooring.co.uk