Epoxy Flooring Contractor
PSC Flooring is a leading industrial flooring contractors. We install many different floor solutions including Epoxy Floor Coating. As epoxy floor resin suppliers, we have laid thousands of square metres of our flooring systems for a wide range of industries. With so many types of flooring on offer, where do you start?
Perfect for Warehouses and Showrooms
The flooring systems we offer to our clients all have different features to them. However, our Epoxy flooring is definitely one which stands out in particular. Epoxy Floor Coatings are ideally suited to areas which engage in medium duty. For example: Warehousing, Showrooms, Bakeries, and Workshops. The industrial uses are very popular for this type of floor system and with so many impressive properties, it's easy to see why.
Extremely Hard Wearing
It is one of the most hardwearing floor coatings available, and it is these benefits which keep epoxy resin floor coatings the go-to floor system for a wide range of clients. These coatings have a high standard of resistance to chemicals, impact, temperatures, oil spillages and even fire. As a result, epoxy floor resin coverings are definitely the industrial floor coating to have if you are looking for a reliable and durable floor system that isn't going to let you down. All epoxy floor coatings' properties are long-lasting too. Therefore, you won't be replacing the floor covering anytime soon. This long-lasting strength is what makes epoxy floor resin ideal for sites that require durability and reliability, such as warehouse and factory environments.
Easy to Maintain
Epoxy floor paint is extremely easy to maintain and its seamless epoxy flooring with a non-porous surface makes it one of the most hygienic floor paints available within the industry. It is very easy to clean and its low level of maintenance means it can maintain high standards of hygiene for a long time.
High Gloss Finish
Not only is industrial epoxy flooring appealing because of its internal properties, but externally the flooring is aesthetically pleasing too. Epoxy floor coat has attractive reflective properties, which offer a high-gloss finish that can improve the brightness and lighting of a workspace. As a leading epoxy flooring contractor, we can offer epoxy floor coating in a wide range of colours, which means you can customise your workspace to match your branding.
Epoxy floor coatings are ideally suited to areas of medium duty. For example: Warehousing, Workshops, Bakeries, Garage Showrooms, as well as areas of general industrial usage.
Epoxy resins have good abrasion and chemical resistance, providing a seamless, hygienic and cosmetically attractive finish.
Highest Standards
As industrial flooring contractors, we are proud to supply coatings epoxy alongside many other flooring systems nationwide. With over 30 years of experience as epoxy resin suppliers, we've developed a wide understanding of floorings and the flooring processes. This ensures our epoxy resin services are provided to highest standards in safety, customer care and value for money. All of our industrial epoxy flooring has a 2-5 year predicted lifespan which meets the British Standard. We use state-of-the-art machinery to create a smooth and flawless finish, which is rich in quality and value.
Epoxy floor coating ia applied in two or more coats to give a thickness of 250 microns per coat, and generally solvent free.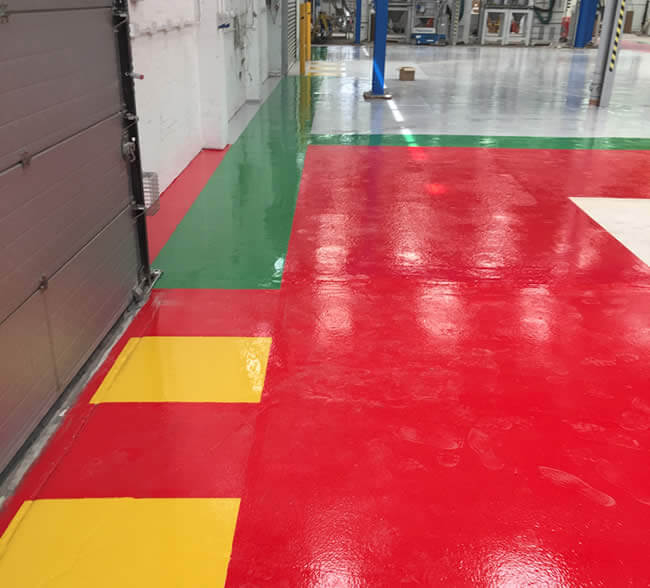 Making the right choice when it comes to choosing your flooring can be challenging. While other flooring systems may seem like a cheaper and quicker option, they often bring with them a set of challenges. For example, expensive damages and a potentially short lifespan. However, epoxy floor coatings can often eliminate many of the problems faced and offer you a hardwearing, long-term solution. As an epoxy flooring contractor, PSC Flooring has been in the business a long time. We work extremely hard to maintain our exemplary reputation by only delivering quality flooring solutions to our customers.
Simple Installation
As expert epoxy flooring installers, we can assure you that this flooring is very simple to install. When applying epoxy flooring paint, the solvent free resin is applied in at least two or more layers in order to ensure a thickness of 250 microns per coat. Flooring epoxy, instead of other styles of coating, means a quick and simple installation. Overall, this minimises disruption to the site and workers.
Click images below to view larger version :