Epoxy floor coating systems can be used in a wide range of environments but are often used in warehouse flooring applications. When managing a warehouse, the duties and responsibilities vary. They cover HR, and Distribution, but the building itself plays a massive part in the whole job. 
Repair and Protect
Successful management of a factory or warehouse hinges on regular maintenance, efficient allocation of space and clear demarcation. Out of all the surfaces in a factory the floor takes the hardest beating. A warehouse floor and/or factory floor needs to be hardwearing, easy to clean and suitable for footfall and vehicular traffic. 
The advantage of epoxy floor coating systems 
Typically, concrete is laid on a factory or warehouse floor, but epoxy floor coating systems can often be a better solution. The issue with concrete is that whilst it's hard wearing, it does break down with constant use. Although potentially the cheapest option, it may not necessarily be cost-effective long term. Not only does concrete crack and create dust that can impact your production or finished product, it also is previous to oil and chemical spills. 
However, epoxy floor coating systems applied to a concrete surface can only add value to your building. Some other advantages to epoxy resin flooring includes:   
It is impervious to oil and fluid spillage – therefore lower chance of staining

It is light reflective so improves the working area for employees and visitors alike

You can add demarcation lines in high traffic areas so as define walking pedestrian areas to enhance safety

Dust is kept to a minimum and it is easy to clean and maintain with minimal effort required 
Hinging on success
PSC Flooring Ltd industrial flooring contractors were delighted when contacted by A Perry in Cradley Heath, West Midlands. A Perry distribute hinges worldwide. As a previous customer, A Perry were looking to upgrade a 510 sq mtr area in their existing factory. By altering their factory lay out and removing a section of racking they were able to earmark this area as a demonstration area. They would use this new warehouse flooring to show off new equipment to potential and existing customers.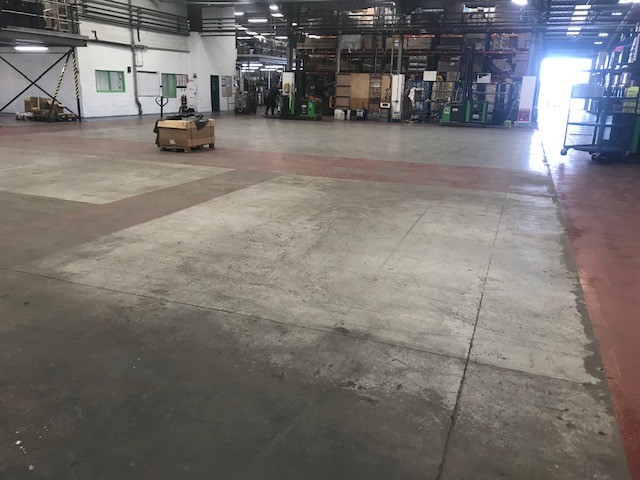 Choosing the right floor surface 
The client brief was they required an attractive hard wearing, gloss floor, that would be easy to clean and maintain. Since PSC Flooring Ltd refurbished 1400 sq mtrs of their floor area 2 years ago, including trucking gangways, walkways, racking areas and production areas, A Perry Ltd knew what specification they required and the finish. Since all previous production areas were mid grey, they wanted to match this colour. 
The chosen area previously had old floor paint, so PSC flooring Ltd prepared and removed the failed floor pain. They prepared the surface for an epoxy floor system by diamond grinding the area and then carrying out localised repairs. The application of two coats of Resdev Pumatect high build epoxy resin in mid grey to the total area gave the required look to the new demonstration area.
The job took 3 consecutive days and Mr Ashley Armstrong production manager said, "PSC Flooring Ltd carried out another excellent job, at the right price and with no fuss. This area is important to us to demonstrate our new range of products to potential customers, so having a clean attractive resin floor was critical and PSC Flooring are our go to resin flooring contractor as they are so reliable and professional."

Contact us today 
If you are interested in finding out more about our epoxy floor coating systems then head to our website today. Alternatively, you can call 01562 702047 to speak to a member of our helpful and friendly team. 
If you have found this blog helpful, you may wish to read our previous blog on Resin Flooring.