As one of the country's leading industrial flooring contractors, we're all for resin flooring. Space in any business is at a premium, adding to the overheads of running the company. Therefore, it's important that you utilise space as much as you can. Before building additional space or changing locations, ensure that you are optimising your current space as much as possible. 
Using workshop space effectively
As the needs of potential clients evolve, so must the business. We were recently called in to consult on workshop flooring for a 500 sq metre production area. GKN Telford wanted to optimise their current space as much as possible, and they chose us to help make this happen.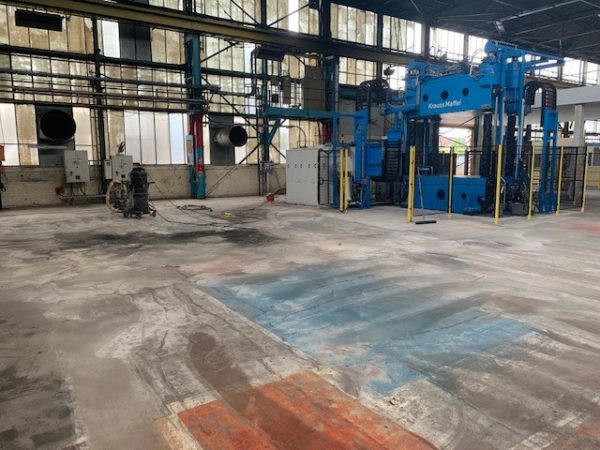 As the market and demand for electrical motor vehicles has increased, manufacturers for the motor industry have had to fast evolve. GKN needed a new area for development and manufacturing prototype car parts for electrical motor vehicles. We identified a redundant 500 sq metre production so it made good business sense to repurpose this area. Since major car manufacturers would be visiting to see the manufacturing process, GKN wanted to refurbish the area, which included the floor.
A resin flooring installation 
A cost-effective resin flooring was the main brief. It was decided that the 500 sq metres area was to have epoxy resin flooring, This would transform a dull and dirty area, into a clean, vibrant area that that could be shown off to potential clients. They required a heavy duty flooring with a gloss finish that would be easy to clean. On hearing the brief, it was obvious that Resdev Pumatect high build epoxy resin was the ideal product. 
On closer inspection the floor, it was evident that there were a number of repairs to be made where previous machinery had been removed. Also there was evidence of oil contamination and residues of dirt and swarf. To prepare for the epoxy resin, the floor would need shotblasting and diamond grinding as part of the preparation. 
Epoxy surface preparation
PSC used the shotblasting machine and double headed diamond grinding machine to clean and prepare the floor. These preliminary treatments removed contaminates before the area was swept and vacuumed. Once clean, the next process was to lay an oil binding epoxy resin primer to neutralise all areas of oil contamination and carry out necessary repairs. 
Epoxy installation 
Once all repairs and preparation was completed, two coats of Resdev Pumatect high build epoxy resin in the clients chosen mid grey. 
As quoted the job was completed in just 4 days and in budget. Mr Rob Stoker, production director said "We can always rely on PSC Flooring to do a great job! We couldn't be happier with the finished area, it's now lighter, brighter and easier to keep clean. It will be a pleasure to show off the new prototype production area to potential clients."
Contact Epoxy resin flooring suppliers today
If you would like to find out more about our resin flooring then head to our website today. Alternatively, you can call 01562 702047 to speak to one of our industrial flooring contractors. 
If you have found this blog helpful, you may wish to read our previous blog on Non-slip Flooring.