To remove the vinyl and the latex screed by mechanical means results in the concrete becoming rough and pitted and must be put back to a flat state before applying a high build epoxy coating floor system or every ridge, pit or bump will be very visible. In this blog post, we will be exploring Pigmented Cementitious Pump Screed.
Related: Workshop Ready & Limited Down Time Is Important For Flooring Refurbishment Work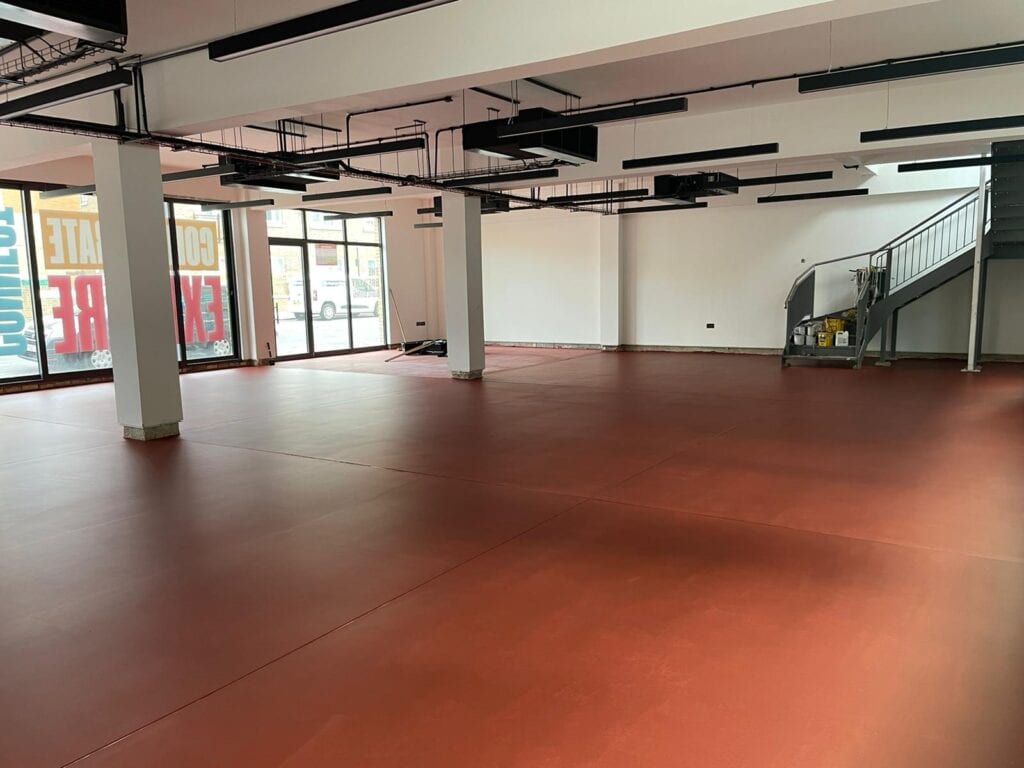 Cementitious Pump Screed
Cementitious Pump Screeds provide a quick, cost-effective solution to renovate deteriorated concrete flooring. Working with the existing slab rather than removing it which can be extremely costly. The time saving allows vital work to be undertaken and completed in the shortest time possible. This helps to minimise loss of productivity time and disruption.
In most cases a cementitious pump screed is covered with some sort of industrial flooring such as a high build epoxy coating system, however, there is a pigmented version suitable for use in a wide range of industrial and commercial environments such as schools, showrooms, galleries, hospitals, factories, warehouses etc. subjected to medium to heavy traffic.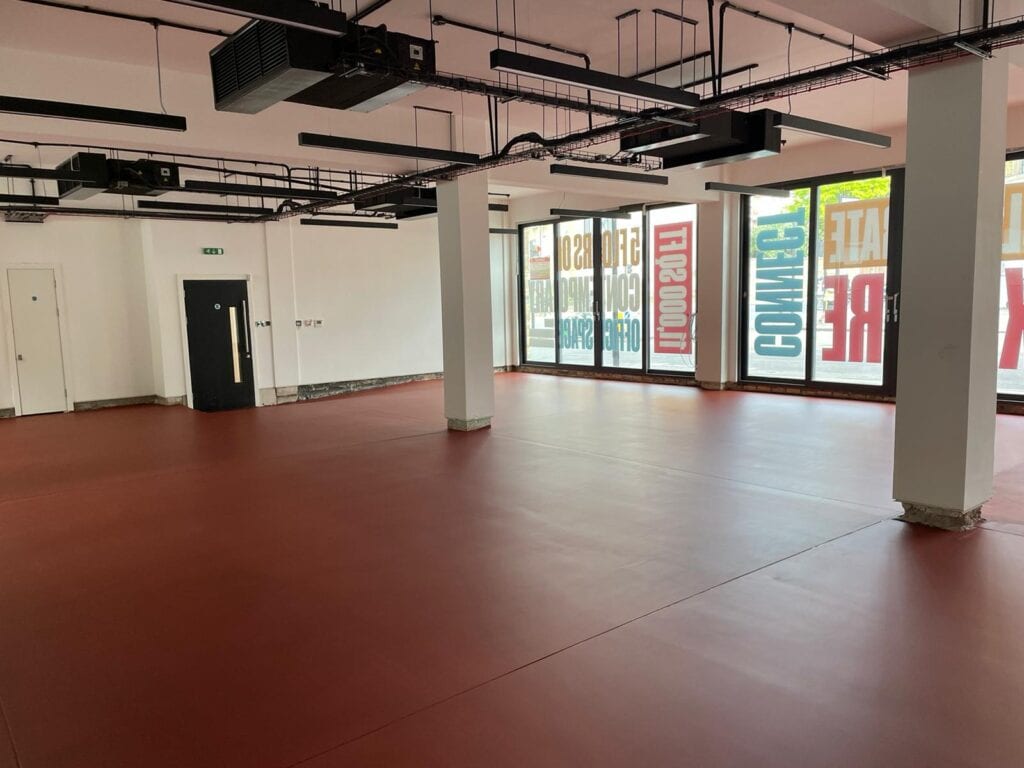 Pigmented cementitious pump screed comes in a variety of colours. It is suitable for application to a wide range of subfloor types. This can include sand and cement screeds, concrete, terazzo, granolithic, epoxy and polyurethane resins and waterproof membranes. Once cured it is always recommended to apply a seal coat. This is to ensure the final floor is completely impervious.
Pelican Building Contractors Ltd
PSC was recently called in by family-run property management company, Pelican Building Contractors Ltd, based in Ealing, London to quote on a 200sqm building project they were handling in Kingscross.
Previously offices, the area had consisted of several rooms that had been made into one large space. The new open area was to be used as an optical production centre. The opticians open to the public and hence needed the differing floor heights levelling.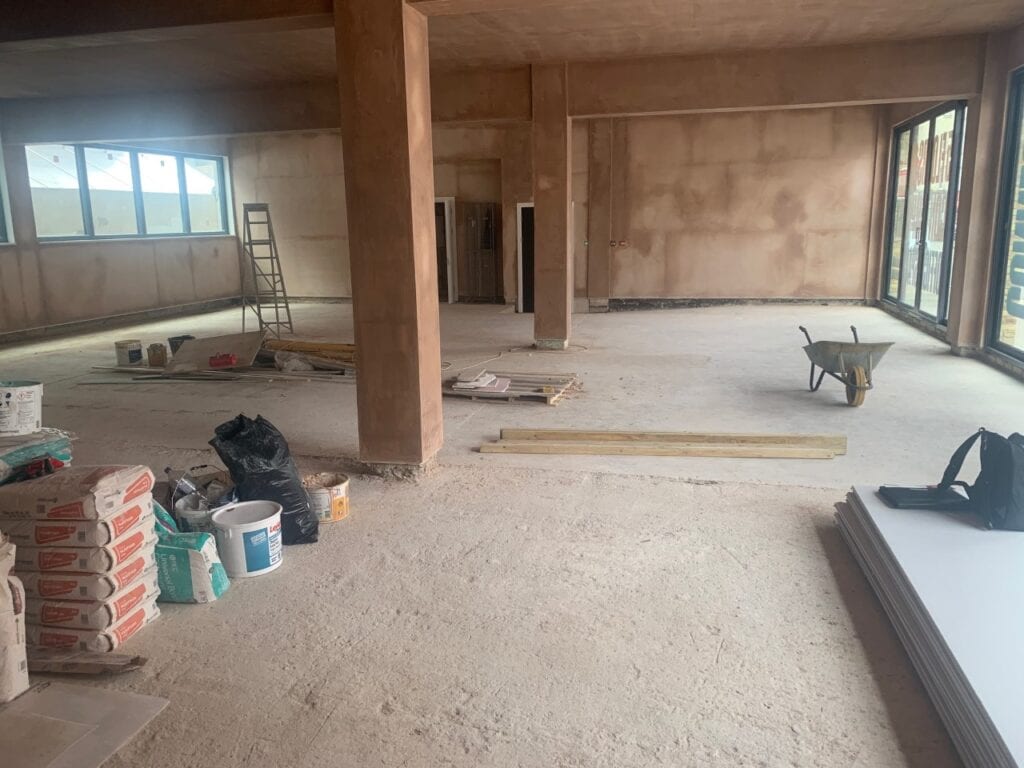 Preparation
In preparation, the existing vinyl and latex were removed exposing rough pitted concrete. The area was ground back before a coat of DCP DPM epoxy resin priming system, was applied to the total floor area, incorporating a heavy scatter of 0.6 to 1.2mm quartz aggregate. A DPC Cemflow pigmented screed in red was machine pumped to the total floor area. It varied in thickness from 7-15mm to ensure a level area.
As the pump screed is not completely impervious, two coats of DCP Setseal 6, resin-based clear sealer was applied to the entire area. 54 linear metres of saw cut 8mm x 6mm expansion joints were mirrored through then knocked out and infilled with jointing compound.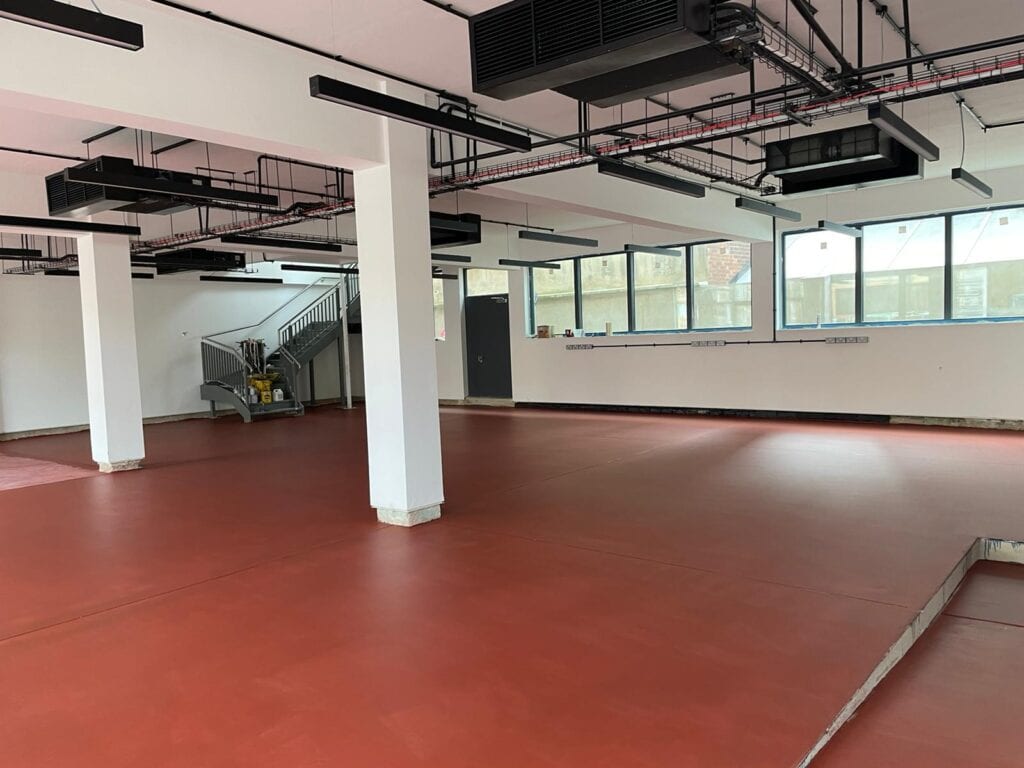 Completion
The job was completed in just 4 days creating a level hard-wearing floor. Mr Michael Koutsoudakis of Pelican Building Contractors commented "We are very pleased with the final finish. PSC has been very accommodating in completing this job so swiftly".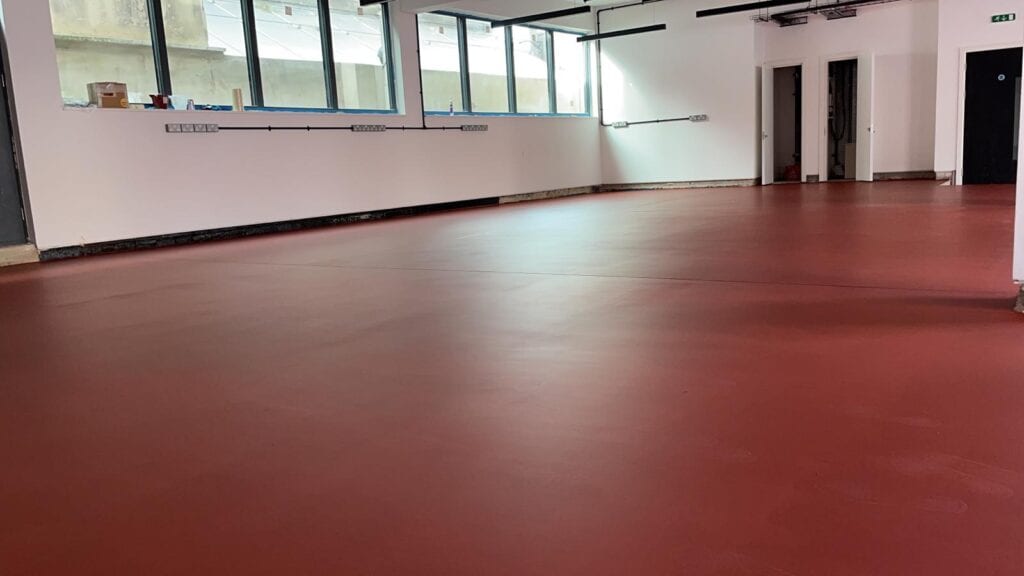 Also, if you enjoyed this blog, why not have a look at Vehicle Workshop Flooring – Shorade Accident Repair Centre or Overwhelmed by a Schedule of Dilapidations?