Designated Areas – Demarcation Lines Mark The Way.
When operating a busy workshop, with vehicles being moved about and foot traffic moving between areas, demarcation of vehicle bays is imperative.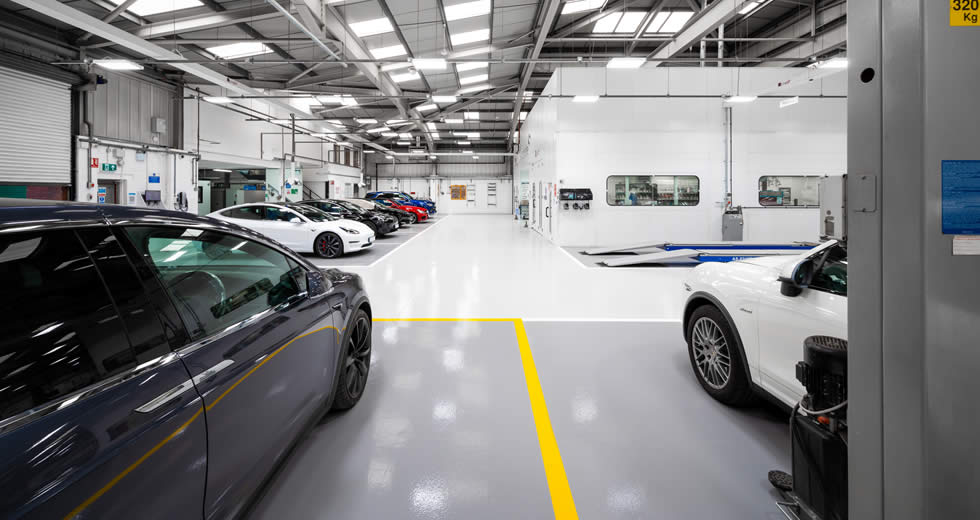 Clear Demarcation – Showing The Way
Creating a totally safe work environment is essential in a busy workshop. It requires several elements: clear signage complemented by clear area marking or floor demarcation. Clear demarcation is a must to make the most of the available space. By marking locations in a uniform manner and colour scheme, it allows employees and visitors to quickly identify areas. This can be such as potential hazards based on visual prompts such as colour. Correct use of demarcation can greatly enhance workflow, create order, and provide safety benefits. This is by keeping employees away from dangerous areas and hazards.
Related: Workshop Ready – Limited Down Time Is Important For Flooring Refurbishment Work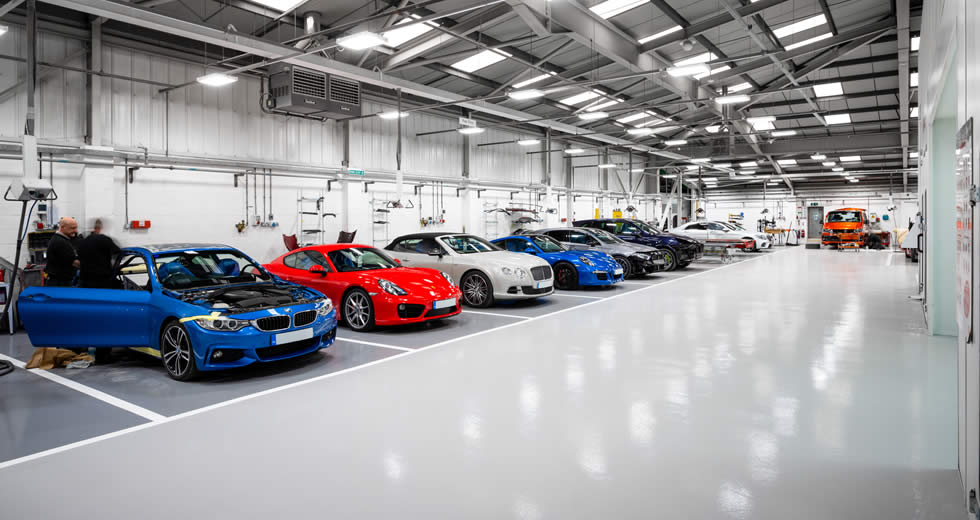 Vehicle Workshop Flooring | Flooring That Is Customer Ready
The look of a workshop floor doesn't actual improve the work you do. Hence, it may not be top of everyone's list. However, going the extra mile to impress potential clients has its obvious benefits. This is especially when dealing with high end vehicles. First impressions really do count and you must do everything to ensure its not a bad one. By choosing the right vehicle workshop flooring that is easy to keep clean can help you to keep grime levels down and give the space better light reflection.

Customer Expectation
Shorade Accident Repair Centre located in Cannock, Staffordshire. They are manufacturer approved by Rolls Royce, Bentley, Lamborghini, McLaren, Porsche, Tesla, Mercedes Benz, BMW, Mini and Volvo. Their customers have an expectation as to the look of the workshop even though it's a working area.
The 1430 square metre busy workshop floor had an existing epoxy resin floor surface, that although was in good condition for its age required resurfacing to give the high end look the client wanted.
Vehicle Workshop Flooring | Good Inter-Coat Adhesion
In order to ensure good inter-coat adhesion, the existing resin floor surface was thoroughly cleaned and prepared. This was using the totally enclosed double headed diamond grinding floor preparation machine for the main. The handheld diamond grinder was used to prepare the edge work. The entire floor area was then vacuumed clean to remove all residue and dust. Repairs were made to any damaged localised concrete, holes and large cracks as required using epoxy screed and resin filler. When dealing with damaged localised concrete, holes and large cracks the choice of filling material is either an epoxy screed or resin filler. This depends on the size of the area to be filled.
The clients chosen design required Resdev Pumatect high build, epoxy resin flooring system, gloss, in Light Grey Ral 7035 to gangways and Mid Grey Ral 7047 to work bays with a 100mm demarcation line in Resdev Pumatect V high build epoxy resin, white around each area, dividing the mid grey areas into defined work bays and highlighting the gangways.
Refurbishing floor surface to the workshop area, laying two coats of High Build epoxy resin coating system to the whole 1430 square metres and laying epoxy resin demarcation lines to 365 linear metres was completed in just 5 days. Our client, Mr Steven Shore – CEO of Shorade Accident Repair Centre was quoted as saying "From start to finish, the professionalism of PSC Flooring has been exemplary and our requirements for a high quality product and finish were managed well and all delivered on time."

Also, if you enjoyed this blog, why not have a look at Levelling Up – Cementitious Pump Screed or Dealing with newly laid concrete.