Non-slip flooring is vital in many different industrial environments. When it comes to manufacturing environments, choosing the right flooring solution is the difference between a safe and an unsafe workplace. With this in mind, it's important to take careful consideration when choosing the right factory flooring. 
Safe flooring for workplaces
The Health and Safety Executive website states that "In manufacturing over the past 5 years, each year an average of 22 workers died in workplace accidents". An average of over 3000 reports of major injuries and about 4,100 reports of injuries kept workers away from work for seven days or more. In a manufacturing environment, there are major focuses on the machinery and the risks associated with them. This can often lead to the floor safety being overlooked.
A guide to safe industrial flooring
The wrong type of flooring can be hazardous – especially in manufacturing facilities or workshops.
Make sure your floor surface is flat and even. A flat and even surface can help to prevent trips and falls. Potholes, ridges and bumps are all dangers to both foot traffic and moving traffic (forklifts, pallet trucks and vehicles). Even if the injury is minor, from a company's point of view it could lead to sick pay, personal injury claims (and lots of paperwork).
Choose an anti-slip flooring.  The incorrect floor covering can lead to the floor surface being slippery. Manufacturing tends to involve machinery and where machinery is there is usually some form of lubrication fluid. An oil leak or spillage can be extremely slippery. Porous surfaces such as concrete hold the oil and can become slippery even after being cleaned up.

Non-slip flooring

needs to be installed if you are going to work or use any form of liquid. 
Opt for high traffic flooring.  High traffic areas using forklifts and moving vehicles need the appropriate flooring markings. Without the correct demarcation lines and safety warning marking,  the floor can be potentially hazardous. It is also important to invest in a strong and durable flooring that won't become damaged by a consistent flow of high traffic and usage. 
Non-slip flooring for manufacturing facilities
Here at PSC Flooring we can install non-slip flooring into a wide range of workspaces. Westley Plastics a leading manufacturer of cast nylon and plastic components based in the West Midlands. It has over 50 years experience in delivering engineering plastics for heavy industrial applications. However, when it came to the flooring for their 280 square meter site, they called PSC Flooring for expert advice.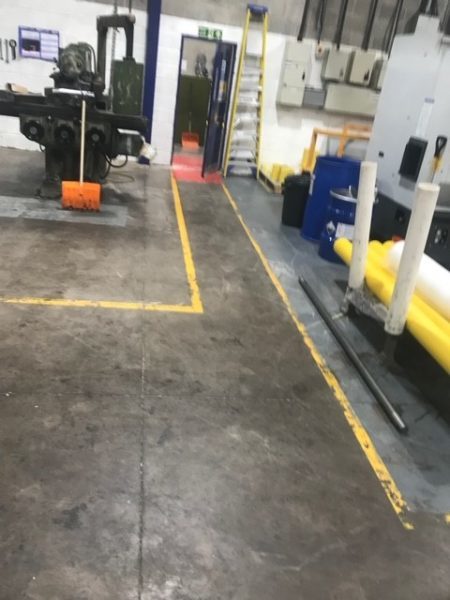 Nathan Desmond PSC Flooring Commercial director said:
"The floor of the production area was very dirty and oily, and client couldn't clean it. The old concrete floor had many oil spillages that was causing a potential slip hazard to employees and visitors. The Client brief was specific in that they required a high gloss, hard wearing, anti slip resin floor that would be easy to clean. In this case we recommended two coats of Resdev Pumatect high build epoxy resin in mid grey and safety red, that contained anti slip aggregate as the area is greasy and needs to protect against slipping to improve health and safety."
Completed in just 2 days, the new industrial floor has transformed the area. The once dark and dank heavy industrial space now has much lighter and brighter feeling with an air of modernity. The industrial epoxy flooring has made the facilities safer, easier to maintain, and also more aesthetically pleasing too.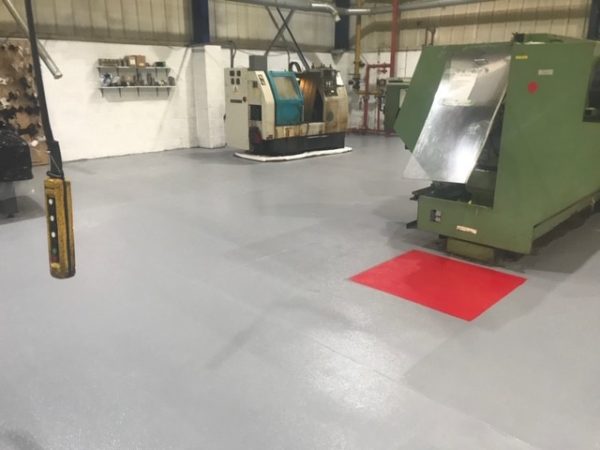 Managing Director Tom Westley commented "After seeing the high quality work PSC Flooring Ltd had done in phase one with the new epoxy resin floor, walkways and demarcation lines they were the obvious choice for phase two of this project. We couldn't be more delighted with this space. Not only have we got a visually enhanced area that is easy to clean and meets all our health and safety requirements."
Contact us today
If you would like to find out more information about our non-slip flooring solutions such as epoxy flooring, head to our website today. Alternatively, you can call 01562 702047 to speak to one of our industrial flooring contractors.
If you have found this blog helpful, you may wish to read our previous blog on Poured Resin Flooring.