Demarcation refers to the lines and markings on the floor as pointers/guides to visitors and staff. There are many forms such as health and safety signs, pedestrian walkways or areas that are out of bounds/No entry. The purpose of demarcated areas are to remind people of the health and safety rules that are in place. In addition, demarcation markings are ideal for separating one larger space into different areas/zones.
Related: Workshop Flooring Solutions | The Bigger The Better
Why Is It Important To Have Demarcation Lines?
The purpose of demarcated areas are help to keep people separate from vehicles. Subsequently reducing the risk of accidents and injury. 
The area can have markings 'Keep Clear' to ensure people never block fire exits.

External visitors and staff can be directed from the entrance, via clearly marked pathways. Therefore, avoiding dangers such as moving vehicles, machinery, and dangerous chemicals.

Zones can have markings to allocate space to store vehicles or to be on aisle ways where vehicles operate.
Where Should I Put My Demarcation Line Marking? 
The markings are in places that can potentially be unsafe, such as high-risk areas. Therefore, the use of different colours and symbols highlights areas that people need to approach with greater caution. It is important that you place the lines/signage at a suitable distance for the user to take heed.
What Colour Is Best For Demarcation Lines?
Warning zones and signage can be defined in any colour that stands out from the base colour. These colours derive from nature warning signs. In fact, studies show that white, yellow, red, and black are the most effective warning colours brandished by animals. A similar manner to how traffic signs caution motorists, colourful markings on animals and insects are nature's way of saying, Watch Out!
In industry, demarcation lines and signage can have markings in just one colour. For example, Safety yellow, or combinations such as Red/orange and White or Black/Yellow. The typical use of colours are as follows:
Yellow – To notify people to proceed with caution.

Red – Signalling danger, or to relate to fire

Black/Yellow combination – typically signals a health hazard or to proceed with extra caution

Blue – Usually used to signal information, for example for factory flooring and warehouse flooring, blue is used to identify equipment that is currently out of order.

Green – This always marks out safety, whether this is a first aid point or notice, or a safe walkway that is away from danger.

Orange – With white this combination is often a favourite by the building trade and traffic cones.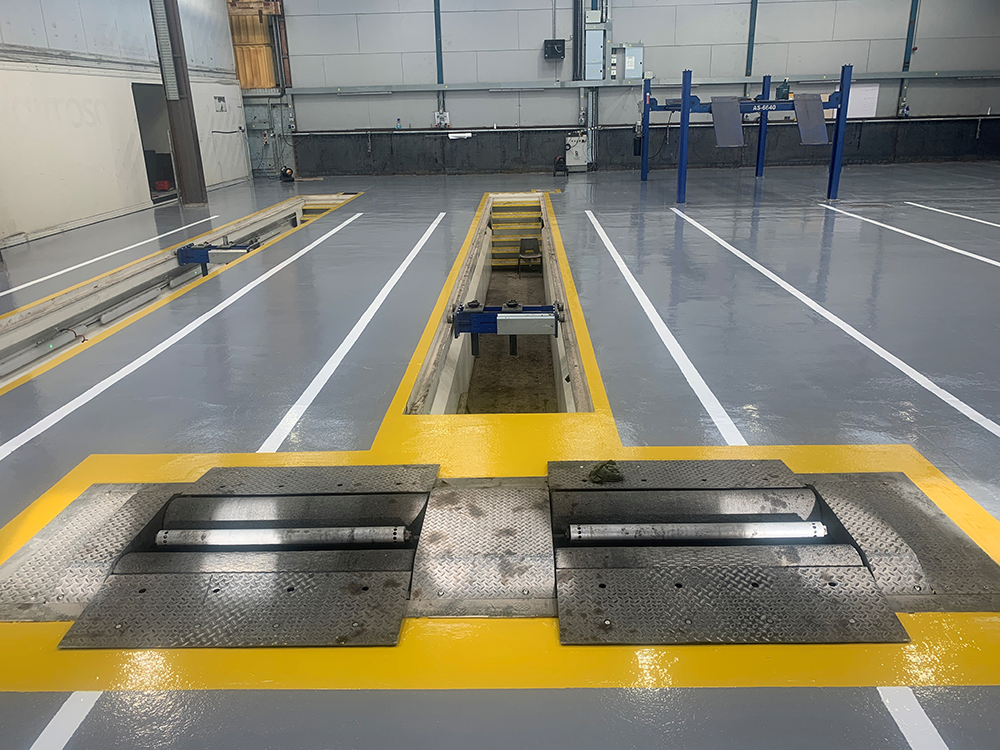 Reversing The Distance
The Howell Group, an HGV Logistics & Transport company, recognised the fact that demarcation lines were key when planning out their new HGV workshop facility in Minworth. Here they offer full vehicle maintenance for small vans up to HGV Traction/Trailers with Pre-MOT test facilities.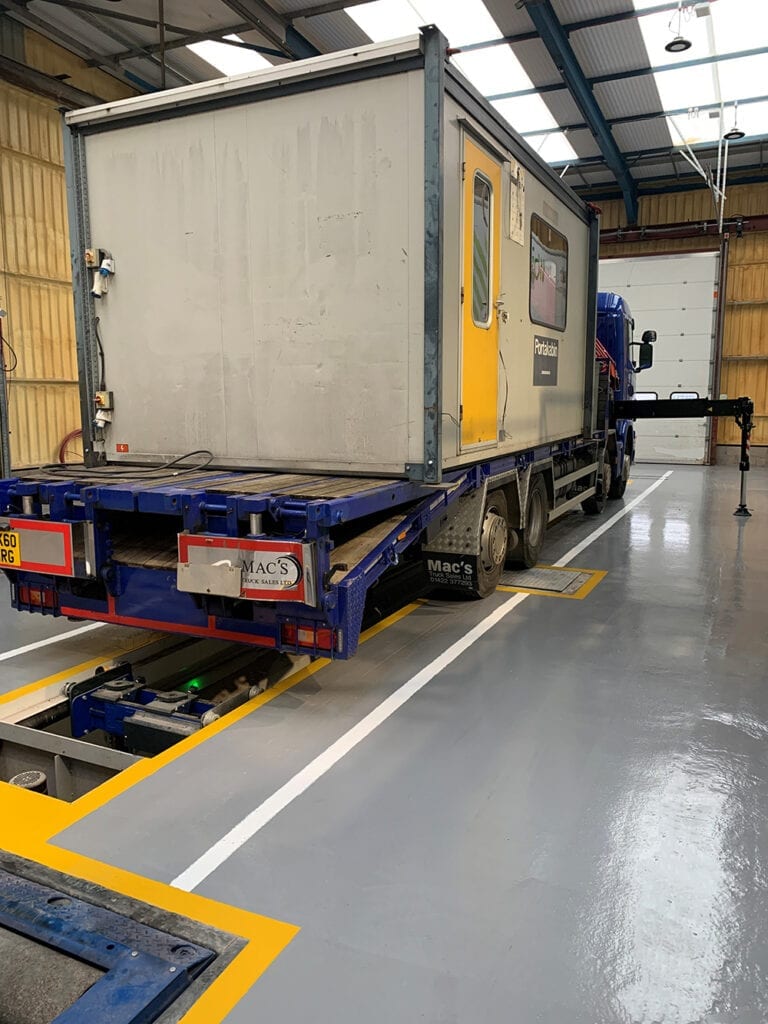 Firstly, to comply with Health and Safety standards, the 3 HGV pits, shaker plates and rolling roads were identified in Safety yellow. This signals to staff and visitors to proceed with caution. 
Secondly, because reversing any vehicle can be tricky at the best of times, with HGVs being particularly difficult. Especially when doing so inside a building with limited turning space and machinery, white reversing lines were installed. By installing white reversing demarcation lines on the workshop floor, it was recognised that the driver has a clear view of the direction and angle they are reversing at. In addition to helping them comply with safety standards and run efficiently.
You may also want to check out our previous blog on the All Mixed Up & 6mm RT polyurethane screed or Stop the Press! PSC Flooring Ensures Production Facilities are Safe and Functional