A Bakery environment must be exceptionally clean and hygienic, with safety and longevity amongst the most important factors when selecting any new bakery flooring surface. Having the correct floor is key. Hence the normal choice of floor for this sector is a heavy-duty polyurethane RT or HF screed. Normally either 6mm or 9mm thick.
Why is heavy-duty polyurethane RT or HF screed the right floor for the job?
Bakery flooring is subject to both wet and dry conditions, heat, and natural corrosives / organic acids such as fats, oils, and yeast.
With a variety of ingredients used in products such as flour, oils, baking soda, yeast, icing sugar and butter, if spillages occur it can be highly slippery underfoot.  Therefore, it is vital to have a floor that is slip resistant in both wet and dry conditions.
Related: The Importance of Demarcation Lines
Bakery Flooring by PSC Flooring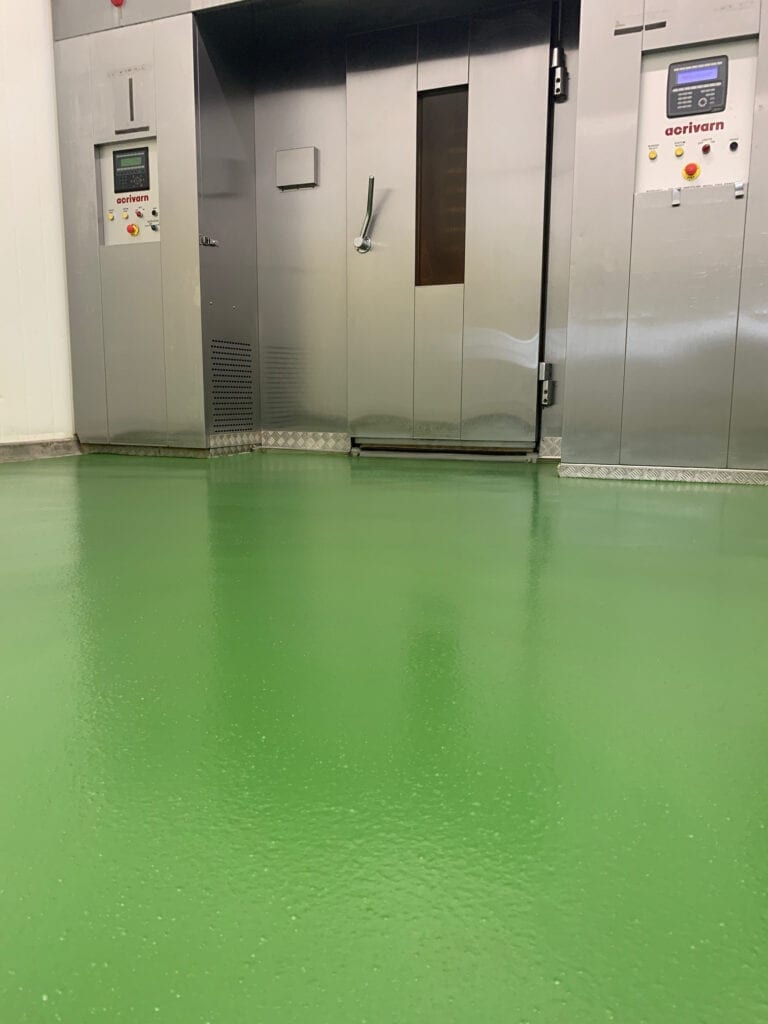 PSC Flooring Ltd has worked closely with many bakeries and understands the industry needs when choosing the correct floor and recommend Polyurethane RT and HF screeds as they offer the maximum anti-slip properties, making them ideal in bakeries, giving bakers total confidence in the bakeries floor.
The advantages of installing a polyurethane resin floor in a bakery:
Chemically resistant – designed to be impervious and withstand organic acids
Easily cleanable – can be steamed cleaned to 120 degrees at 9mm thick
Very hard-wearing – can withstanding heavy loads
Hygienic & seamless – does not support bacteria and microbial growth
Can be laid to falls – to help drainage
Anti-slip in wet and dry working conditions
PSC Flooring Ltd works closely with the flooring industry-leading manufacturers. This is to ensure the correct products are chosen for each installation. The product of choice is a Resdev Pumadur RT – a resin-rich, heavy-duty, trowel-applied polyurethane floor screed for use on concrete and polymer modified cementitious screeds. Resdev Pumadur RT is designed to give the floor durability, as well as impact, abrasion and chemical resistance. The lightly textured finish makes the product ideal for both wet and dry processing environments such as the food, beverage and chemical industries.
The surface of this flooring system is seamless, with a matt surface and a light slip-resistant texture. Resdev Pumadur RT contains a white aggregate which gives it a slip-resistant surface to the finished floor. When first installed, the floor has a uniform-coloured surface. However, with general use, the white aggregate will begin to show through giving a decorative, mottled appearance.
Mixing it up
When mixing 6mm RT polyurethane screed it is recommended before mixing to turn the resin bottle upside down and shake vigorously to ensure the resin is properly mixed. The resin is then decanted into the mixing vessel and constantly mixed throughout the process, the hardener is added, when thoroughly mixed then the aggregate portion is added and then mixed for approximately a further 2 minutes until the mixture is uniformly wetted out.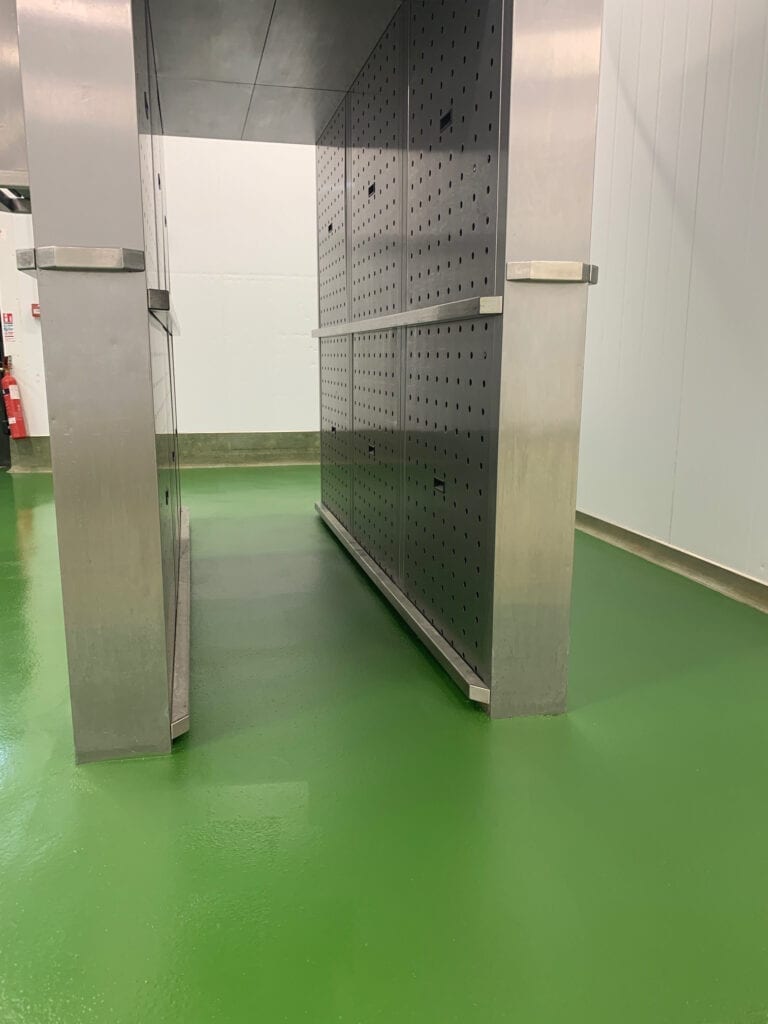 Baked to perfection
PSC Flooring was called into Four Anjels Limited, an award-winning bakery. They are based in the heart of the Cotswolds that makes delicious cakes, biscuits and more. We were called to look at refurbishing their production floor area and oven room. Also to refurbish their pot wash area, chiller area and boot area. The 190 square meter area had previously been screened. So the floor area needed to be ground back using a diamond grinding machine. It was also primed before laying a 6mm RT polyurethane screed and an additional DD polyurethane seal coat to the floor screed and TF coating system to coving.
Contact us
To find out more about PSC Flooring services, contact us today and speak to a member of our experienced team. Furthermore, if you've found this blog helpful, you may wish to read our previous blogs: PSC Flooring Ensures Production Facilities are Safe and Functional or The Importance of PPE