Vehicle workshops are usually high traffic areas. Not only are there vehicles moving in and out but also members of staff and clients. An epoxy workshop floor optimises the safety of your workshop. Here at PSC Flooring, we are proud to be workshop flooring installers. Therefore, we have plenty of different industrial flooring solutions to choose from – including epoxy flooring.
Epoxy Resin Flooring
Epoxy resin flooring is ideal for busy car workshop areas. These include areas with regular vehicular movement, foot traffic, forklift trucks and hard plastic wheeled trolleys. High build epoxy resin such as Resdev's Pumatect Epoxy Resin coatings provide a very robust, hard wearing vehicle workshop floor. Our safety flooring also has excellent abrasion and chemical resistant properties.
Epoxy workshop floor benefits
So, why should you install epoxy for your workshop floor?
Vehicle workshop epoxy resin is available in a wide range of colours
Epoxy resin is chemically resistant against oil, grease and fuel
Epoxy resin is very hard wearing, with excellent wear resistance
Vehicle workshop epoxy resin provides a glossy, attractive floor that is easy to clean.
Epoxy resin floors are fast to install, minimising downtime making them very commercial.
Epoxy resin can be used to create demarcation lines and chevrons for MOT bays and around inspection pits.

Safety Yellow Lining
Epoxy resin is also perfect for pedestrian walkways, demarcation lines and chevrons. As leading industrial floor contractors, we install them to meet VOSA standards. MOT bays and inspection pits can be safety lined in epoxy resin. The result is a professional, attractive, hard wearing and safety compliant finish to any commercial garage.
Fast to Install
The major benefit of choosing high build epoxy resin for car workshop flooring is that it is fast to install. Therefore, it can be completed over a weekend period, thus keeping downtime to a minimum. Epoxy is a very cost-effective way of transforming a vehicle workshop floor into a very attractive, high gloss, safety conscious area.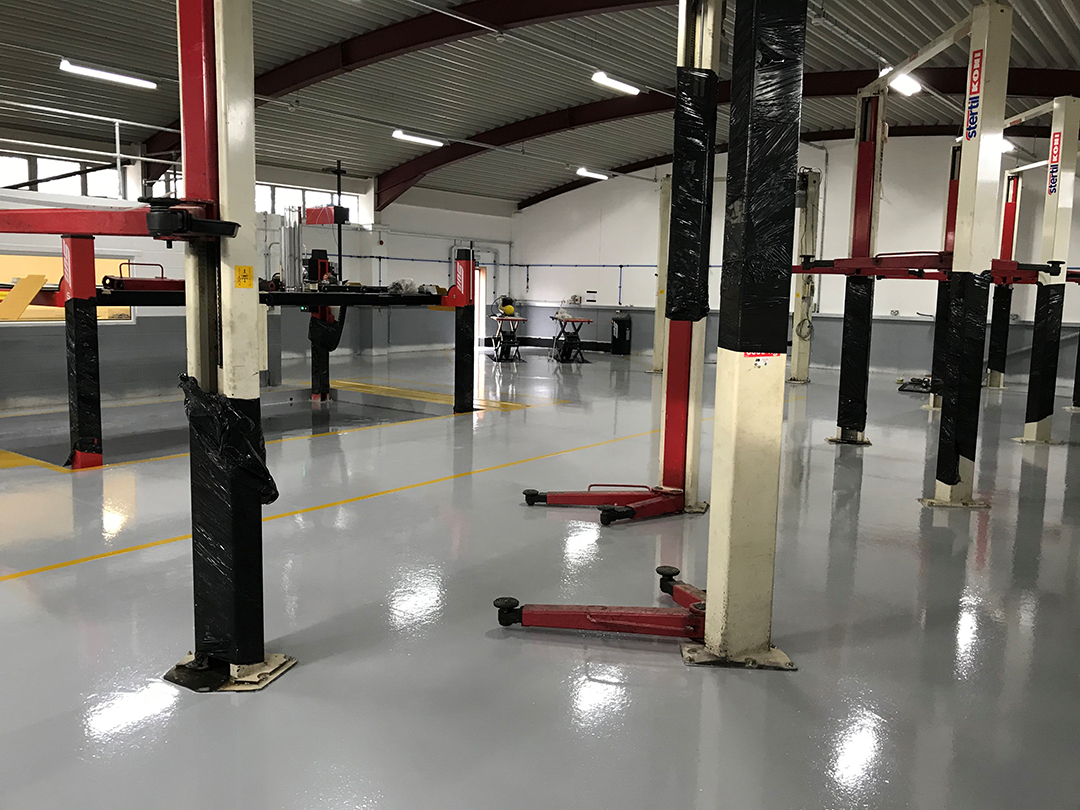 Just the Job
Farriers Automotive Limited is an independent family garage. They specialise in servicing and repairing Jaguar Land Rover motor cars. The client was looking to relocate to a larger premises in Leicester. They had a new purpose-built workshop with a 400 sqm new concrete floor including car bays, inspection pits and a kitchen area.
The brief was a new workshop floor that was visually appealing, hard wearing and easy to keep clean. They wanted to ensure that all the floor surfaces were unified with clear safety markings and gangways.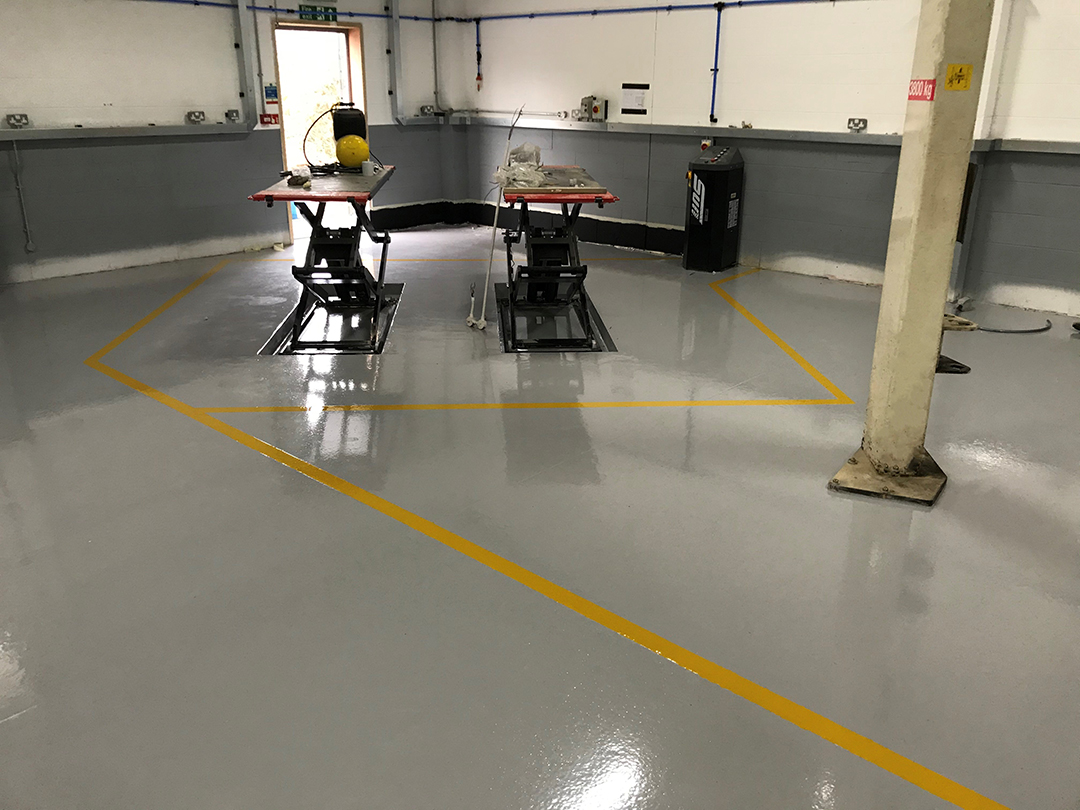 Due to new concrete a DPM (Damp Proof Membrane) epoxy primer was laid. This was followed by two coats of Resdev Pumatect light grey high build epoxy resin to the main workshop areas. The inspection pits and kitchen area were finished with a complimentary mid grey. Safety yellow demarcation lines added around the inspection pits areas to highlight the changing heights.
An amazing job
We completed the job in just 4 days. This included installing the 90 linear meters of safety yellow lining. Jeremy Lloyd, Farriers MD said "PSC Flooring have done an amazing job, we are so pleased. The floor is exactly what I was looking for. They were very professional, helpful and competitively priced"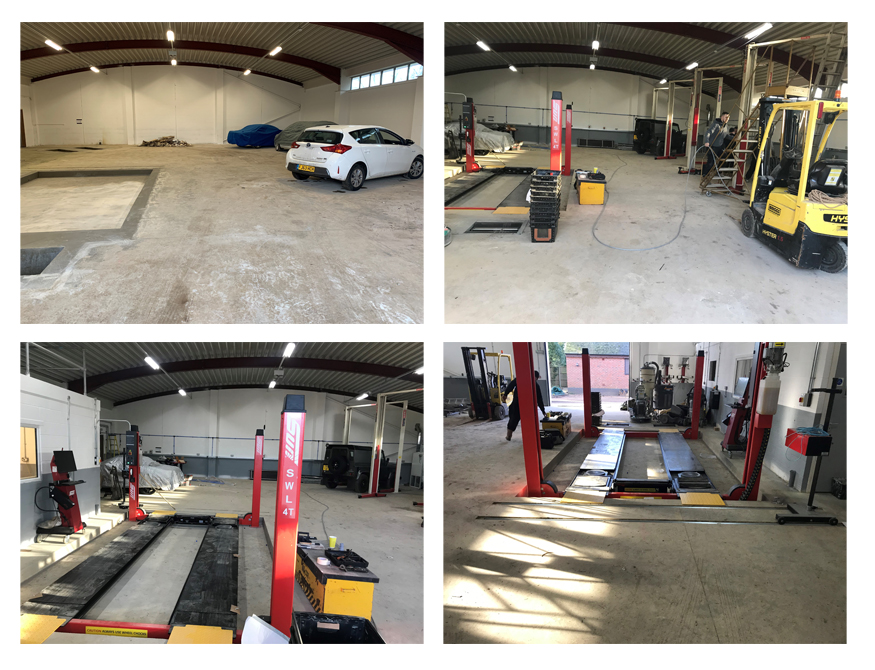 Contact us today
To find out more about an epoxy workshop floor, head to our website today. Alternatively, call 01562 702047 to speak to a member of our helpful and friendly team.
If you have found this blog helpful, you may wish to read our previous blog on Avoiding Trip Hazards In The Workplace.