A non slip floor is one of the best investments you can make to prevent accidents in the workplace. According to the Health and Safety Executive (HSE) website, Slips and trips are the most common cause of injury at work. On average, they cause 40 per cent of all reported major injuries and can also lead to other types of serious accidents – for example falls from height. Slips and trips are also the most reported injuries to members of the public. The Health and Safety at Work etc Act 1974 (HSW Act) requires employers to ensure the health and safety of all employees and anyone who may be affected by their work, so far as is reasonably practicable. This includes taking steps to control slip and trip risks.
Most slips and trips in the workplace are caused by
poor lighting 

unsuitable floor coverings 

uneven or damaged floor surfaces 

contaminated floor surfaces, for example liquid or grease​ 

poor housekeeping, for example tripping or falling over something left in a walkway.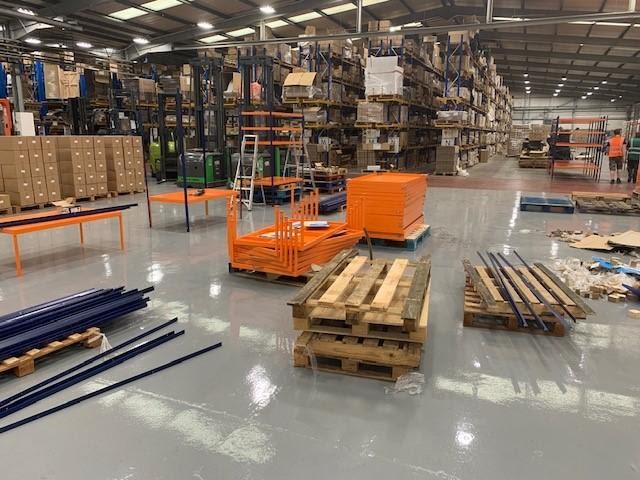 Reflect the Light
Poor lighting in the workplace can not only be very hard (and miserable) to work in but it can also be a hazard. In a heavy duty industry where the lighting sources are high up in the ceiling space, it is important to work with what light you have available to you. The correct type of flooring can help to reflect light and make for a more pleasant working environment. 
The right floor for the job
Choosing the right floor for the work at hand is extremely important.  The incorrect floor covering can lead to the floor surface being slippery. An oil leak or spillage for example can be extremely slippery and porous surfaces such as concrete hold the oil and can become slippery even after being cleaned up. Non-slip flooring needs to be installed if you are going to work or use any form of liquid.
Repair and protect
Making regular visual inspections of the workplace floor can ensure that any defects are spotted, and the repair can be scheduled. Floors that are regularly maintained have a longer life expectancy than those that are neglected.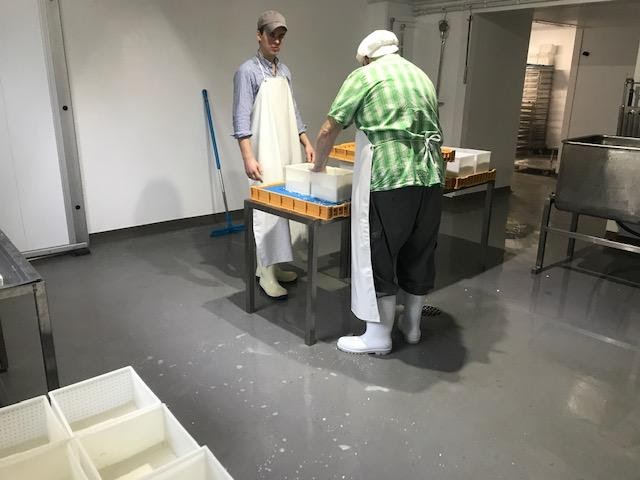 Non slip flooring
Food grade floors are consistently subjected to spillages and water due to constantly being cleaned down. It is vital that even when wet, a certain level of slip resistance is met. That is why polyurethane screed is excellent in this environment, as it has inbuilt anti slip properties. A non slip floor can support the work of employees and allow for a safe environment to work in.
Mark the way
Demarcation lines can give a clear indication as to where it is appropriate to leave something. Teamed with clear signage the workforce have no excuse for bad housekeeping.
Installing industrial epoxy resin flooring
Industrial epoxy resin flooring is one of the many types of flooring solutions that PSC Flooring can install to help with your Health and Safety requirements. Some of us may think that making upgrades or improvements to the working environment can be costly. But, when it comes to implementing those works, it's the production disruption that can end up being the unaccounted-for cost. One of our main aims is to ensure there is minimal disruption to your business when it comes to the installation.
PSC Flooring 
Here at PSC Flooring, we're proud to be one of the country's leading industrial flooring contractors. We specialise in a wide range of flooring installations, including food grade flooring. We understand the importance of getting it right first time, which is why we begin the process with a site survey. We will go through all of the best solutions before determining the perfect floor coating for the job at hand. With industrial epoxy resin flooring, we'll tailor the installation to your requirements. Whether you want to add additional safety markings, or different coloured zones, you can be sure we'll go the extra mile. 
If you would like to find out more about a non slip floor, then head to our website today. Installing food safe flooring doesn't have to be complicated, so call a member of our team on 01562 702047 today to find out how we can help.
If you have found this blog on anti slip flooring for the food industry helpful, you may wish to read our previous blog on Warehouse Epoxy Flooring.