Summary. Upgrade your warehouse with our robust epoxy flooring, designed to handle intense activity and heavy machinery. Unlike concrete, epoxy flooring for warehouses offers a durable, safe, and visually appealing surface that combats wear and tear. It supports safety with clear demarcation for traffic and pedestrian zones and maintains an attractive gloss for years. PSC Flooring provides expert installation and maintenance of epoxy flooring warehouse solutions, ensuring a clean, hazard-free, and impressive workspace.
The warehouse is the beating heart of any manufacturing or distribution business. In fact, a busy warehouse is one of the toughest flooring environments out there. HGVs, pallet trucks, stillages and fork trucks, shift heavy loads up to 24 hours a day, seven days a week. In addition, across the UK thousands of people are working in warehouses day and night. So, with so many different floor solutions available, why should you choose our epoxy resin warehouse flooring?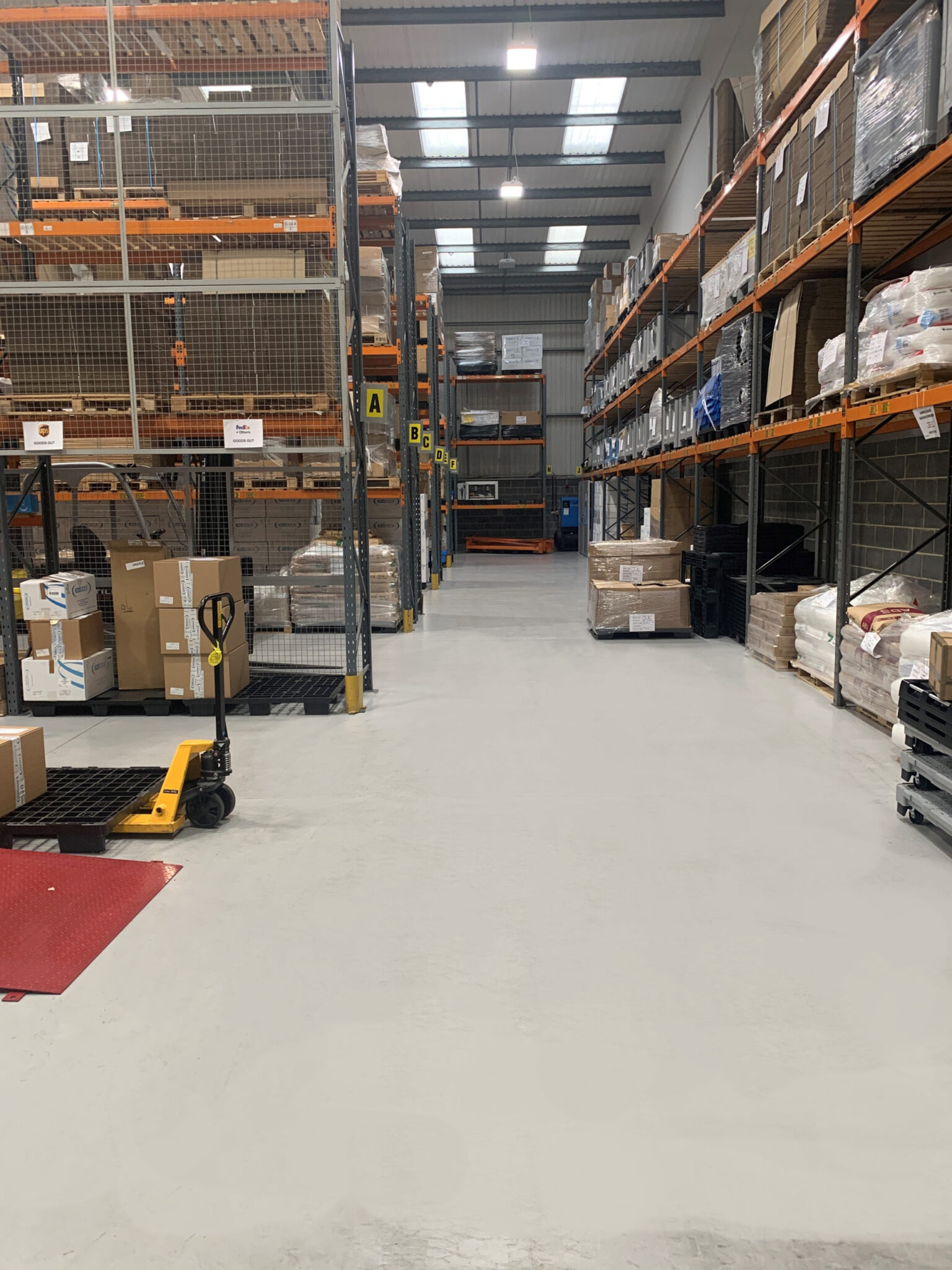 Concrete Alone Isn't Up To The Job
Most warehouses are built with a concrete floor. Now, whilst you may think that concrete is tough, it actually isn't as suitable as you think for a warehouse. Here are some reasons why:
It can be damaged by heavy traffic

– Concrete floors chip and get damaged, especially if large machinery, such as trucks and forklifts, are travelling on them on a regular basis.

Concrete isn't Instagram-friendly

– Do you really want potential customers to see a tired-looking concrete floor? It's not aesthetically pleasing.

The floors can become uneven

– Therefore unsafe for forklift and pedestrian traffic.

Concrete flooring can be uncomfortable and cold

– The tough working environment of a warehouse can be made even more difficult by hard floors having a negative effect on the walking and comfort of employees.

It can be prone to damp

– Concrete floors make it easy for damp and mould to grow and take over spaces.
Warehouse Epoxy Flooring
With heavy forklift and pallet truck use, warehouse floors tend to receive high traffic. Combined with high bay racking and foot traffic, it's important that flooring is level in order to ensure a safe workplace and proper operation of modern high reach forklift trucks. Epoxy warehouse flooring requires finishes which are of the highest standards. This includes chemical resistance, slip resistance, impact resistance and flatness.
Here at PSC Flooring, as leading industrial flooring contractors we are proud to be one of the country's leading resin flooring contractors. With this in mind, our epoxy resin is of the highest quality. So you can be sure your warehouse flooring system can be relied upon time and time again.

Safety Flooring
As any employer knows, workforce safety is crucial. So, choosing a floor that addresses this issue head on could make a big difference to your bottom line. 
A modern industrial environment should be clean, bright and clearly mapped out. An industrial floor should clearly lay out where the danger zones are. It should also map pathways to ensure the smooth flow of goods and traffic.
Demarcation of different areas is important to keep pedestrian and forklift traffic separate. Line marking, stencilling and floor signage help to make it clear where pedestrian routes and gangways are in relation to vehicle traffic. Where pedestrians and vehicle traffic meet safe crossing points such as zebra crossings and hatched areas to keep fire exits clear make the workplace safe for your employees.
With an epoxy floor coating, we can achieve all of these safety aspects and more. In fact, almost any floor design is possible with epoxy, and we'll use different epoxy resin colours to map out all of the important sections needed. 
An Attractive Finish With Epoxy
The look of a warehouse floor may not be top of everyone's list. However, going the extra mile to impress potential clients has its obvious benefits. With epoxy warehouse flooring, you'll be guaranteed a glossy and attractive finish. Choosing the right warehouse floor can help you to keep dust levels down and generally make it easier to send out your products in better condition.
Our high build epoxy resin is easy to keep clean and allows you to maintain that glossy look for years to come. First impressions really do count when clients and customers visit a warehouse, and as experienced industrial floor contractors, we'll help you give the right first impression every time. 
Easily Maintained Warehouse Flooring
With high traffic, warehouse flooring maintenance is critical. After all, a badly maintained floor could be a trip hazard or cause costly damage to essential moving equipment. Keeping the floor clean and dust free, preventing damp and providing a safe, hazard free working environment is crucial.  Epoxy floor is very easily maintained making it the go-to flooring solution for warehouses and garage floors.

Epoxy Resin – Right For The Job
PSC Flooring Ltd offer a range of specialist resin flooring solutions suitable for warehouse flooring. The team at PSC Flooring Ltd have immense knowledge and experience in warehouse flooring and can offer a solution to meet your needs at competitive prices. As leading experts in warehouse flooring, we will conduct a site survey to begin with too. With our wide range of epoxy colours and finishes, you can be sure you'll get exactly what you need and want with us. 
Contact Us Today
If you are interested in finding out more about our warehouse epoxy flooring, then head to our website today. Or, call 01562 702047 to speak to one of our helpful and friendly industrial flooring contractors. 
If you have found this blog helpful, you may wish to read our previous blog on Industrial Resin Flooring.