With space at a premium, businesses around the country are rethinking their working areas to ensure they get maximum return on their investment. By choosing the right industrial resin flooring, you can optimise your floor space, enhance the aesthetics of the area, and make your business even more appealing to clients.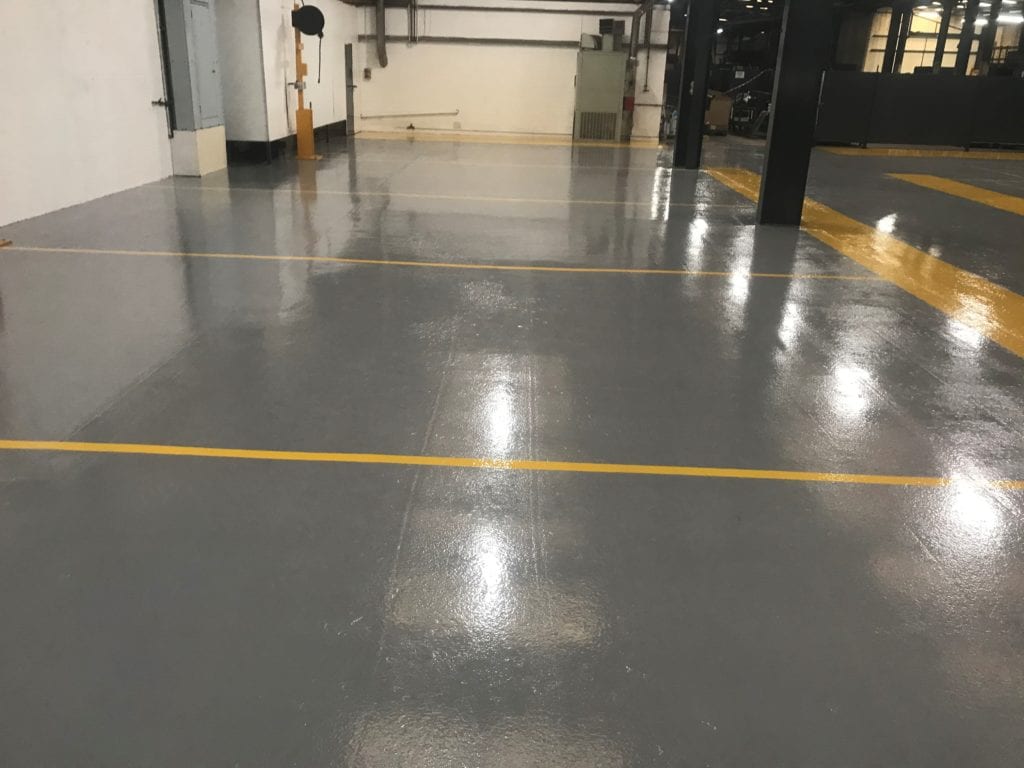 Showroom Flooring 
Of all the sales tools, product demonstration is key to businesses like ABT Products of Ross on Wye. They are a leading UK manufacturer of Loadmac, Truck mounted forklifts with worldwide distribution.
A product demonstration is one of the best sales tools to have if you have a high-quality product. It helps to get a prospective client interested and excited about your products. It is also an effective way to address the client's specific product-related concerns. Whilst key, demonstration of Forklifts however takes up valuable space.
An Industrial Resin Flooring Installation
ABT Products called PSC Flooring in to look at a 500 sq. metres area and determine an ideal flooring solution. Previously used for manufacturing, this space was now to be repurposed as a showroom/client space. It would be used to demonstrate their new Forklift Truck product ranges.
In order to effectively demonstrate the workings adequate space is needed to show all aspects of operating including:
Pre-operation, including pre-operation inspections

Travelling and manoeuvring the forklift

Handling loads with the forklift
With this in mind, after a thorough site survey it was decided that an industrial resin flooring would achieve these requirements.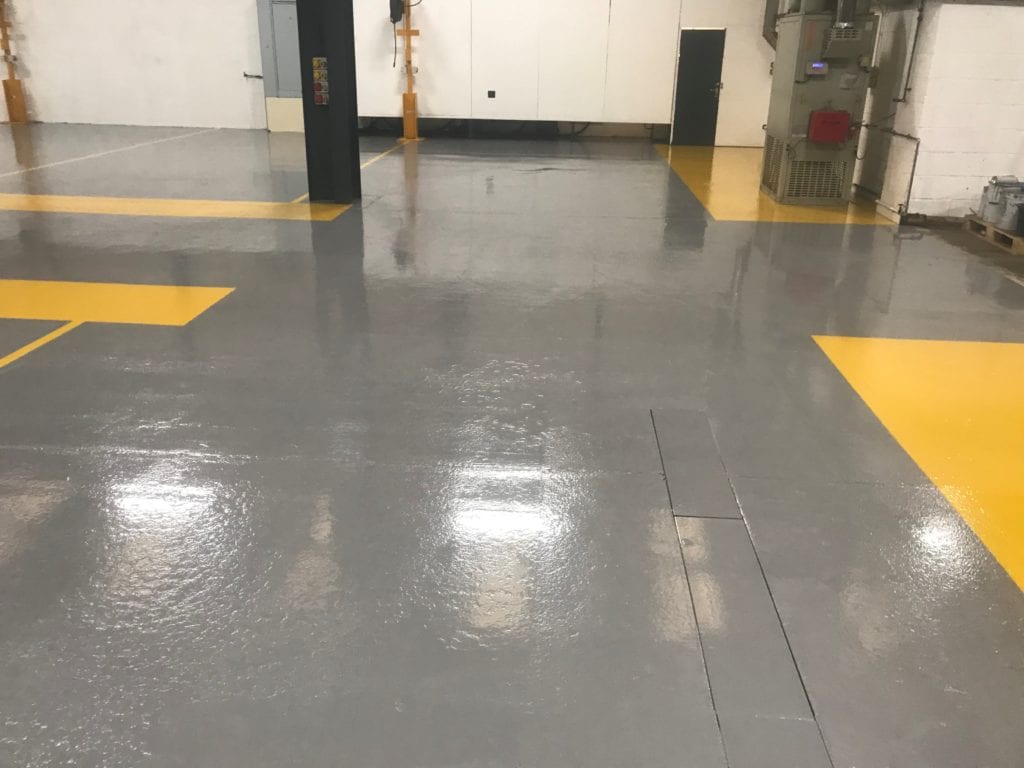 Preparing For Epoxy Flooring
On the site visit Nathan Desmond, the Commercial director from PSC, was able to talk through the specific needs of the job with the client. They were then able to talk through the available options.
The client was looking to transform a dull and dirty area, into a clean, vibrant space that that could be shown off to potential clients. The main brief was a cost-effective, hardwearing, easy to clean, gloss resin floor ideal for Forklift demonstrations. Time spent at this stage talking through the options and discussing the client's needs in detail was well worth it.
Nathan was quick to identify that the floor required heavy duty shot blasting due to years on manufacturing grime build up and layers of very old worn floor paint. Surface cleaning and substrate preparation ensures the epoxy resin will remain securely bonded to the concrete substrate.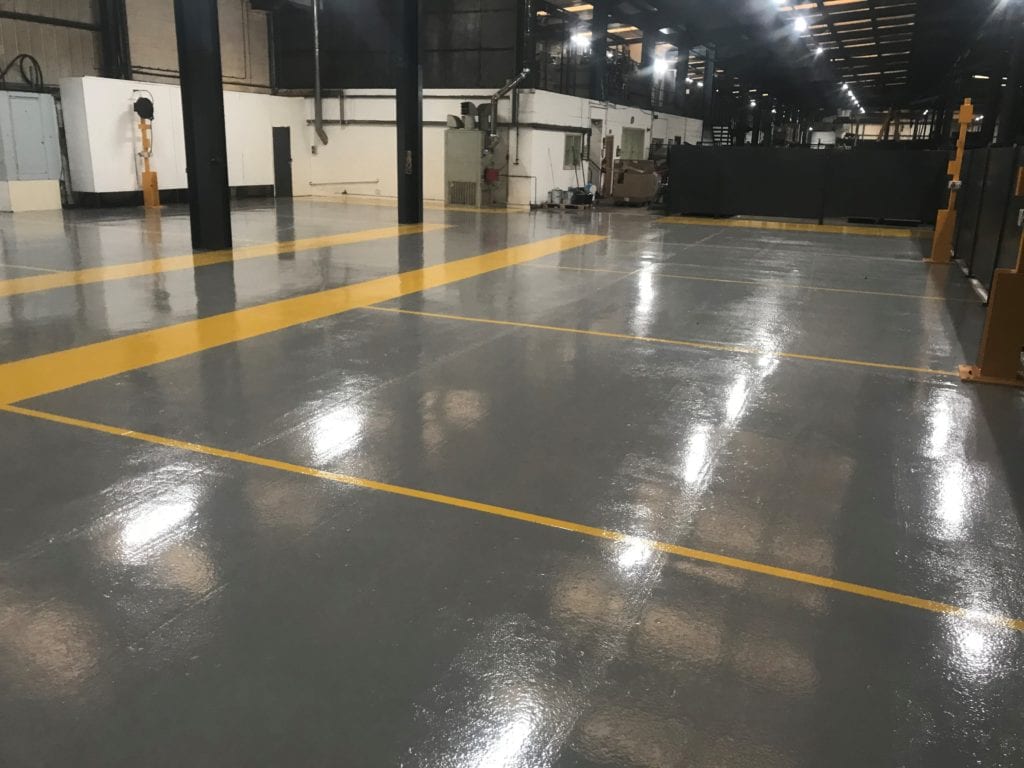 How Long Was The Epoxy Floor Installation?
The project was required to be completed in a 5-day timescale. Once the floor was prepared, the recommended 2 coats of Resdev Pumatect high build epoxy resin was laid in the clients chosen mid grey. Accentuated with safety yellow demarcation lines, bays, and walkway,  the space was transformed.
Chris Marshall from ABT Products commented "We couldn't have been happier with the work that the team from PSC have carried out. They were professional and helped us every step of the way from the initial site survey, talking through the product specification, surface preparation & product installation process. It was great to work with a truly experienced team."
Contact Us Today For Industrial Resin Flooring
Here at PSC Flooring, we are proud to be one of the leading industrial flooring contractors. With this in mind, we've got plenty of experience when it comes to installing industrial and commercial floor solutions. Whether you are looking for workshop flooring, manufacturing flooring, showroom flooring, or even hygienic flooring, you can rest assured that our epoxy resin flooring will suit your needs. 
To find out more about our industrial resin flooring installation services, head to our website today. Or, call 01562 702047 to speak to one of our helpful and friendly industrial flooring contractors. 
If you have found this blog helpful, you may wish to read our previous blog on Commercial Epoxy Flooring.