Industrial Flooring Experts
Vehicle Workshop Flooring
Vehicle Workshop Flooring
Features
Demarcation lines to meet VOSA standards
Dust free
Fast to install
High gloss
As leading providers of industrial flooring solutions, you can trust the team here at PSC Flooring Ltd to provide you with high quality vehicle workshop flooring. We have installed flooring solutions into plenty of workshops and body shops, working for major brands including Toyota, Seat, Hyundai and Mercedes.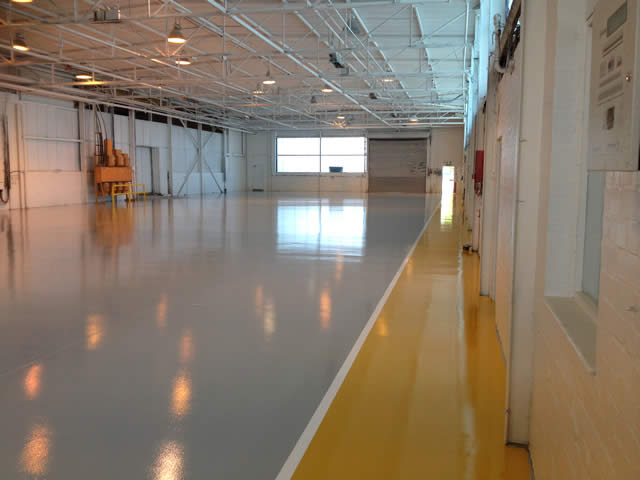 Workshop flooring needs to be rich in its practical features, but also boast some attractive properties too, and our epoxy resin flooring does just that. Epoxy resin flooring is extremely hard wearing, and is ideal for vehicle workshops. This type of environment needs a flooring system that can withstand heavy duty workloads, as well as various spillages which will commonly occur in the vehicle workshop. Our high build epoxy flooring is very durable, and can easily withstand regular vehicle movement, foot traffic and large industrial machinery too – such as forklift trucks. Impervious to chemical spillages, the vehicle workshop flooring is easily cleanable, and spillages of components such as grease, oil or fuel will remain on the surface and will not absorb into the floor – therefore is easily cleaned and maintained.
Available in a wide range of colours, epoxy resin is a cost-effective way of transforming the look of your garage flooring, and turning it into an attractive, high-gloss area that is appealing to customers.
This type of industrial flooring is a perfect 'all-rounder' and its properties are perfect for this type of heavy duty environment. It offers excellent wear resistance, and fast installation times, and ticks all the right boxes for vehicle workshop flooring.
PSC Flooring Ltd are a specialist industrial flooring contractor that specialise in epoxy resin car workshop flooring. We have many years experience of working with major car dealerships, providing epoxy resin floors to a number of workshops and body shops. These include Toyota, Peugeot, Ford, Land Rover, Vauxhall, Seat, Hyundai and Mercedes.
Most modern vehicle workshop floors are required to be attractive, high gloss, hard wearing, seamless, easy to clean and give high standards of protection against spillages of grease, oil and diesel.
High build epoxy resin such as Pumatect provide a very robust, hard wearing vehicle workshop floor with excellent abrasion and chemical resistant properties.
Epoxy resin car workshop flooring is ideal for areas of regular vehicular movement, foot traffic, forklift trucks and hard plastic wheeled trolleys.
Epoxy resin pedestrian walkways, demarcation lines and chevrons can also be installed to meet VOSA standards. MOT bays and inspection pits can be safety lined in epoxy resin, resulting in a professional, attractive, hard wearing and safety compliant finish to your garage.
Epoxy resin vehicle workshop floors are very easy cleanable and not dusting. They are totally impervious and any grease, oil and fuel will remain on the surface until they are mopped up.
The major benefit of choosing high build epoxy resin for car workshop flooring is that they are fast to install and can be completed over a weekend period, thus keeping downtime to a minimum. They are also a very cost effective way of transforming a vehicle workshop floor, into a very attractive, high gloss, safety conscious area.
If you are interested in finding out more about our vehicle workshop flooring or any of the other industrial floor coatings we have on offer please do not hesitate to contact us on 01562 702047. We can arrange a free site survey at your business and advise you on the most effective floor coating for your working environment.
Advantages of installing epoxy resin floor in a vehicle workshop flooring
Vehicle workshop epoxy resin is available in a wide range of colours
Epoxy resin is chemically resistant against oil, grease and fuel
Very hard wearing, with excellent wear resistance
Vehicle workshop epoxy resin provides a gloss, attractive, easy to clean floor.
Fast installation times, minimising downtime
Can have epoxy resin demarcation lines and chevrons for MOT bays and around inspection pits.
Click images below to view larger version :