Garage workshop flooring is just one example of our flooring solutions here at PSC Flooring. As one of the country's leading resin flooring contractors, we're experts in industrial flooring. One of the industries we can support, is the automotive industry. The auto garage industry can be broken down into different sectors; each with their own flooring requirements. 
No matter what part of the workshop it is, vehicle workshop flooring needs to be hardwearing, durable, and reliable. With this in mind, epoxy garage floor paint is usually the best solution for the job. 
The major benefit of choosing high build epoxy resin for vehicle workshop floors is that they are fast to install. They can also be completed over a weekend period, thus keeping downtime to a minimum. Epoxy is suitable for all aspects of the workshop flooring including:
• Workshop flooring for garages
• MOT bay flooring
• HGV Bays
• Franchise Garages
• Body Shops
Garage workshop flooring
When looking at the requirements of a garage workshop flooring, epoxy resin is the ideal surface. It is totally impervious and hence any grease, oil and fuel will remain on the surface until cleaned up. If required anti-slip safety flooring can be applied to high traffic pedestrian areas, wash bays, ramps, and valeting bays.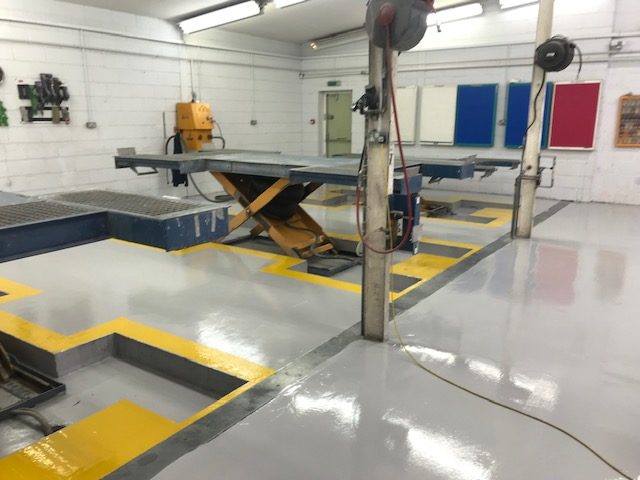 MOT bays and around inspection pits
Besides the various equipment needed to perform an MOT, there are VOSA standards which state the minimum space requirements for an MOT bay. The vital VOSA standard safety lining and MOT marking system can be achieved by locally applied demarcation lines.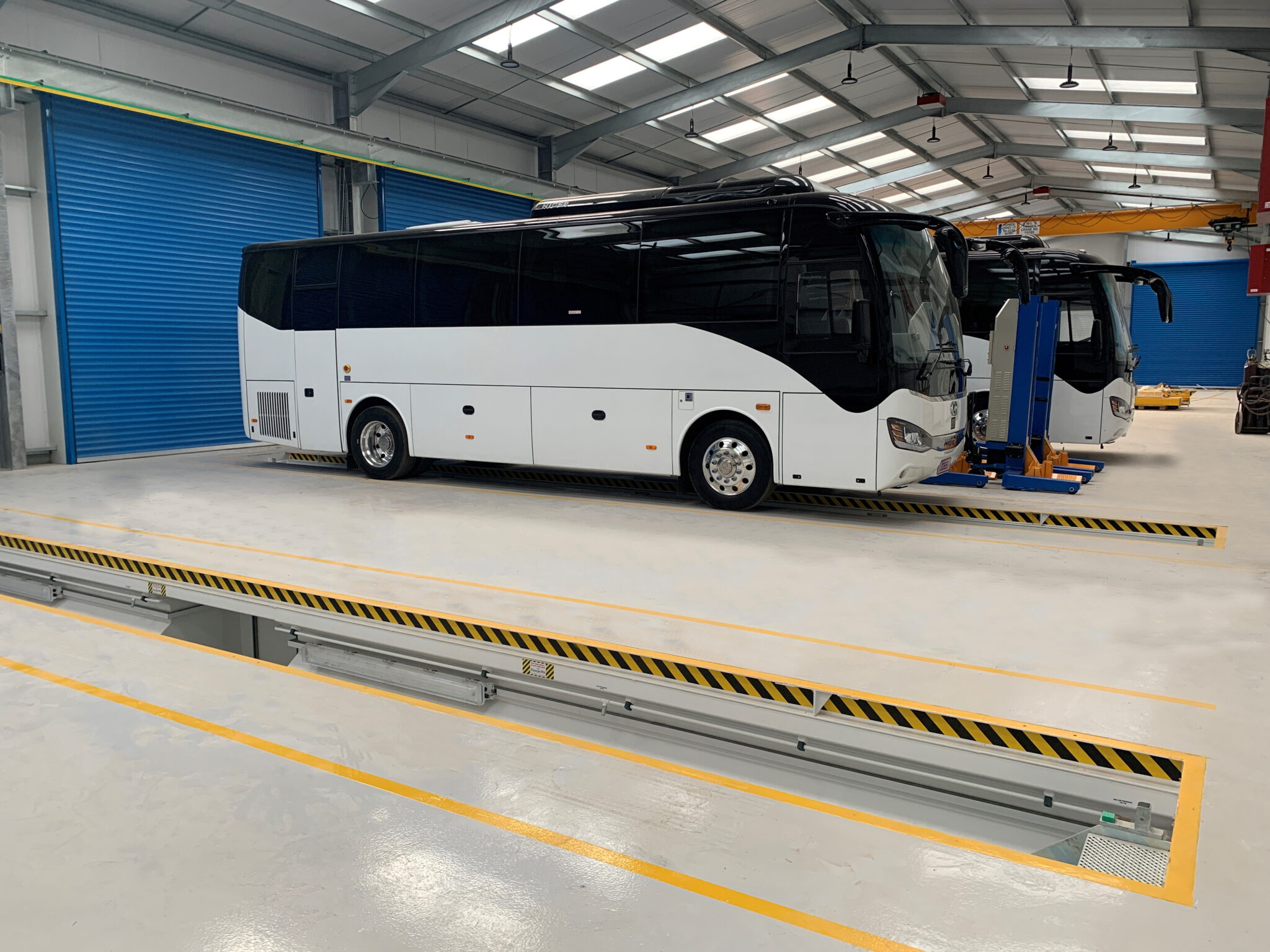 HGV Bay flooring
When dealing with larger vehicles such as trailers, trucks and other HGV's, the floor needs to have certain properties. It needs to be durable, hard-wearing, and in some cases anti-slip. Safety is of the utmost importance with large moving vehicles. Our epoxy resin can be used to create demarcation lines. We can create the demarcation lines in highly visible colours of  safety yellow, black, white, blue, green or red. We can also create for chevrons and cross-hatching for bays, walkways, and reversing vehicle bays. 
Franchise Garages
Franchise garages (Main dealerships such as Hyundai, Peugeot, Mercedes etc) often need their workshop to be in the company colours. A common goal is to carry the clean look they achieve in the showroom, through to the workshop. Epoxy flooring allows company brand colours to be used on the workshop floor. 
Flooring for body shops 
As well as carrying out repairs, vehicle body shops have the additional facility of Spray booths. Spray booths require a clean atmosphere with minimal dust and wipeable surfaces. Epoxy resin flooring is ideal for spray booths. You can even choose the design of your body shop floor in colours to suit your corporate ideas.
Industrial flooring contractors
Industrial flooring contractors PSC flooring recommends Resdev Pumatect epoxy Resin coating systems for workshop flooring. Designed to meet safety standards, it provides your vehicle workshop with a modern appearance. To find out more about garage workshop flooring, or any of the other industrial floor coatings we have on offer, head to our website today. Alternatively, call 01562 702047 to speak to a member of our helpful and friendly team.  We can arrange a free site survey at your business and advise you on the most effective floor coating for your working environment.
If you have found this blog helpful, you may wish to read our previous blog on Non-slip Flooring.