Engineering and manufacturing production areas have some of the most arduous environments that present issues that must be considered when choosing a suitable flooring system. With busy and heavy-duty forklift truck traffic, impact, abrasion, chemical and heat damage are a few of the issues that a flooring system must adhere to. Thats were industrial flooring companies like PSC come in.
Hazardous material and waste from production sites can seep into the floor if not protected. In particular, Engineering and Manufacturing flooring can be subject to contamination from aggressive liquids and other hydraulic fluids and fuels.
High traffic pedestrian areas such as gangways and loading areas need demarcation to reduce health and safety incidents. Additionally, they may require anti-slip safety flooring to reduce slips, trips and falls.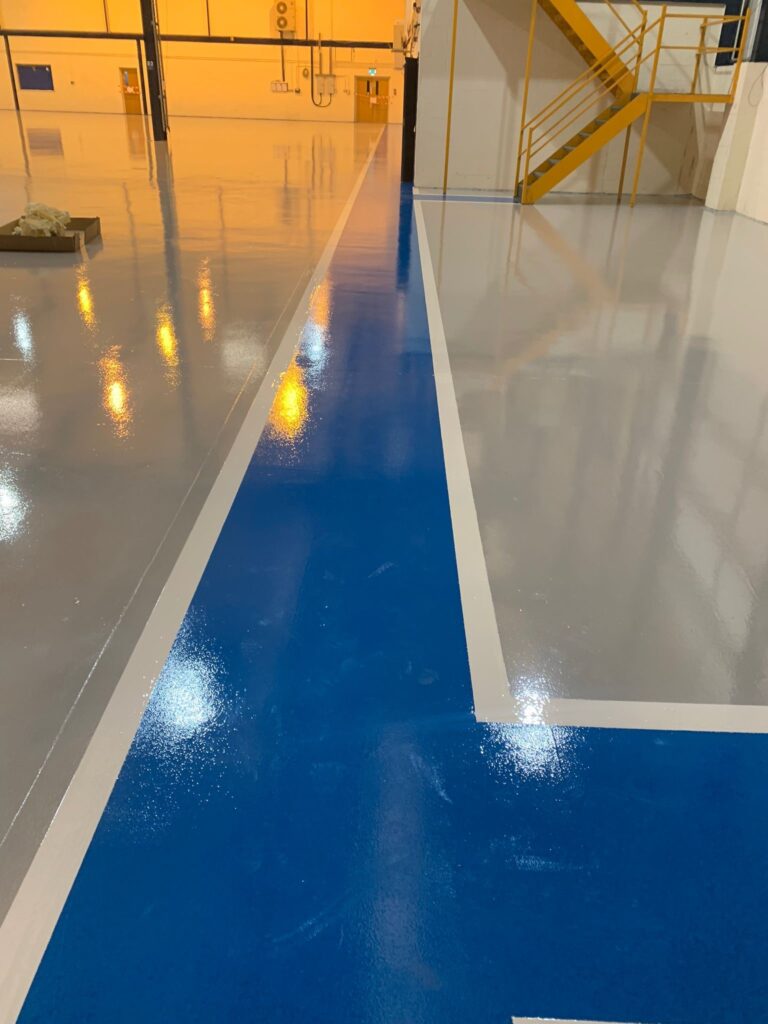 Epoxy Resin – Durable Flooring Solutions That Last
Epoxy resin industrial flooring is versatile enough to work in almost any environment. All options are totally impervious. Therefore, any spillages such as grease, oil or fuel will remain on the surface until cleaned up. Once the spillage is removed, it will not leave a mark on the floor.
Distinct colours of epoxy resin can be used to create demarcation lines. Also, highly visible safety yellow, black, white, blue, green or red for chevrons or cross-hatching can be in use for many areas. For instance, creating pedestrian walkways, trucking gangways and vehicle loading bays.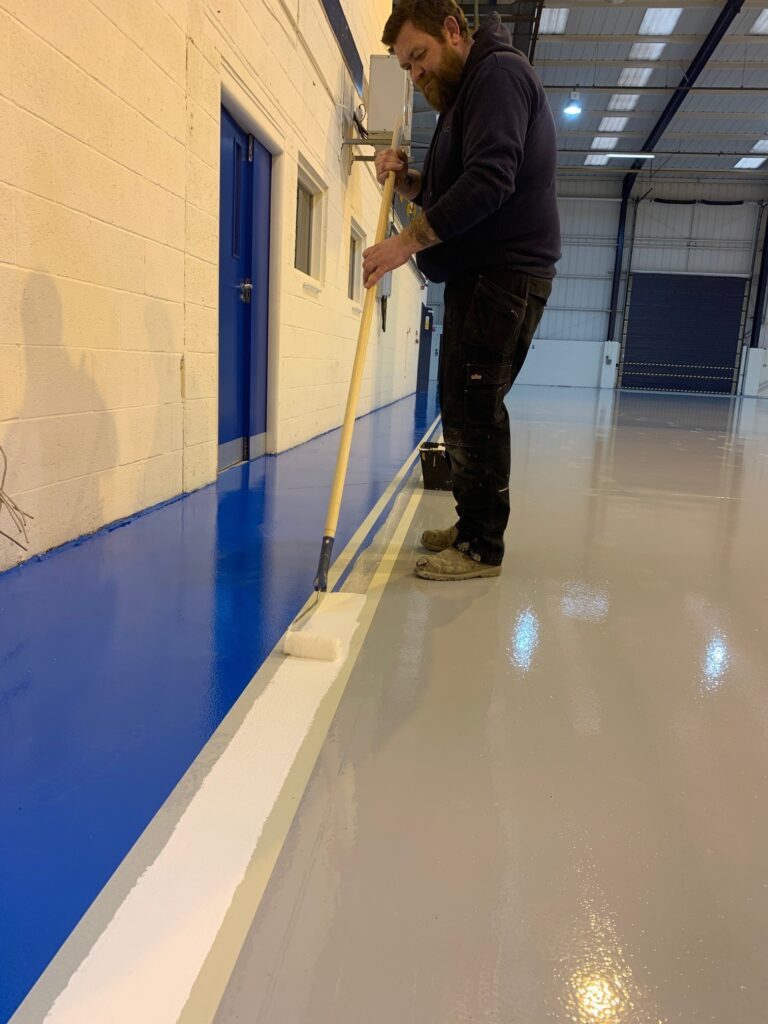 QM Systems – Engineering And Manufacturing
PSC Flooring, one of the leading industrial flooring companies in the UK, were approached by QM Systems. They provide innovative engineering and automation solutions across a variety of industry sectors around the world. QM Systems contacted us to look at their new manufacturing facility flooring in Hartlebury. They were relocating to a much larger manufacturing facility with 3500 square metres. Consequently, they were requiring, as part of the refurbishment project, a high wearing, gloss, epoxy resin floor.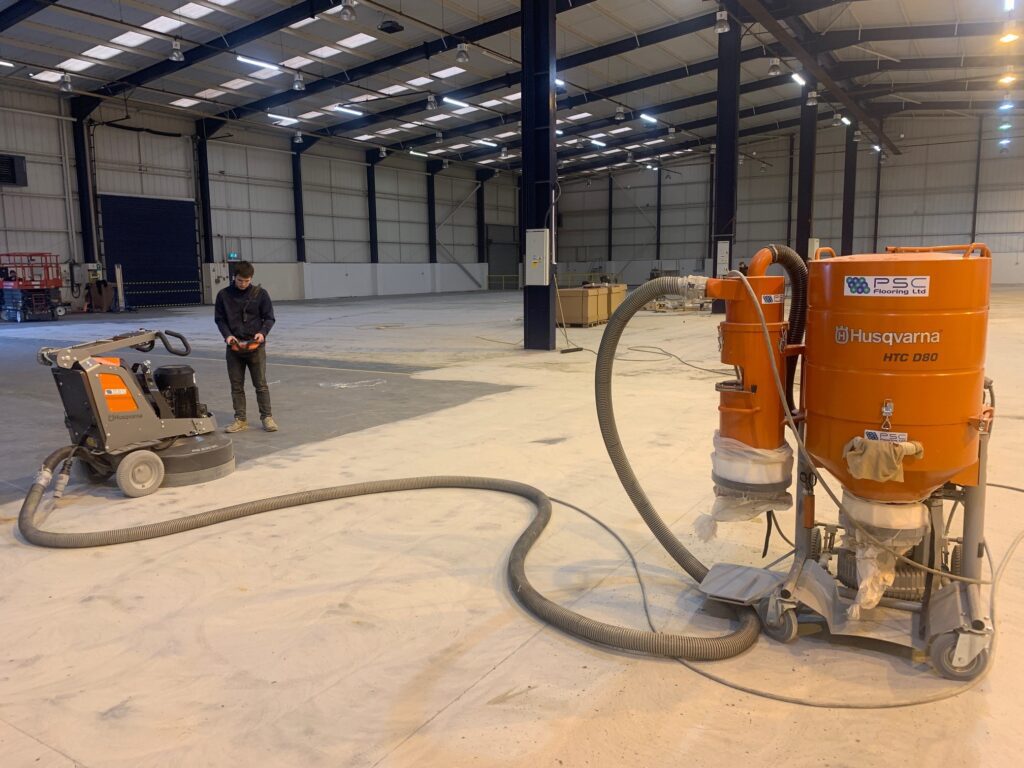 In Preparation
Furthermore, in preparation for our recommendation of high build epoxy resin floor system, the old floor paint was removed. In addition, the concrete was prepared using the captive diamond grinding machine. All the previous tenants racking bolt holes were filled using resin filler and polyurethane mortar compound. Also repairs were made to the damaged localised concrete, holes and cracks as required.
The industrial high build epoxy resin floor system was then installed consisting of two coats of high build epoxy resin in the clients chosen colours: light grey, with a pedestrian walkway in Chelsea Blue with white edging line.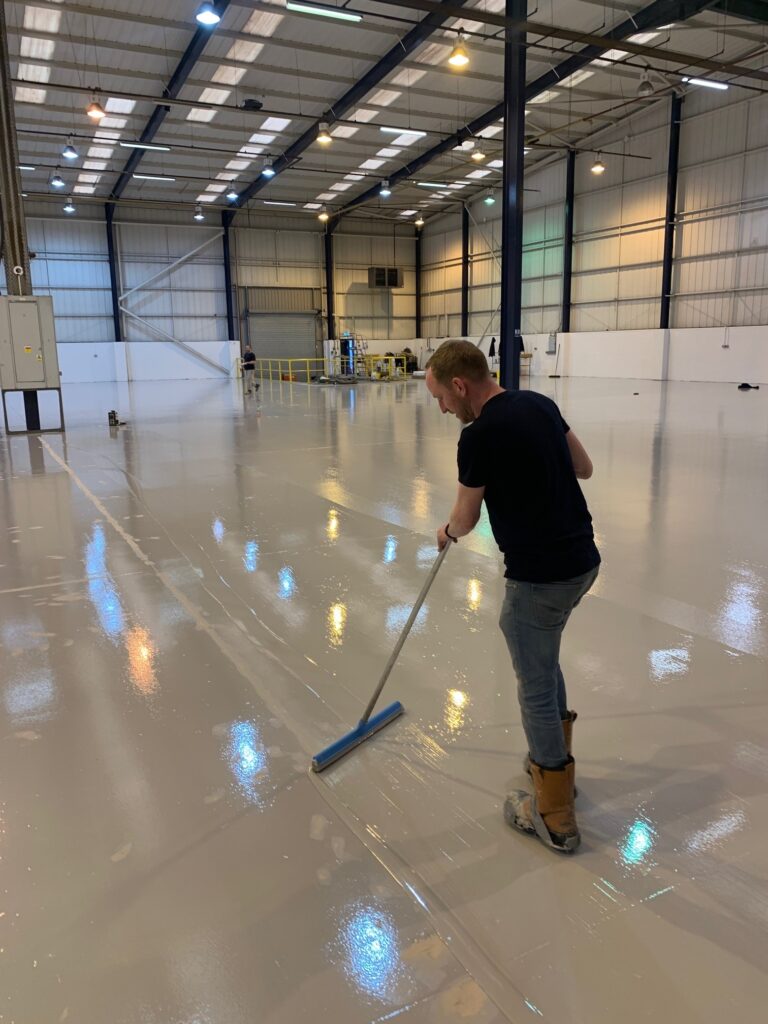 Industrial Flooring Fit For Purpose
The job was completed in just 9 days, Mr Leigh Hollamby Operations Director for QM Systems Manufacturing Ltd commented:
"The high build epoxy resin floor system PSC has installed looks great. The new manufacturing and warehouse Unit in Hartlebury is now fit for purpose and we can move in. Investment in the new floor is 100% worth it as it makes the space lighter and brighter and will be so much easier to keep clean."
If you found this blog useful, why not take a look at a previous one: Expansion Joints – Why Are They Important?