It is important to note that all concrete will shrink slightly as it dries. Consequently, when it's set, it will continue to expand or contract depending on the ambient temperature. Concrete can expand up to a half-inch (1.27cm) per 100 feet (30.48m). Concrete expansion is natural and expected during the warmer periods. By installing expansion movements joints in the concrete slab, it helps to protect the screed floor from cracks.
Should too much strain be placed on the floor, cracking will be located along the line of the joint, in a controlled manner. However, without the joint, the cracking could be spread across a wide area.
Mirroring Through Expansion Joints To Prevent Cracking
When laying any resin screed the technique of mirroring through the joints is an important step. This is because joints in a concrete substrate are created to control the shrinkage and expansion of the slab, in order to minimise cracking.
Epoxy resin does have some degree of elasticity; however, most will not be able to cope with bridging expansion joints. To avoid cracking and delamination of an epoxy resin screed floor, movement joints need to be mirrored through the final floor finish.
Creating An Aesthetically Pleasing Expansion Joint
It is important to mark out the expansion joints prior to the resin floor installation. Once laid the expansion joints will no longer be visible. After the resin floor is cured, we use a chalk line to mark out where the expansion joints are. Additionally, they can be re-cut and knocked out. The void then needs to be filled with a matching jointing compound to achieve a more aesthetically pleasing, neat and higher quality finish. If the void is not filled, it will collect dirt and debris. This is not only unsightly, but also could cause the joint to shear, as concrete moves, expansion could be limited by debris.
Related: Keep On Trucking – Why Are Trucking Gangways Important?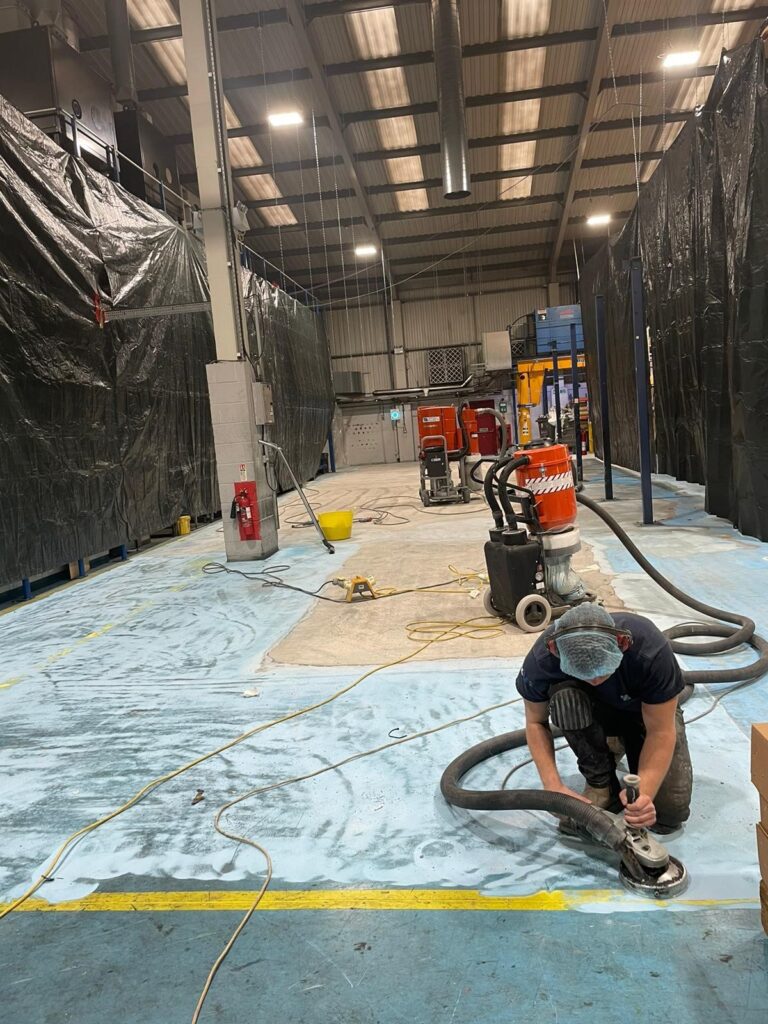 Leading Edge Labels Ltd – Engineering and Manufacturing Flooring
Leading Edge Labels and Packaging of Gravesend is an existing PSC client. Based in Kent, they are one of the largest HD Flexo packaging printers in the UK. They supply to household, personal care, food, beverage, beauty, healthcare, petcare, horticulture & automotive industries.
Furthermore, they operate a 24/5 multi-production facility with 10 enormous printing presses. Therefore, it was imperative that the work was carried out to fit in with the client's working schedule. As well as, creating as little dust as possible. The 201 square metre area was covered with laytex screed and failed floor paint which had to be removed. After that, the final nominal 3mm self-smoothing epoxy resin screed floor could be laid.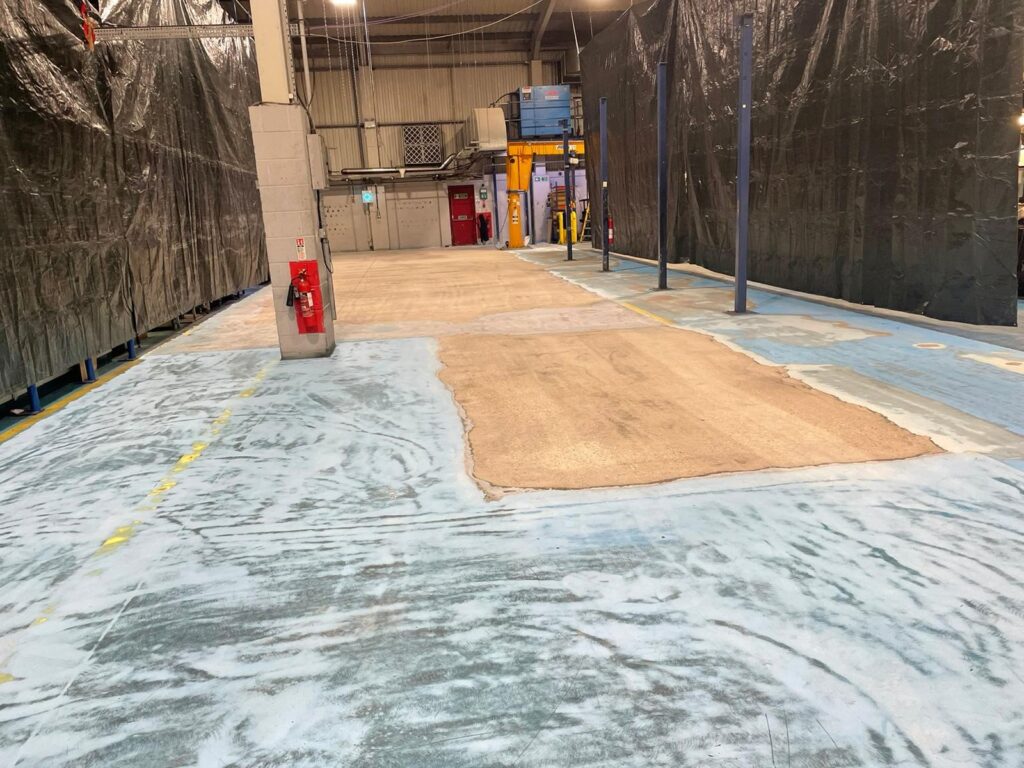 In Preparation
To remove the laytex screed and failed floor paint, thoroughly clean and prepare existing concrete floor, a totally enclose double headed diamond grinding machine was used which required power supplied by 3 phase, 415 volt 32amp power supply.
All edge-work was prepared using a totally enclosed hand held 110v diamond grinder and the area was vacuumed clean of all residues and dust. Repairs were carried out to localised damaged concrete as required using resin screed.
In order to prevent an air rising, two coats of Resdev Pumaprime epoxy resin priming system were applied to total floor area. After that, the nominal 3mm Resdev Pumaflow self-smoothing, epoxy resin screed, in the clients chosen gloss, mid blue.
3mm x 6mm expansion joints, were mirrored through, recut, knocked out and infilled with matching jointing compound to circa 35 linear metres.
Another Happy Client
The works were completed on time and in budget. Mr Dave Driver, Operations Director – Leading Edge Labels Ltd commented:
"We have used PSC before and find them extremely accommodating and helpful. The floor has once again turned out exactly as we wanted. Happy to recommend them as a company and use them again in the future."
If you enjoyed reading this blog, why not take a look at a previous one: Fit For Forklifts – Warehouse Flooring