Floors take the brunt of the rigorous demands of a busy auto shop. They have a constant flow of both pedestrian and vehicle traffic. Additionally, in an industrial garage, not only is there the weight strain on the flooring, but they are subject to a number of liquids and potential contaminations. For instance, moving vehicles from outside in, can sometimes mean that the tyres are wet and dirty. Alternatively, they could have leaking or spilled car fluids such as petrol, oil and grease.
Clear Definition Of Working Spaces
Clarity of movement is essential in a busy vehicle workshop. Having defined spaces on the floor ensures that vehicles and pedestrians are in the places you expect them. It also eliminates the nasty surprises that could lead to potentially fatal accidents. An open plan space can be sectioned up to accommodate moving hazards. This is done by using a mixture of block colours and demarcation lines.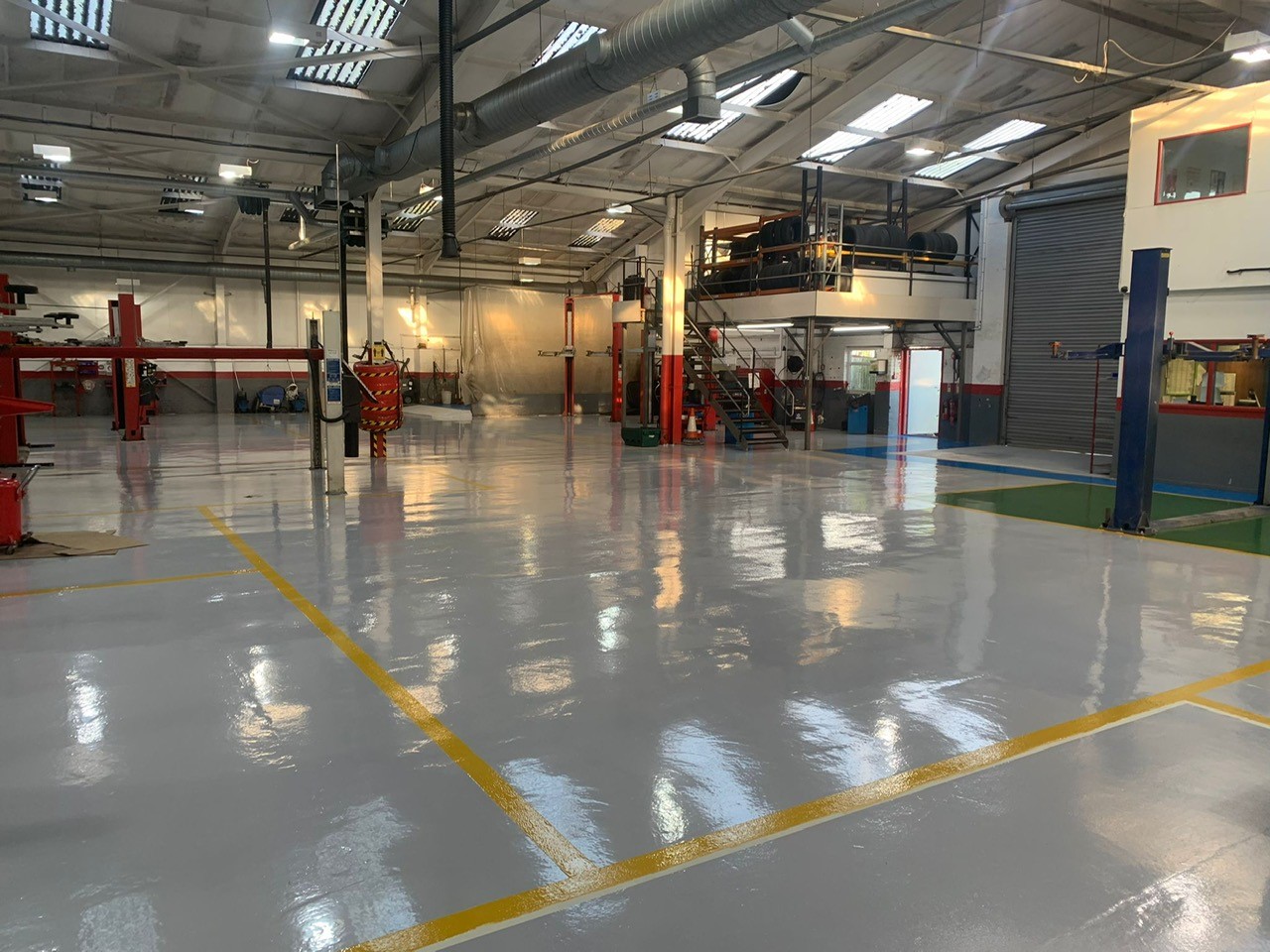 Harborne Garage Ltd – Vehicle Workshop Flooring
When a client wants a hardwearing floor, that would withstand the rigorous demands of a busy vehicle workshop, the recommendation is always a two coat High Build epoxy resin coating system.
Harborne Garage Ltd is a family run specialised vehicle services business based in Selly Oak, Birmingham. They called PSC in to look at refurbishing the floor surface in the 873 square meter auto shop area. The floor had multiple layers of failed floor paint and years of workshop related dirt was evident.
The vehicle workshop flooring needed a thorough cleaning of the the whole area of 873 square meters. After that, the floor required a two coat High Build epoxy resin coating system, before laying epoxy resin demarcation lines to 280 linear meters.
Preparing The Existing Concrete Floor Surface
The preparation process included thoroughly cleaning and preparing existing concrete floor surface. In addition, removing of the multiple layers of failed floor paint that was currently down. To achieve this the whole area was ground back.
The specialist machines in use were a totally enclosed double headed diamond grinding floor preparation machine. It required a power supplied by 3 phase, 415 volt, 32 amp socket, and a handheld 110v diamond grinder.
The 873 square meter area was then vacuumed clean of all residues and dust. After that, repairs were made to damaged localised concrete, holes and large cracks as required using epoxy screed and resin filler.
Applying The Epoxy Resin Coating System
The now cleaned floor was masked out and lay two coats of Resdev Pumatect high build, epoxy resin flooring system, gloss, Light Grey Ral 7035was applied to gangways totalling 307 square meters. A gloss, Mid Grey Ral 7047 was applied to work bays and MOT Area, totalling 515 square meters and gloss, Chelsea Blue to walkway totalling 51 square meters, including floating 500mm wide zebra crossing pads in front of shutter door.
A Glowing Recommendation
"The floor has come up brilliantly! We couldn't be more pleased with the work that PSC have done. Their advice has been really helpful from the preliminary site survey right the way through the job." The job took 6 days in total over the Christmas period shut down.

Mr Paul Harper – Director Harbourne Garage
IndustrIal Garage Flooring Experts – PSC Flooring
Are you looking for an industrial flooring contractor for you auto shop? Get in touch with PSC Flooring today. Call now for a FREE site survey 01562 702047. As vehicle flooring experts, we can advise you on the most effective industrial flooring coating for your business.
Furthermore, if you found this blog useful, why not take a look at a previous one: No Longer Dirty Work, If You Choose The Right Vehicle Workshop Flooring – High Build Epoxy Resin Flooring Systems