Traditionally working in a garage is dirty work. In the past, every surface within a vehicle repair /maintenance industry was covered in a thick layer of mechanics grease and grime. Today, however, that doesn't have to be the case. If automotive shop repair /maintenance companies choose the right vehicle workshop flooring, such as high build epoxy resin flooring systems, it can transform the environment. This is where an epoxy flooring specialist, like PSC Flooring comes in.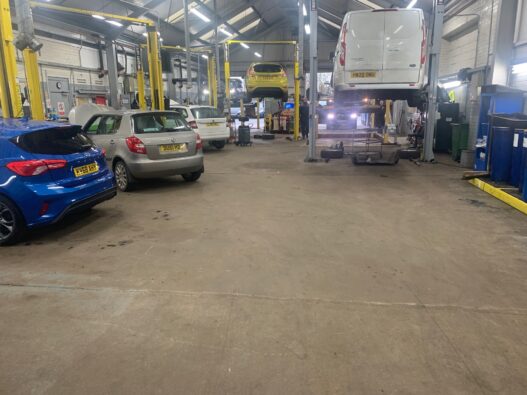 Vehicle Workshop Flooring Solutions
The main issue has always been cleaning down surfaces that are subjected to oil and grease. Due to the rigorous demands of the workshop environment floors are typically made from concrete which unfortunately is a porous substrate. When oil or grease is spilt on concrete even if wiped up immediately, they seep in and stain the surface often leaving a slippery film to the surface.
What Are The Benefits Of A High Build Epoxy Resin Flooring System?
As an epoxy flooring specialist, PSC complete a lot of Garages, MOT Centres, workshops and HGV garages. The normal recommendation for this sector is a High Build Epoxy Resin Flooring System. Our manufacturer of choice is Resdev. They offer a product called Resdev Pumatect. Pumatect, which is a two-component virtually solvent free epoxy floor coating. Moreover, the product offers excellent abrasion and chemical resistance. Additionally, it is ideal for automotive shop floors because it is:
Fast to install
Totally impervious to grease, oil and fuel
Easy to clean
Anti-slip if required
Available in a variety of colours so brand colours to be applied to the workshop floor
Demarcation lines can be applied in a variety of colours
Value for money – Epoxy resin flooring is not expensive comparative to its lifespan
Furrows Group Ltd – Vehicle Workshop Flooring
Mr. Alan Clavin of Furrows Group Ltd owns a Ford main dealership group with dealerships in Shrewsbury, Oswestry and Telford. He called PSC Flooring to look at their 380 square meters workshop floor at their Oswestry dealership.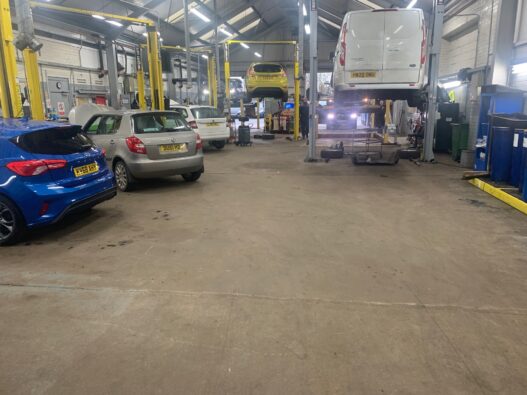 Preparation & Application
Initially the PSC team prepared the main workshop floor area using the totally enclosed diamond grinding floor surface preparation system. After that, we prepared the edge work with a handheld 110v diamond grinder. The whole area was then vacuumed clean of all residues and dust with a 110v triple motor vacuum. Additionally, repairs were made to any localised damaged concrete, cracks, as required using epoxy mortar compound and epoxy resin filler.
The High Build Epoxy Resin Flooring System was applied to the 375 square metre workshop area, in the clients chosen Light Grey Ral 7035 before 50 linear metres by 200mm wide demarcation lines were installed in, safety yellow, Ral 1004 around the pit area and rolling road.
Epoxy Flooring Specialist – PSC Flooring
The job was completed in just 2 days over the Christmas shutdown period. Mr. Alan Clavin of Furrows Group Ltd commented "We are very pleased with the Vehicle workshop floor that PSC have installed for us. The space now looks professional, light bright and airy, yet hardwearing and fit for purpose."