Looking for an epoxy resign floor for a car workshop? As one of the country's leading industrial flooring contractors, PSC Flooring can help. In the motor trade looking good doesn't just apply to the floors of the cars showroom; making sure every aspect of the workshop looks professional is just as important. Customers are paying for a service, and therefore expect clean, smooth, shiny floors throughout the dealership. Main dealerships such as Lookers Ford attract their customers based on the full package and therefore it is compulsory that their image must go right the way through into the service and repair garage.
Workshop Flooring – Managing Safety In The Workplace  
In a garage, setting the wrong type of workshop flooring can be a hazard. A plain concrete floor or a painted concrete floor that is peeling can allow oil and other motor fluids to seep into the concrete. If the floor begins absorbing liquids, it could potentially become slippery and be problematic to clean.
Easy Clean Industrial Flooring
When approached by a client to look at their 750sq meters workshop, the workshop was dark, dirty and definitely not giving the right impression to customers. Many years ago, having tried to self-apply a standard floor paint they had found that it de-bonded and wore away extremely quickly. This time they were looking for an industrial finish that was suitable for the busy car workshop – a garage flooring that would be long lasting, easy to clean and make the area feel lighter and brighter.
Epoxy Resin Flooring – Perfect For Car Workshops
There are many different benefits to using epoxy resin flooring for garages and workshops. Here are a few reasons why you should consider using epoxy paint for your vehicle workshop flooring:
It is impervious to oil and motor fluid spillage

There are a wide choice of colours available so you can match the flooring with your own corporate branding

Additional demarcation lines in our high traffic floor paint can define walking pedestrian areas to enhance safety

It is light reflective so improves the working area for employees and visitors alike

And last but not least, it is easy to clean and maintain with minimal effort required
High Traffic Floor Solutions
The busy car workshop constantly has a high traffic flow, multiple hydraulic ramps allowing for over 10 vehicles to be worked on at any one time. The customer choice a light grey resin flooring with safety yellow demarcation lines – this perfectly offset the existing hydraulic ramps already painted in safety yellow. The addition of the high traffic paint markings made the space feel light, bright and clean.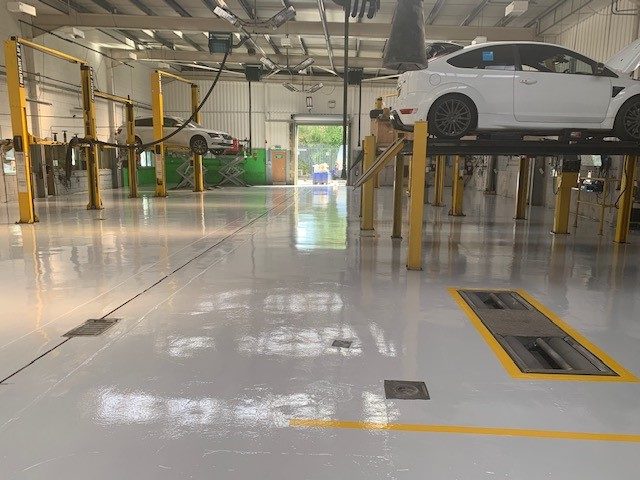 The Manager commented
"The transformation in our workshop is huge and this is all down to our new resin floor. What was once a dark and dim area is now bright, clean and very appealing. We are delighted with the work PSC Flooring has done!"
Contact Us Today
If you would like to find our more about our workshop flooring solutions, then head to our website today. Alternatively, you can call 01562 702047 to speak to a member of our helpful and friendly team.
If you have found this blog helpful, you may wish to read our previous blog on Installing Epoxy Floors.