Whatever product you are warehousing, the layout of the racking and the flooring within the warehouse play a big part. Using an Epoxy resin coating on a warehouse floor turns the surface into a smooth, stain-repellent, non-porous surface. Therefore, it makes cleaning and maintenance very easy. You can simply wipe or dust the surface clean without worrying about stains.
Furthermore, other reasons a two-coat epoxy resin system is such a popular choice for warehouse flooring is because of its high strength, tolerance, and durability. Consequently, for an area that frequently operates heavy machinery like forklifts and experiences a lot of daily foot traffic, this is very important.
Related: Surface Preparation | The Key Successful Floor Installation
High Build Epoxy Resin For Warehouse Floor Coating
PSC were recently contracted by Canonbury Products of Brackley. They are the UK's podiatry product specialist including consumables, equipment, orthotics, insoles and supports, gels, creams powders and more. The floor its-self had layers of old floor paint that required removal.
In this case Canonbury Products were looking for a hard wearing floor for their warehouse and goods area. It needed to be able to accommodate forklift trucks and pallet truck traffic but be easy to clean and maintain. Keen to create a safe working environment, the client required designated walkway and gangway demarcation.
PSC recommended installing high build epoxy resin flooring system, to warehouse and goods in area. It totalled 192 square meters plus an additional area of 90 square metres in the goods in area. Moreover, in order to minimise down time the job was agreed to take place on a Friday and Saturday so the floor would be good to walk on, on the Monday.
Related: Warehouse Wary – Forklift Trucks

Preparation Of Floor Surface
The existing resin floor surface needed to be cleaned and prepared initially using the double headed diamond grinding machine and handheld diamond grinder and then vacuumed clean. Repairs were made to localised damaged concrete using resin filler.
The Epoxy Resin Coating System Was Laid To 192 Square Metres.
The area was masked out and two coats of Resdev Pumatect high build epoxy resin flooring system were laid, in the clients chosen lightgrey, gloss, Ral 7035. The 2 coat process requires the mixing of the Pumatect high build epoxy resin with the required amount of hardener.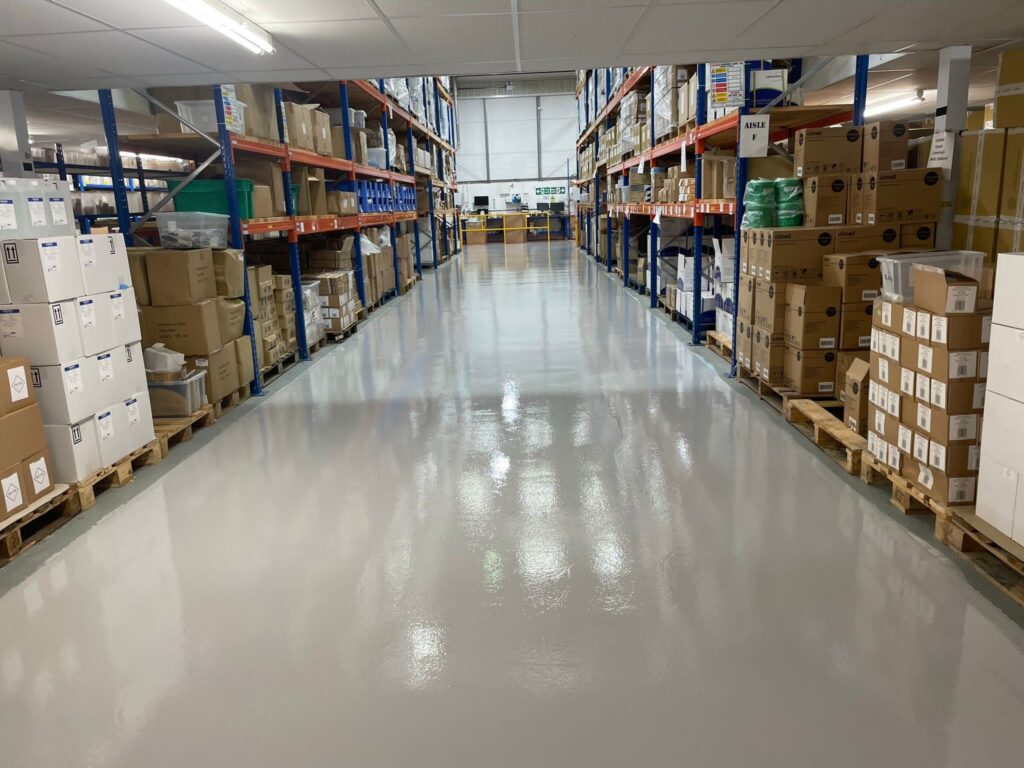 After that, the resin is then laid onto the floor, evenly distributed with a squeegee and then back rolled with a pin head roller. Each coat must dry and set for the allotted time before a further coat can be applied. In this case the 192 square meters area was completed in just 2 days.
Mr Raghbir Ghag Operations Manager for Canonbury Products Ltd was quoted as saying:

"The warehouse floor has been transformed! The area is much lighter and brighter, exactly what we needed."
If you found this blog useful, why not take a look at a previous one: Why Choose A Heavy-Duty Polyurethane RT Or HF Screed?