When laying new flooring (epoxy ect) or coatings, the key to a successful job is all in the surface preparation. The substrate needs to be thoroughly prepared for the new floor. In most cases of industrial and commercial floors, the substrate is a concrete slab. Therefore, it is important that the concrete slab is completely stripped of old materials like stains, adhesives, varnishes or paints. If the surface is not prepared properly, the floor coating will not adhere. As a result, it will not offer the highest levels of performance.  
Surface Preparation Services At PSC Flooring Ltd
The square area usually dictates the type of surface preparation needed. With decades of experience under our belts, here at PSC Flooring, we'll help you determine the ideal process to prepare your surface for new flooring. Whether it's surface preparation for coating, marking, or a whole new epoxy floor installation. You can rest assured we will provide you with the best possible preparation. As leading surface preparation contractors, we usually offer two different methods: 
Shot Blasting

– Our shot blasting service is usually used on larger areas. Shot Blasting involves rapidly impacting the substrate surface with a controlled stream of abrasive shot material. Unlike sand blasting, which is mainly for the metallic surfaces, shot blasting uses a turbine to get acceleration for the abrasive. The turbine will turn at a very fast rate to allow it to impact harder materials such as concrete. As the abrasive shot hits the substrate it is then collected back up again by the machine and reapplied. 
Diamond Grinding

– The diamond grinding process involves removing a thin layer off the surface of the concrete floor using a specialist machine. Our diamond grinding machine has rotating grinding blades with diamond tips specifically designed to grind down the surface. Pushed along manually and height adjustable, a diamond grinder can remove as much or as little of the substrate surface as needed. For small or intricate areas, a handheld diamond grinder will often be used.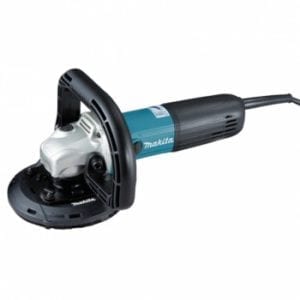 Preparing a concrete floor either by shot blasting or diamond grinding will create a lot of dust. Luckily, our machines have a vacuum attachment so the dust is contained and not free to blow around. Once we have followed through with our floor preparation service, the result will be a dirt and paint-free clean surface to which coatings and screeds can be applied. 
Surface Preparation Contractors – A Team You Can Trust
Here at PSC Flooring, as leading industrial flooring contractors, we employ a professionally trained team that have years of experience in surface preparation. We've established a highly in-depth knowledge and understanding of floor installation. We have used this to create flexible and reliable services that won't let you down. We fully recognise that the quality of the substrate surface will affect the finish of the flooring screed. Therefore with us, the job is done right the first time – and you won't have to think about it again for years to come.
Reynolds And Rushock 
We were contacted by Reynolds of Rushock to look at their 450 square metre workshop. The PSC Flooring team found that the space had a concrete floor that was dirty and dusty.
Understanding the process and knowing the finish that the client expected, it was recommended that the concrete floor was Diamond grinded, and two costs of Pumatect high build epoxy resin were applied. The light grey finish chosen by the client lightens the previously dank space. Additionally, the nature of Pumatect high build epoxy resin means that even such a light colour is easy to clean. 
Mr Paul Reynolds Managing Director of Reynolds of Rushock said, "We couldn't be happier with the professional team at PSC Flooring, their knowledge and skill has given us a floor that works for us." 
Contact Us Today 
If you would like to find out more information about our surface preparation services or if you need your surface preparing for epoxy flooring, then head to our website today. Alternatively, you can call 01562 702047 to speak to a member of our helpful and friendly team.
If you have found this blog helpful, you may wish to read our previous blog on Food Grade Flooring.