PSC Flooring have over 30 years' experience in the industrial flooring industry and as such consider ourselves to be Resin Flooring Experts.
Within this time, PSC have built and vast portfolio in the application of resin floors, polyurethane flooring and epoxy floor coatings. Additionally, PSC have installed floors for all types of industry – everything including:
Pharmaceutical,
Food & Drink,
Automotive,
Engineering,
Warehousing,
and Electronics.
We offer a total industrial flooring contractor package, encompassing site survey, specification, surface preparation & product installation. Therefore, PSC can offer cost effect solutions that will fit within budget.
An Expert Opinion
Over the years PSC have seen many floors in a variety of states. One such floor that required expert resin flooring advice was that of packaging company: Leeways Packaging Services Ltd of Churcham in Gloucestershire.
Leeways had plans to start a new manufacturing facility making thermoformed packaging solutions. The 1598 square metre existing building was to house a state-of-the-art manufacturing facility and as such would need a suitable floor.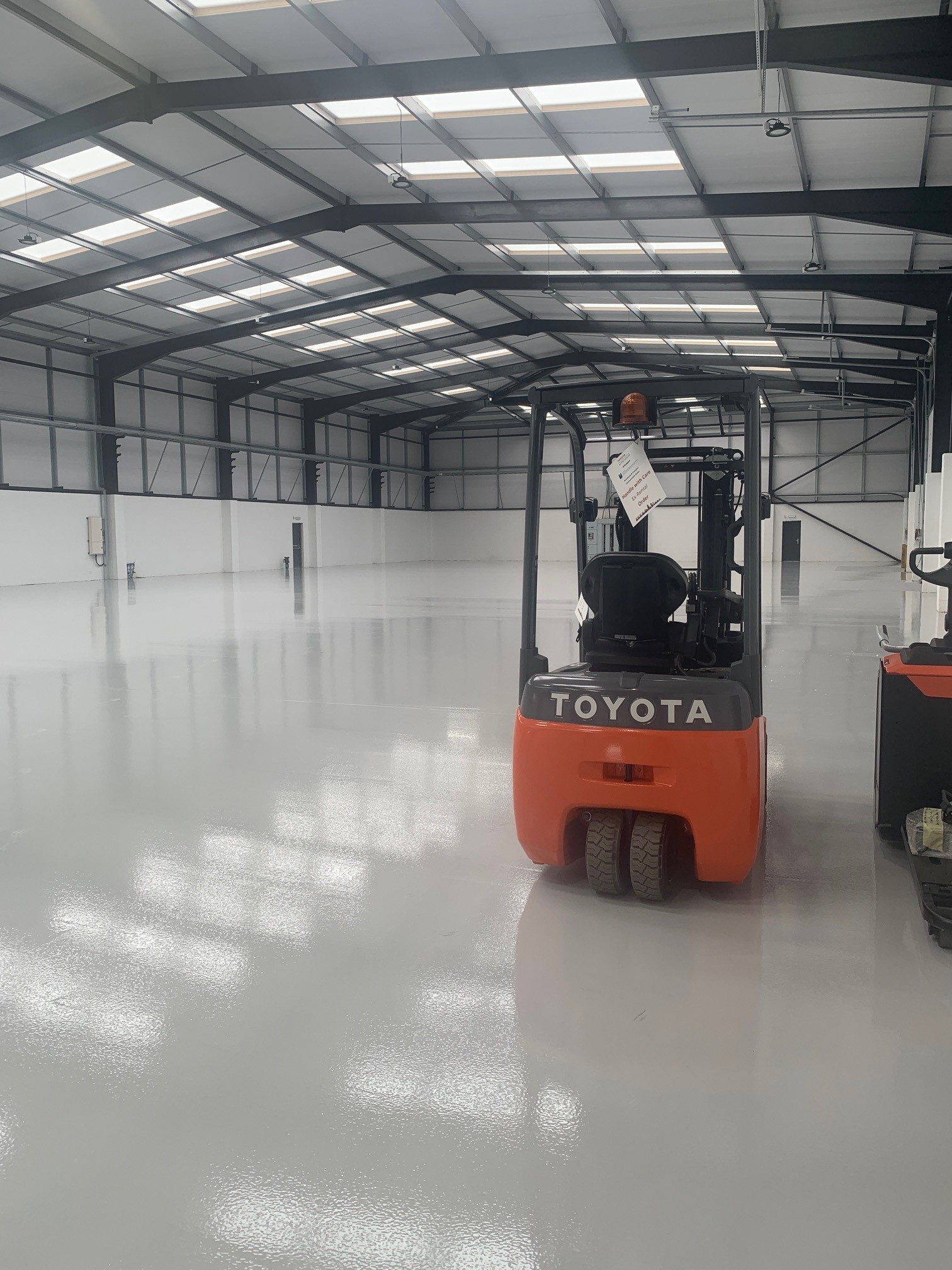 Client Brief and Recommendation
Initially and most importantly PSC attended site to carry out a site survey. At the site visit it was evident that the existing floor had been down for some time. For instance, it had extensive residues of dirt, oil and grease and failed floor paint as well as a 76 square meter area that had extensive damage.
The client was looking for a hard wearing and totally impervious floor that would be easy to clean and keep clean. So, PSC recommended that the existing slab could be refurbished in order to maximise the budget.
Refurbishment would involve cleaning the existing surface back. After that, we would install an epoxy resin priming system as well as an 8mm cementitious screed to renew the strength of the slab. Once dry then a 3 coats of epoxy resin coating system would give the client the hard wearing and totally impervious floor they wanted that would be easy to clean.
Preparation of Floor Surface
Firstly, we needed to to remove extensive residues, failed floor paint and clean and prepare existing concrete floor surface. Therefore, the 1598 square metre floor was given a heavy shot blast all over. Moreover, the edge work was also ground back with a handheld diamond grinder before the area was vacuumed clean.
Prior to repairs being made the area was given a coat of Resdev Pumaprime damp proof membrane priming system incorporating a heavy scatter of 0.6 to 1.2mm quartz aggregate.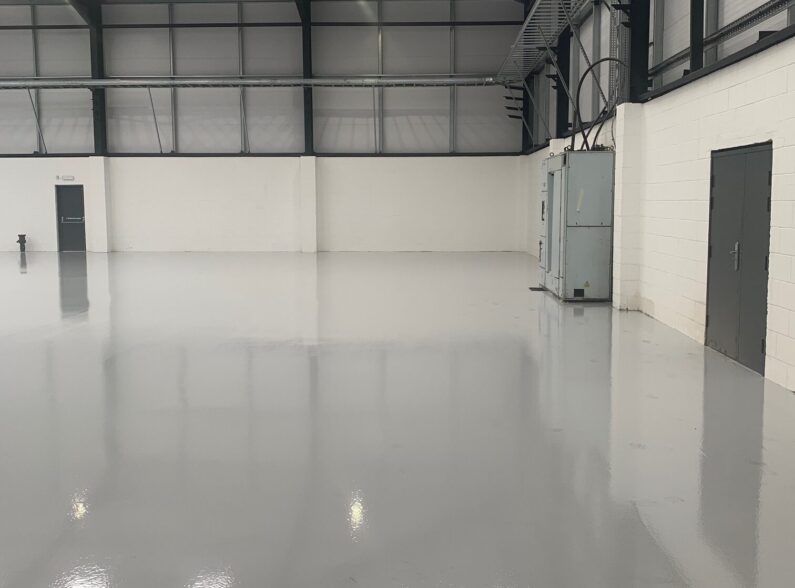 Heavy Duty Cementitious Screed System with Epoxy Resin Coatings.
In order to strengthen the existing concrete, a nominal 8mm heavy duty DCP Cemflow topping cementitious screed was machine pump applied to the total floor area. Once dry a Resdev WD epoxy resin priming system laid. After that, we continued to lay a further two coats of Resdev Pumatect high build, epoxy resin flooring system. These were done in the clients chosen mid grey colour.
Finally, 8mm x 10mm expansion joints were cut, knocked out and infilled with matching jointing compound to 304 linear metres.
In total the refurbishment work took just 2 weeks to complete. Completed on time and within budget.
Lee Walding, Managing Director of Leeways Packaging Services Ltd commented:

"PSC Flooring did a great job with our new manufacturing facility floor. We knew that this floor would be a challenge, but we couldn't have imagined that PSC could get it looking so great."
Looking for advice from resin flooring experts?
PSC Flooring has over 30 years of experience as resin flooring experts, providing total industrial flooring contractor solutions. Using our PSC approach, from site survey to product installation, we'll ensure top quality results that will exceed expectations. In addition, we will strive to complete the job on time and within budget. If you are interested in PSC Flooring's services, you can get in touch with us through our website. Alternatively, you can call us on 01562 702047 to speak to a member of our team. We can get you booked in for a free site survey as soon as possible.
Furthermore, if you found this blog useful, you may want to read a previous one: Hard Working Engineering And Manufacturing Flooring