In a printing facility – as with any industrial production facility – it is imperative that all areas, including the flooring must be safe and functional. Moreover, within the print industry, health and safety is challenged further due to the chemicals involved in the printing process. So, when it comes to choosing industrial floor finishes it is imperative that the floor can stand the test of time, as well as be visibly practical such as being light in colour.

Resistant to Impact, Abrasion, Chemical and Heat Damage
With various chemicals being used daily within in printing, it is obvious to say that this industry is hard on its floors. This is due to the inks and production process they use. Prolonged exposure to chemicals such as printing inks can damage the floor's surface. Typical damage due to chemical contact over a prolonged period of time is peeling or cracks forming.
Why choose a two coat high build epoxy resin flooring system?
As the name suggests, a two-coat high build epoxy resin flooring system, consists of two coats of high build epoxy resin. Each high build epoxy resin coat is 4 times thicker than a typical floor paint. This makes it ideal for light coloured industrial flooring. In particular High Build Epoxy resin is designed to be impervious to a variety of chemicals, natural fats, lubricants and fuel. Therefore, is the normal choice of floor for the printing industry sector. In most cases a two-coat high build epoxy resin-based system will suffice. However, where the inks are very particularly corrosive, a one coat high build system, with an additional two coat resin topcoat would be recommended to give a full chemical protection.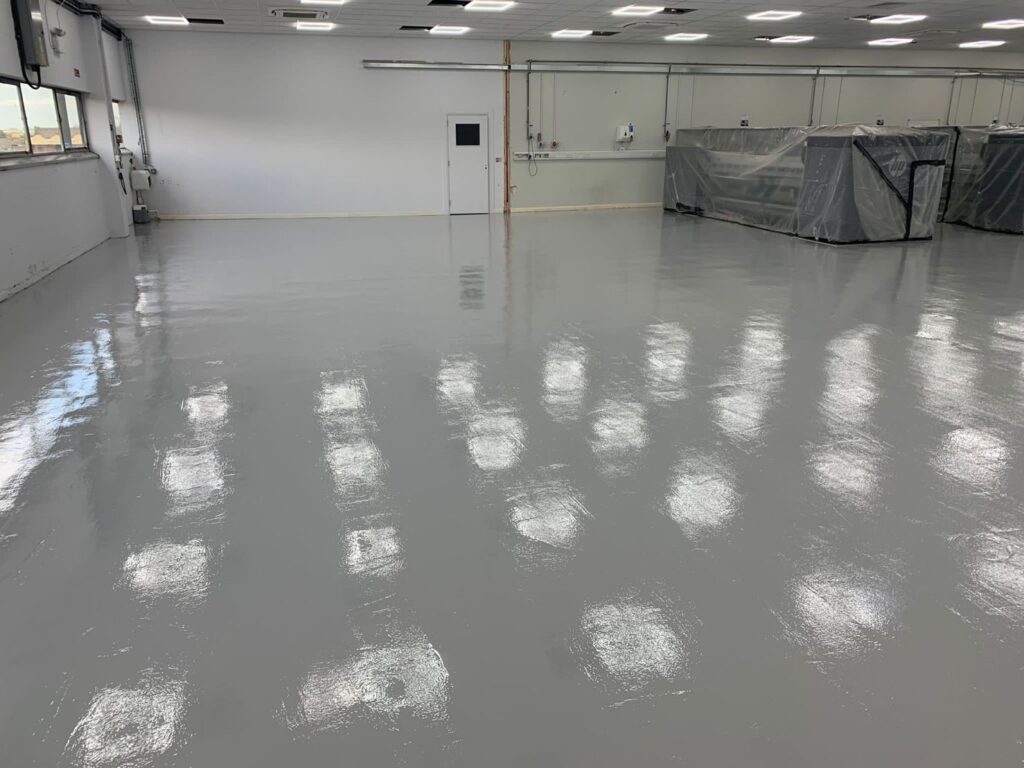 The High build epoxy resin system that PSC Flooring use requires the floor to be fully prepared. This is done via shot blasting / Dimond Grinding before the two-coat system is applied. Consequently, ensuring the resin flooring system has a good surface to adhere to. A two coat High build epoxy resin system is ideal for light industrial flooring because it is:
Heavy-duty so able to accommodate forklift truck and pallet truck traffic.
Resistant to impact, abrasion, chemical and heat damage.
Easy to clean and maintain.
Can be Slip resistant if required.
Ideal for creating a safe working environment. For instance, creating designated walkway and gangway demarcation lines.
Quick to install – Minimum operational downtime.

Industrial Printing Production Facility Flooring
PSC Flooring have recently completed a job for Anstey Wallpaper Company. They are a contract wall covering printer based in Loughborough that have been trading for over 100 years. The new 417 square metre digital printing room had an existing concrete slab with multiple layers of floor paint. Anstey was keen to have a light bright working space that would be easy to clean. As well as, being hardwearing, durable, and attractive.

Preparation of Floor Surface
In preparation the entire existing concrete floor was thoroughly cleaned and prepared. Using the enclosed double headed diamond grinding machine and totally enclosed hand held 110v diamond grinder, we removed the multiple layers of floor paint. The whole 417 square metres area was then vacuumed clean. This ensures that the floor was free of residues and dust. Finally in preparation for the high build epoxy resin flooring system, repairs were made to damaged localised concrete, holes and cracks as required using polyurethane mortar compound and resin filler.
417 square metres of two coat high build epoxy resin flooring system
The two coats of Resdev Pumatect high build, epoxy resin flooring system, were laid in the clients chosen gloss, light grey 7035. The job took a two-man team just 5 days to complete. In addition, the industrial production facility flooring was completed on time and in budget. Mr Jonathan Dyson, Technical & Development Manager for Anstey Wallpaper Company said "The floor area in the new digital print room looks great! The flooring system that PSC have installed has completely transformed what was a very tired and dirty floor."
If you found this blog useful, you may want to read a previous one: Choosing The Right Flooring For The Food & Drink Industry