Non slip epoxy flooring systems reduces the risk and dangers of slips and falls. The 0.3 to 0.6mm quartz anti slip aggregate throughout the floor area offers excellent traction even when wet. Additionally, regular cleaning is always key to any floor. But clients who have non slip flooring, however, do often ask how to clean it. This is because they find it looks discoloured, stained, and grubby even though they mop it regularly. With anti-slip industrial flooring you'll often notice that no matter how much you mop, there is a build-up of dirt and grime in between the 3D texture of the floor.

How do you clean non slip flooring?
The build-up of dirt and grime can be removed if you take the right approach. By far the best way to clean this type of flooring is to use a scrubber dryer machine for a regular deep clean and followed by maintenance mopping.
What is a scrubber dryer machine and how does it work?
A scrubber dryer, or floor scrubber, basically works by using one or more rotating brushes which act on the floor surface and replicate the action of a scrubbing brush. The cleaning action is enhanced by the introduction of a cleaning fluid mixed with clean water, to agitate the dirt away from the floor. Scrubber dryer machines then, sucks up the now dirty water. This is so that it doesn't sit in the microscopic crevices making the floor look dirty.
Mopping alone doesn't remove this dirty water so can leave the floor looking dirty even after mopping.
What cleaning solution is best to use for industrial flooring?
At PSC we get asked a lot what cleaning solution is best to use on floors that we have installed. For us the answer is always ResDev's Pumaclean. Resdev's epoxy floor cleaning products are designed for use with Pumadur, Pumaflor and Pumathane Flooring Systems. As well as, all other polyurethane and epoxy floor and wall products. Pumaclean is perfect for keeping a variety of hard surfaces free from grease and dirt.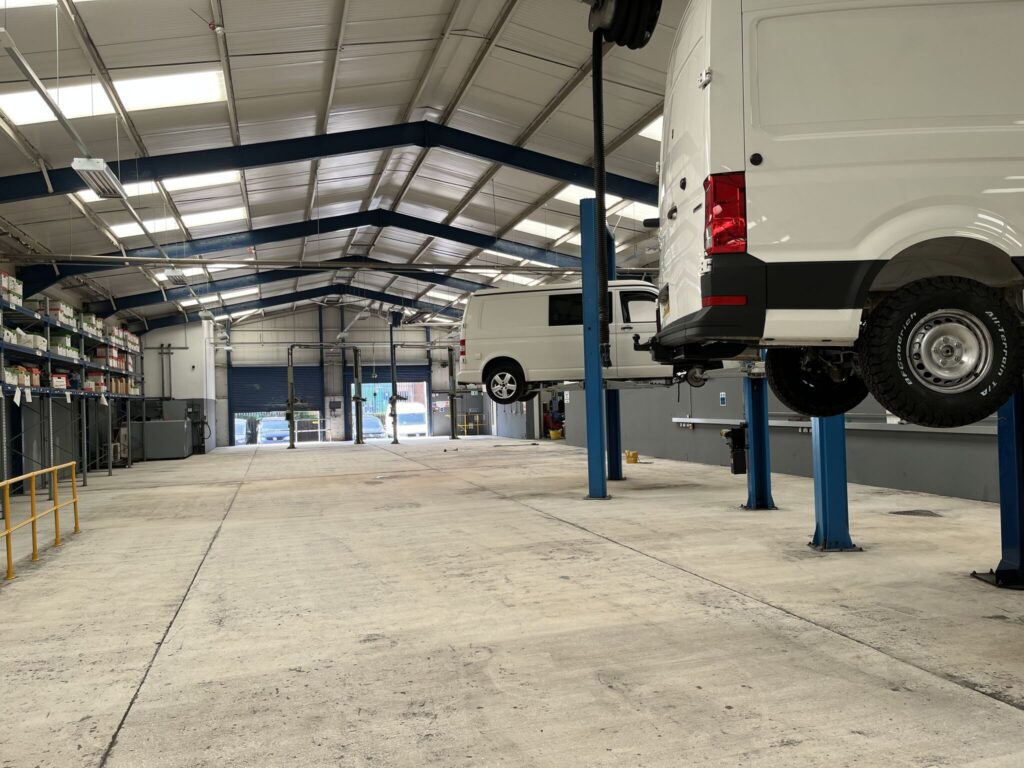 Listers Group Limited – Vehicle Workshop Flooring
Listers Group Limited of Droitwich called in PSC to look at their large workshop floor. The VW van workshop floor area had over 1300 square metres that was covered in old floor paint, oil, and grease contamination.
After a discussion at a site meeting, the client was concerned over health and safety. The client specified their epoxy floor system needed be non slip, very hard-wearing, chemically resistant against oil, grease, and fuel yet attractive.
PSC advised that the floor would need to thoroughly cleaned. In addition, all the old floor paint, oil, and grease contamination needed to be removed. Only after that the industrial flooring system could be installed. The flooring system recommendation was for a Resdev Pumatect two-coat high build epoxy resin flooring system. Also, incorporating a 0.3 to 0.6mm quartz anti slip aggregate for additional anti-slip to fulfil the client's brief.

Preparation of the Floor Surface
Firstly the 1311 square metre area was thoroughly prepared. We used PSC's Husqvarna PG830 remote 3 phase floor grinder with sealed grinding head. Therefore, removing the surface laitance and opening up the concrete to receive the resin. To achieve the best finish possible extensive localised repairs were carried out to the floor. Furthermore, the area was vacuumed free of dust and debris.
Vehicle Workshop Flooring to 1311 Square Metres
The Resdev Pumatect two-coat high build epoxy resin flooring system was installed in the clients chosen dark grey colour, incorporating a 0.3 to 0.6mm quartz anti slip aggregate.
The work was completed in just four days over the Easter shutdown period. So, the floor was ready for VW to use on their return.
Mr Eddie Carter, Group Property & Facilities Manager for Listers Group said:

"The new resin floor has completely transformed the workshop at the VW van workshop in Droitwich. PSC completed the works on time and within the budget set – we are extremely pleased"
Choose PSC For Your Non Slip Epoxy Flooring Systems
Are you looking for a non slip epoxy flooring system for your workshop floor? Or do you have questions regarding how to clean your non slip flooring? You've come to the right place. With years of experience and expertise, PSC can assist you with any question you may have. Additionally, we offer a free site survey. So, get in touch today, call us on 01562 702047.
Furthermore, if you found this blog useful, you may want to read a previous one: Fit For Forklifts – Warehouse Flooring