The last couple of years have seen unplanned COVID-19 enforced shutdowns and additional pressures on the frontline industries. As an industrial epoxy flooring supplier PSC has had to be as flexible as possible. Supporting our clients and working in a way that works for them. In addition, understanding the client's needs and constraints of shutdown periods, in order to get routine and planned maintenance scheduled in to busy production floor areas.
Time To Cure
Epoxy resins requires a set amount of time to cure, and the process cannot be rushed. For instance, high build epoxy resin flooring system needs 14-18 hours depending on temperature. Also needs the optimum curing temperature being between 16 to 20 degrees Celsius. With this in mind, only a single coat can be laid in a day and then left to cure overnight.
Limitations And Expectations
Repairs and installations of new flooring systems can be disruptive to working patterns unless the installer is flexible. Also, there is the additional issue of drying times involved in laying epoxy resin flooring systems. Therefore, it is important to be mindful of the clients' working patterns and cause as little disruption as possible. It is imperative as an epoxy flooring supplier to be flexible. As well as, being accommodating and agreeing to carry out work during weekends.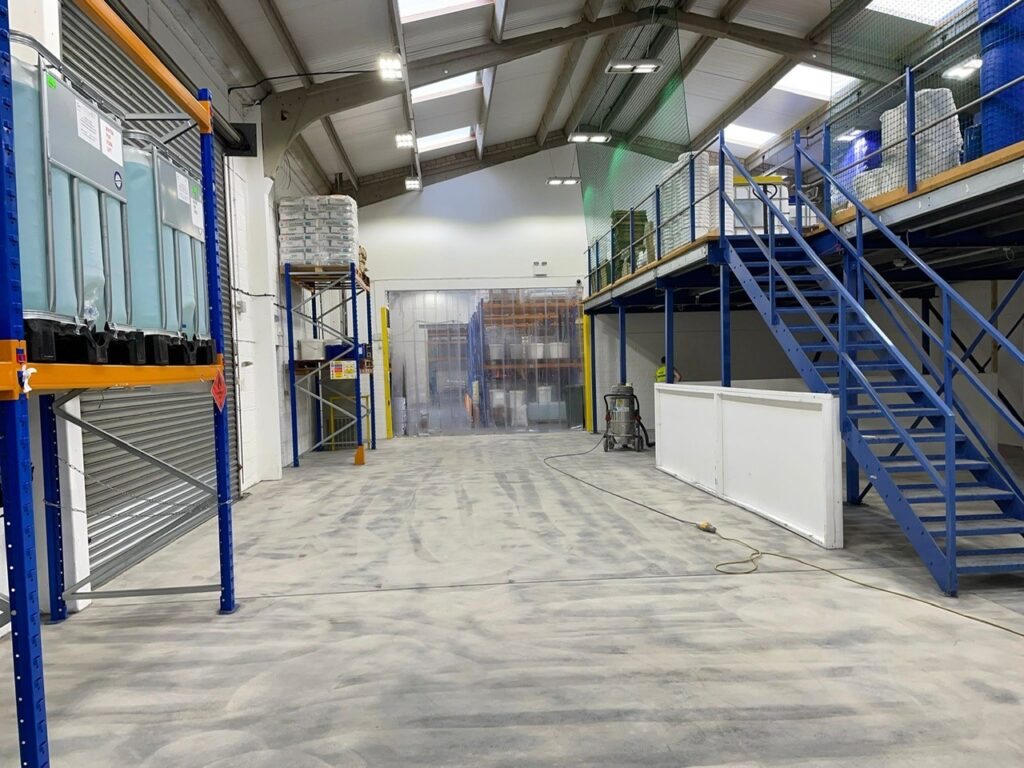 Flexible Working Of An Industrial Flooring Supplier
PSC Flooring were called in by APT Chemicals of Kidderminster to look at their warehouse floor. They supply a wide range of products from Food Ingredients to Industrial Chemicals. APT were concerned over disruption of their working patterns. So, they requested the work be carried out in three phases to fit in with their schedule. The total warehouse floor area was 720 square meters. It was able to be split into 3 sections, 216 sqm, 216 sqm and 288sqm. Each area had a concrete floor with failed floor paint and oil contamination.
Removing Failed Flooring
The floor surface required preparation to remove the failed floor paint and oil contamination. Consequently, a double headed diamond grinding machine and handheld diamond grinder were used to remove the top surface of the floor. Additionally, all repairs made to localised damaged concrete using resin screed, resin filler, residues and dust were vacuumed clean.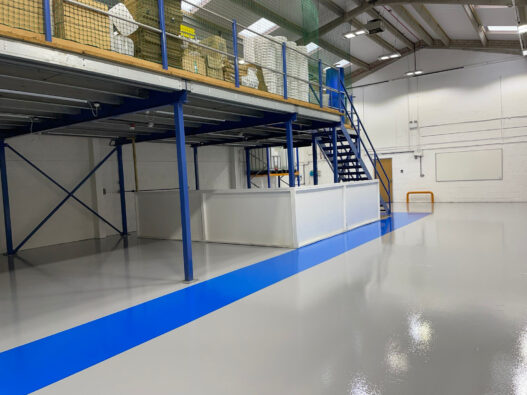 Epoxy Resin Coating Flooring System
The Epoxy resin coating system was then applied. Each area received two coats of Resdev Pumatect high build epoxy resin flooring system. This was in the clients chosen colours of light grey, gloss, Ral 7035. After that, the flooring in warehouse 1 area had an additional layer of Resdev Pumatect high build epoxy resin, in blue for the walkway.
Furthermore, the job was split into 3 phases to accommodate the client's needs and took a total of just 6 days to complete (3 x 2-day phases).
Steve – Director of APT Chemicals Ltd said:
"PSC were most accommodating of our time schedule and phased installation. The floor looks amazing and the whole place is significantly less dusty and easy to keep clean now"