Summary. Revitalising manufacturing plant flooring with renovations like epoxy resin systems can enhance image, improve safety, reduce energy costs, and boost employee morale. Investment in manufacturing flooring renovation proves valuable for operations like Agentdraw Limited, yielding significant returns in functionality and workplace quality.
British manufacturers reportedly started 2023 on the back foot, experiencing one of their sharpest activity declines since the 2008-09 recession in December 2022. As such, investment in the workplace may not be top of the list…but maybe it should be. The renovation of your manufacturing plant flooring can offer many short and long term benefits. For instance, improving health and safety, improving the company's image etc.
Is workplace renovation an expense, or an investment?
Although renovations of any kind are an expense, it is widely thought to be the best investment you can make for your business. Assuming financial stability, renovation is an investment in business functionality as well as the building asset. Of course, the decision to renovate should always be based on a careful analysis of costs and benefits. But in most cases, it's an investment that pays off in more ways than one.
Investment in your company's building / workplace can:
Enhance the company's image
A customers first impression can make or break a sale. If you are intending to show potential customers around your production facility, then creating the best impression possible is imperative. Flooring renovation with epoxy resin can make the best of impression and there are options for every type of manufacturing.
Improve Health Safety of Workers
Health and Safety is key in any workspace. Not only to prevent accidents in the workplace but also to give employees a general sense of care. If your manufacturing plant flooring isn't kept to a certain standard, for example, it could result in safety issues and even OSHA violations. This could ultimately cost your business more in fines and legal fees than the cost of renovating the flooring.
Reduce energy costs
Energy costs are on the top of everyone's list at the moment with soaring energy costs across the UK. Replacing lighting with low energy equivalent can help to reduce energy costs. But one other aspect that people don't necessarily consider to reduce energy costs is renovating the flooring. By adding new resin flooring with a reflective surface can help to reflect light around the space.
Increase Employee Morale
Renovation of a workspace can also increase employee morale. Improving lighting, flooring, and the overall tidiness/cleanliness of the workspace can increase employee morale. Consequently, improve efficiency at work. Moreover, if the floor in a production space is rough and hard to keep clean, then employees may get the sense that the company does not particularly care about their general wellbeing. Increased employee moral can lead to a lower churn rate and a high productivity rate.
New Manufacturing Floor for Plastic Injection Moulding Specialist
Plastic injection moulding specialist understood the benefits of manufacturing flooring renovation. Agentdraw Limited who are based in Whetstone, Leicestershire recently invested in a High Build Epoxy Resin Flooring System for their 1600 square metres space. The 'Goods In & Out Area' and a 'New Production Area' was phase 2 of an overall floor refurbishment project that PSC have carried out.
Client Brief and Recommendation
The client was looking for a hard-wearing floor that would be light reflective, easy to clean and keep clean. The existing floor had issues, including layers of failed coatings on the concrete and an area of approximately 50 sqm that suffered severe wear and damage. At the site visit it was recommended that the particularly bad 50 sqm area would need repair before a two coat High Build Epoxy Resin Flooring System was installed.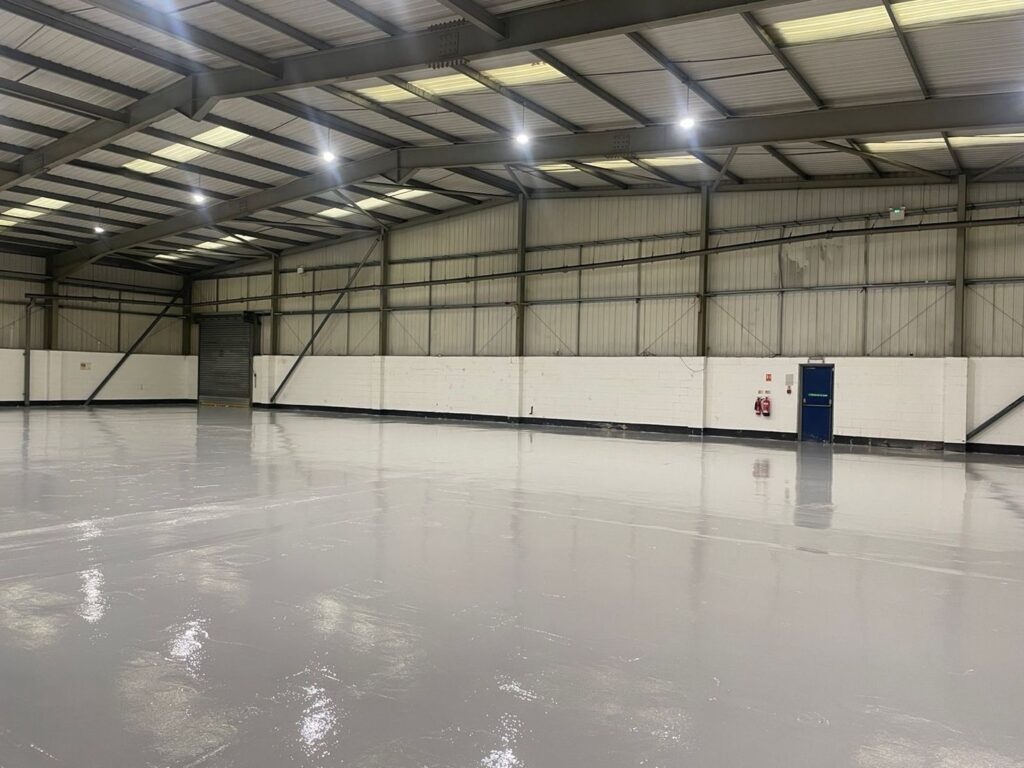 Preparation of Floor Surface
In preparation for the renovation, the floor was diamond ground back. This was done using a double headed diamond grinding machine and a totally enclosed handheld 110v diamond grinder. It removed the failed floor coatings, and thoroughly cleaned and prepared existing concrete floor surface. After vacuuming the area, we repaired the damaged localised concrete, expansion joints, holes, and cracks as needed using polyurethane mortar compound and resin filler.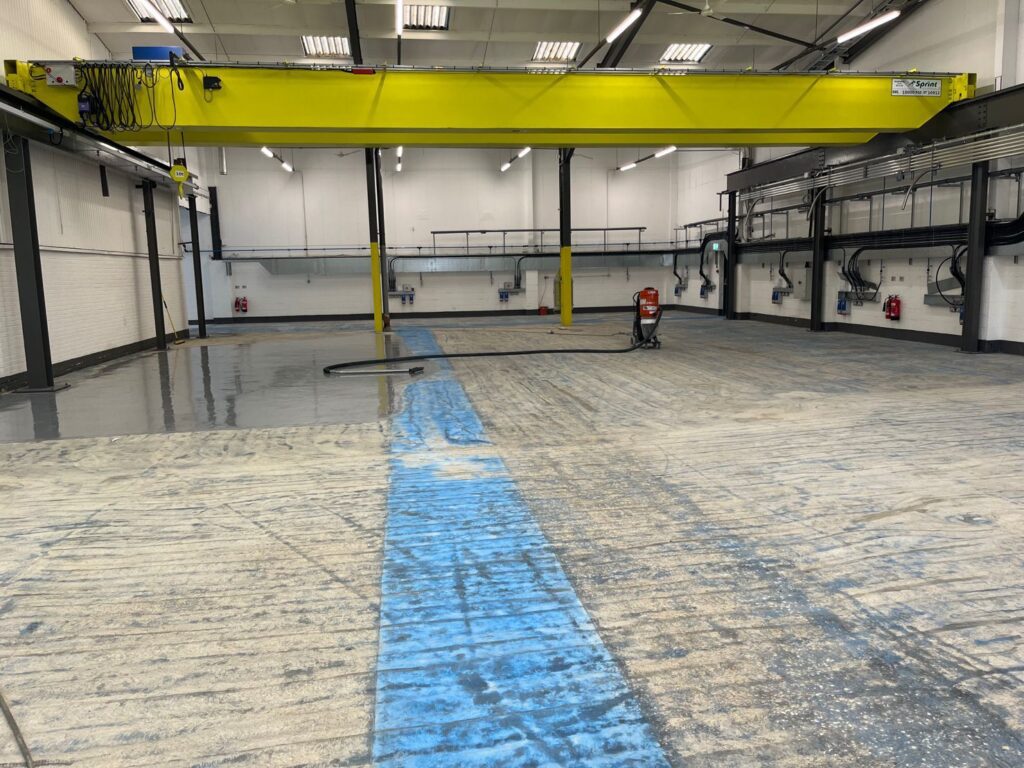 1600 square metres of High Build Epoxy Resin Flooring
We repaired the badly worn and damaged 50 sqm by laying a nominal 1.5 to 2mm epoxy resin scratch coat system. Therefore, ensuring the best possible finish for the top coats. Once the scratch coat was dry, two coats of Resdev Pumatect high build, epoxy resin flooring system were laid in the clients chosen gloss finish light grey.
The work was completed in two phases the work took just 5 working days. It massively transformed the goods in & out area and the new production area ready for the client to start moving all their machinery in.
Get in Touch with PSC Flooring
Investing in your company's manufacturing plant and workplace through flooring renovation is an expense that can have many benefits for your business.
Are you are interested in exploring your options for resin flooring or other industrial flooring solutions? Feel free to get in touch with PSC Flooring for expert advice and quality service. Don't hesitate to get in touch with PSC Flooring. Our team can provide you with a free consultation and a custom solution that meets your specific needs.