Summary. PSC Flooring specialises in custom epoxy resin flooring for specialist vehicle bodyshops, enhancing brand identity and cleanliness. Our expertise in durable, aesthetically pleasing floors is demonstrated in projects like Auto RARA's workshop transformation, completed efficiently and within budget.
The famous graphic designer Paul Rand is quoted as saying "Design is the silent ambassador of your brand" and at PSC Flooring we think that no more a true word spoken when it comes to creating the right customer experience. At PSC we deal with many types of businesses requiring a range of different design requirements. In particular we have carried out a number of custom epoxy resin flooring jobs for specialist vehicle bodyshops.
In this particular industry these garages are dealing with high end car brands. Therefore, these companies want to portray a certain image that will appeal to their client base. At the same time, businesses want the working environment to be clean and be as easy to keep clean.
Custom Design Hard Wearing Flooring to Increase Brand Identity
Auto RARA of Derbyshire, a custom vehicle restoration and modification specialist is a good example of a company that had invested heavily in its brand identity. However, they felt their existing flooring was letting them down. As PSC went for the site visit, it was noted that there were layers of failed floor paint. Consequently, the client was looking for a hard-wearing flooring solution with a design that would look good for their visiting clients as well as enable them to clean up oil, grease, and dirt.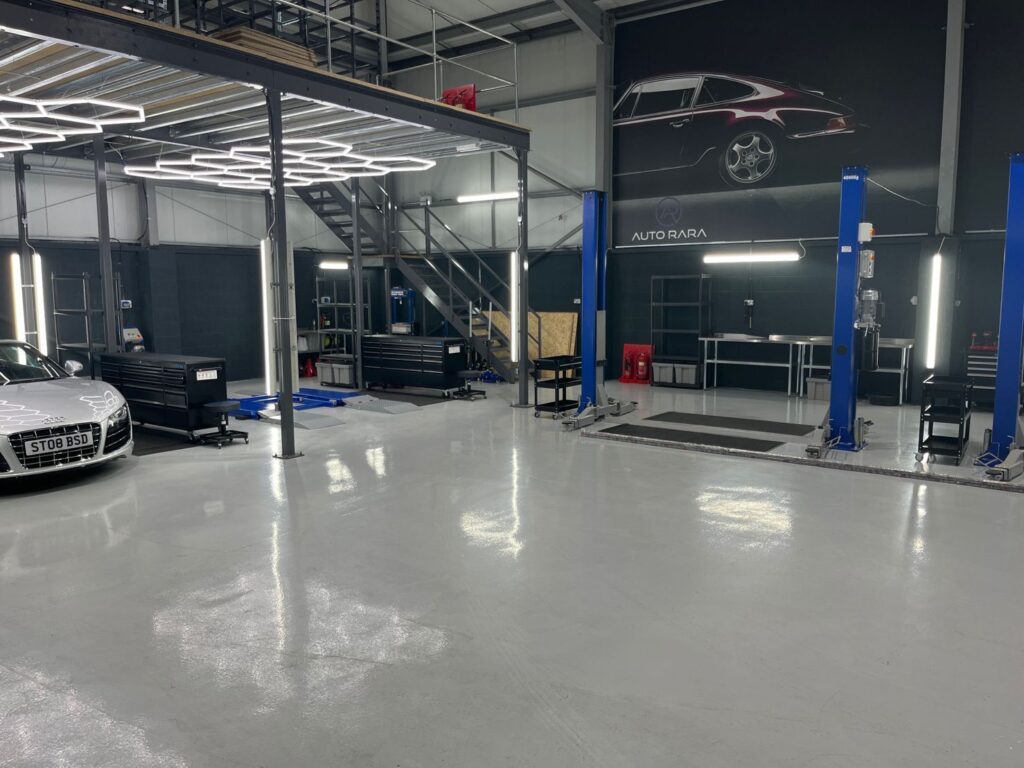 Preparation of Floor Surface
The 250 sqm space was ground back using a totally enclosed diamond grinding machine and hand held 110v diamond grinder. This was in order to remove the layers of failed floor paint, and thoroughly clean and prepare existing concrete surface. Following a good vacuum, repairs were made to any localised damaged concrete, holes and cracks, using resin filler.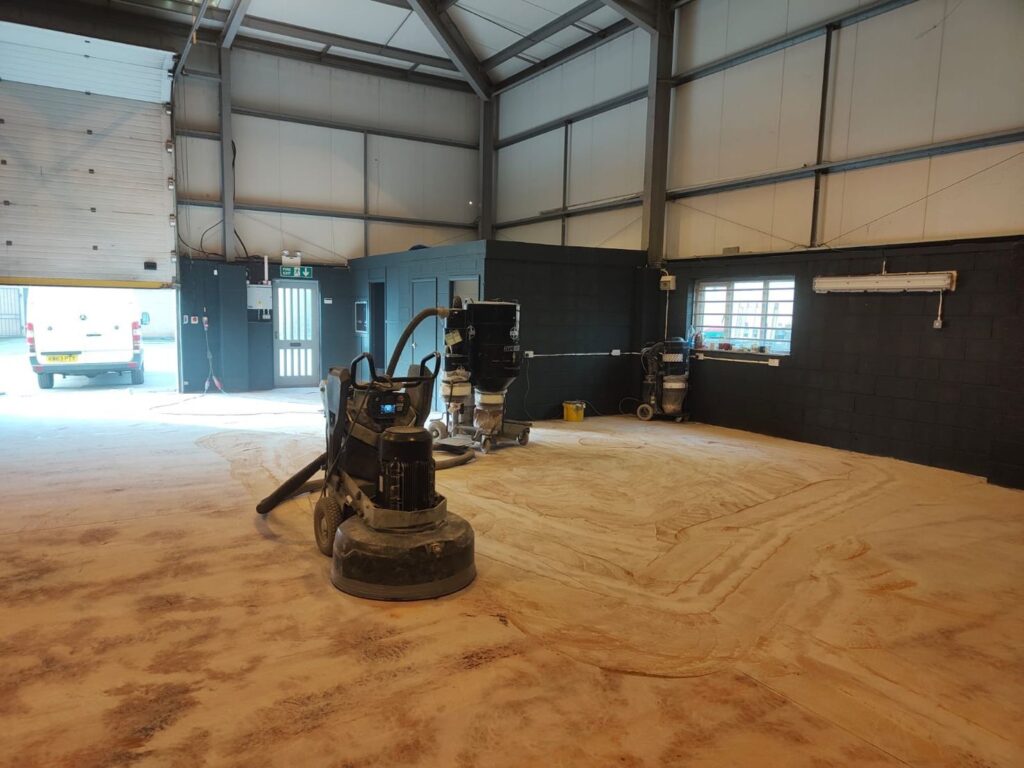 250 Square Metres of Vehicle Workshop Epoxy Resin System
Two coats of Resdev Pumatect, high build epoxy resin flooring system, in the clients chosen, light grey gloss was laid to the entire vehicle workshop. The job was completed in just 2 days, completed on time and in budget.
Chris Tye, Director of Autorara Ltd said "We are extremely pleased with the flooring transformation that PSC Flooring have carried out. The team worked extremely hard, and the job was completed in just two working days. We shall definitely call in PSC again for any future flooring projects."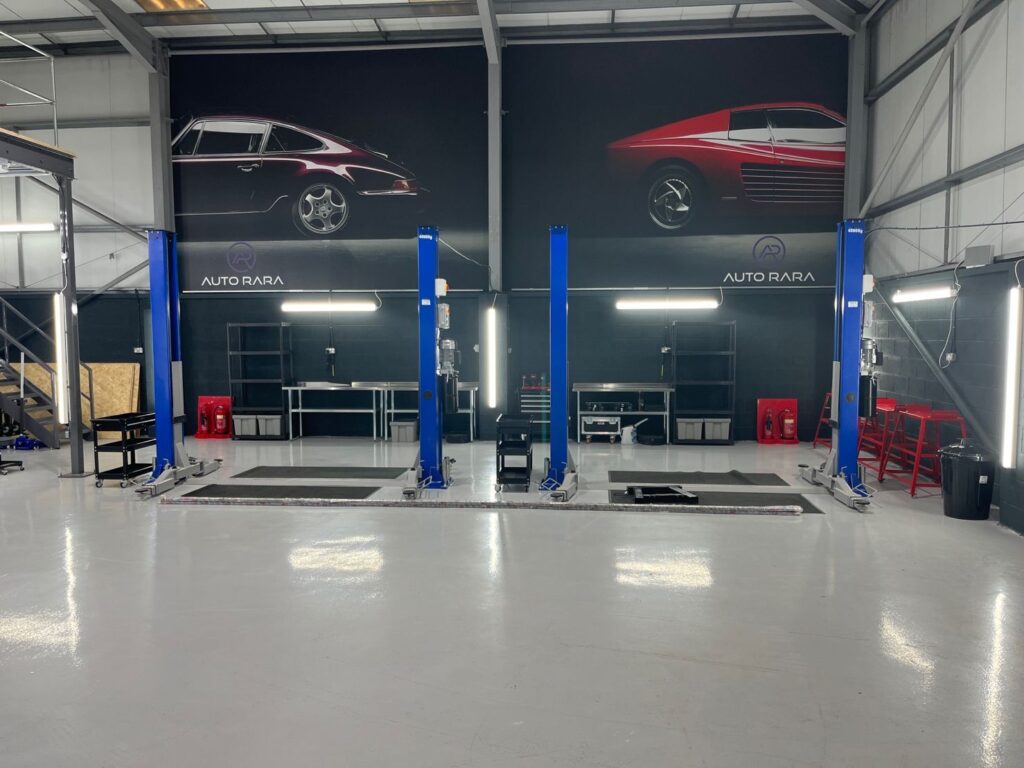 Get in Touch to Discuss Your Custom Epoxy Resin Flooring Needs
Are you a specialist vehicle bodyshop business in need of a flooring transformation? Get in touch with PSC Flooring today and experience our expertise in providing high-quality flooring solutions that meet your unique needs. Call us today to discuss your project requirements and take the first step towards transforming your workspace.
Furthermore, if you found this blog useful, check at a previous one: Resin Flooring Experts Offering Cost Effective Solutions