Summary. PSC Flooring Ltd, with over 30 years of experience, specializes in epoxy resin coatings for industrial vehicle workshops. Our process includes site surveys, preparation, and installation, ensuring fast, fuel-resistant, easy-to-clean, and customisable flooring solutions. Recently, we refurbished a 750 square meter workshop, using a high build epoxy resin system for durability and aesthetics.
The team at PSC Flooring Ltd have over 30 years' experience in industrial flooring. As experts in their field, the team at PSC understand flooring considerations when operating a busy vehicle workshop. With vehicles being moved about and foot traffic moving between areas, the correct flooring is paramount.
Versatile Flooring Solutions for Garage & Vehicle Workshops
PSC Flooring offer total flooring packages, including:
site surveys,
preparation,
and product installation.
We pride ourselves on being able to offer competitive prices as well as, high quality solutions. Moreover, we have the extensive knowledge and skills to provide versatile flooring solutions for garage & vehicle workshops.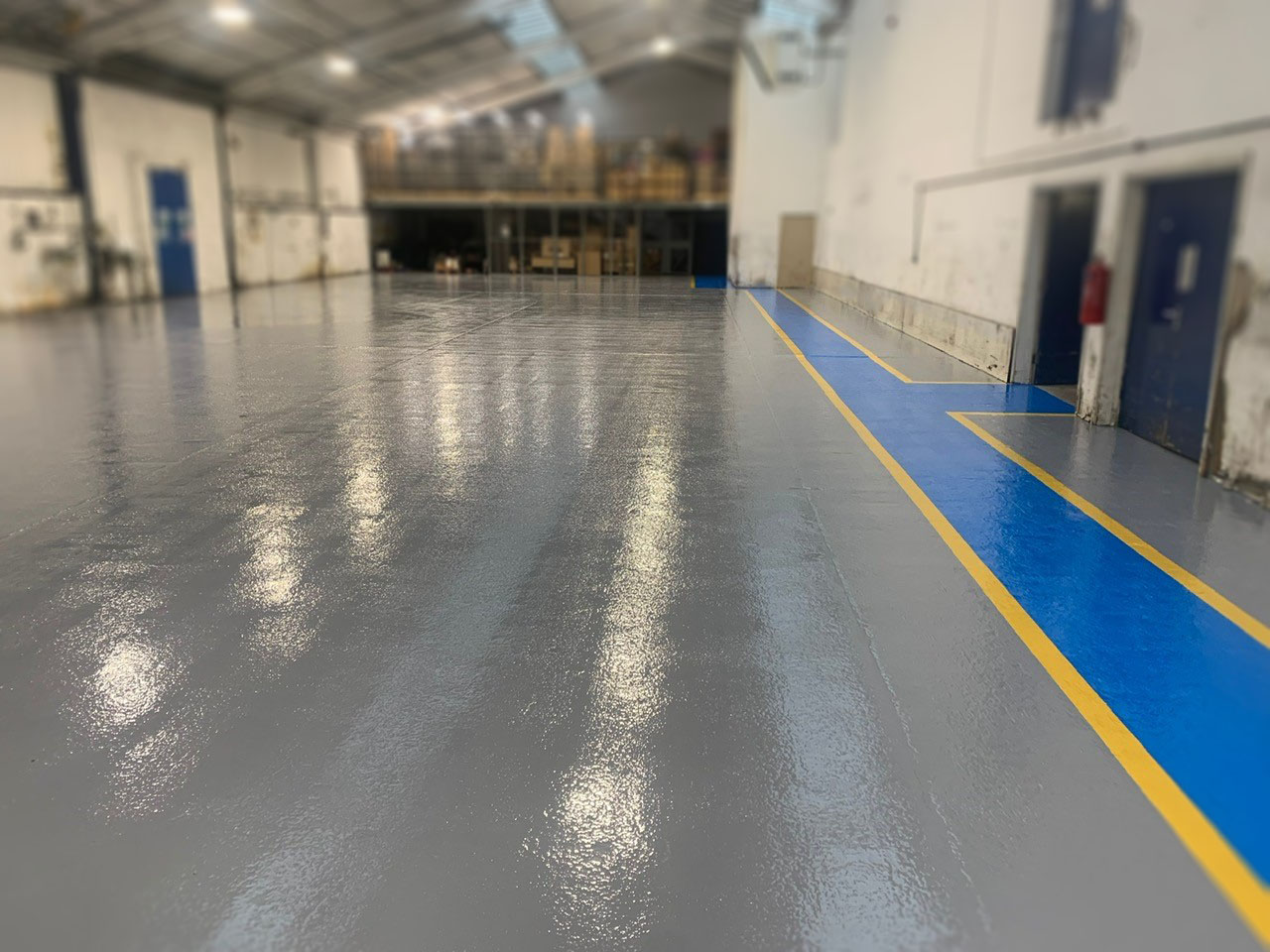 High build epoxy resin is ideal for vehicle workshop flooring because it is:
Fast to install – can be completed over a weekend
Totally impervious to fuel
Easy to clean
Anti-slip if required
Available in a variety of colours so brand colours to be applied to the workshop floor
Demarcation lines can be applied in a variety of colours
Value for money – Epoxy resin flooring is not expensive
750 Square Metres of Industrial Vehicle Workshop Flooring
Long-time client Motus Commercials needed a 750 square metre HGV workshop floor refurbishing in Lye, West Midlands. It was evident at the site visit that the existing floor was extremely contaminated with oil, grease and dirt. Therefore, it would require a heavy shot blast before any resin flooring system was installed.
Furthermore, the client was looking for a hardwearing floor that would transform the space to make it brighter and lighter. With that in mind PSC recommended a two-coat high build epoxy resin system to be laid to the 750 square metre HGV workshop.
The Prep Work
Once the 750 Square Metre industrial vehicle workshop flooring was given a heavy shot blast, repairs were made to localised damaged. For instance, the concrete, holes and cracks were fixed using epoxy resin screed and polyurethane mortar. The entire floor was then given a coat of Resdev OCS oil tolerant epoxy primer. It was laid to prevent any residual oil or grease from leaching.
750 Square Metres of High Build Epoxy Resin Coating
The two coat Resdev Pumatect high build epoxy resin system was installed in the clients chosen mid grey. Consequently, allowing the allotted drying time between each coat. To complete the job, a 60 square metre Chelsea Blue walkway with a 75mm demarcation line was added to one side of the building. The work was completed in just 5 days based on normal working hours during the December shut down period. So, it left plenty of drying time ready for the new year.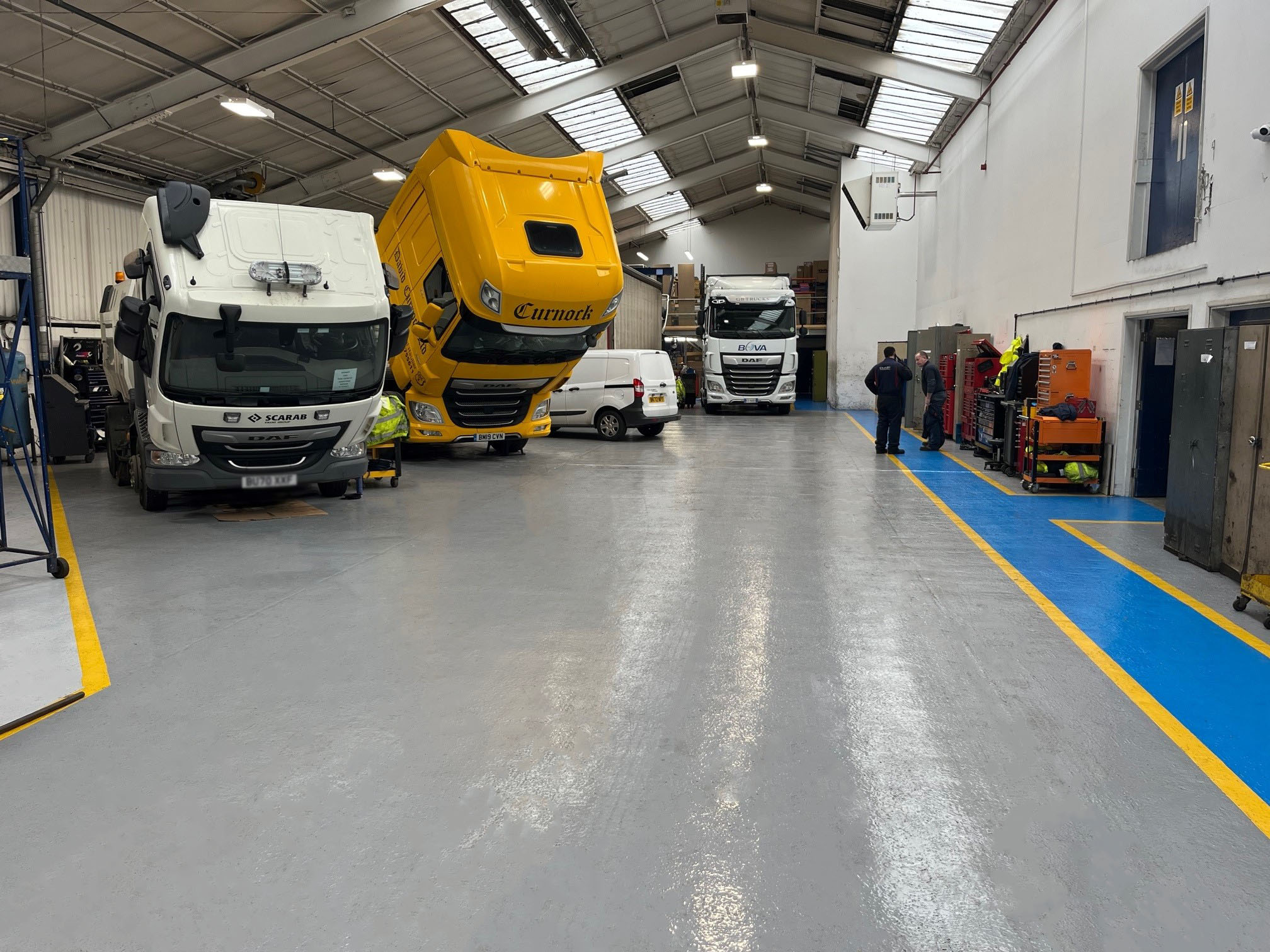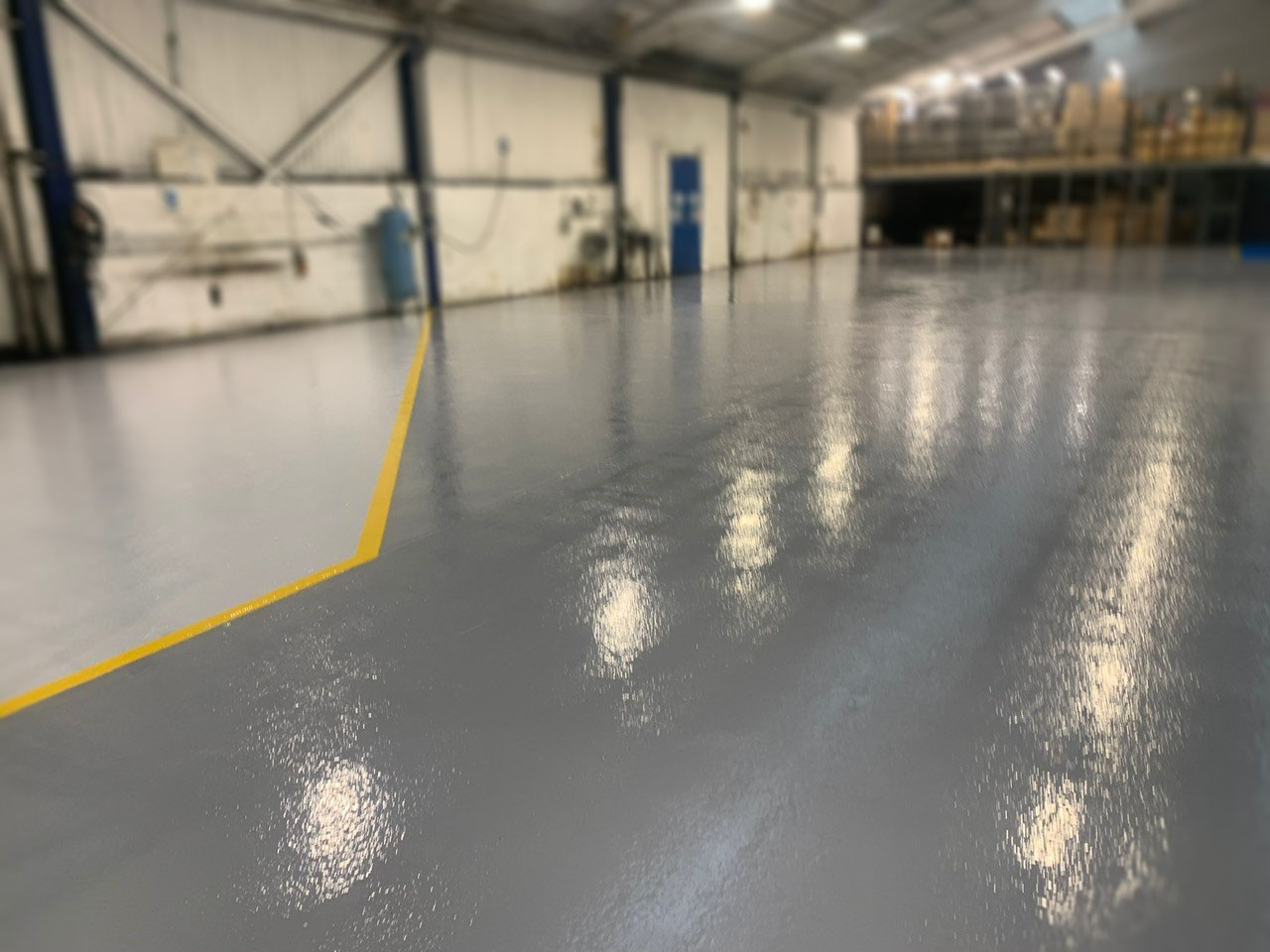 Mr. Daniel Fitzjohn, Regional Director for Motus Commercials commented:

"We have no hesitation in calling back PSC Flooring when we have a new flooring project to be completed. Again, PSC have completed this job on time and within budget – the floor looks great."
If you found this blog useful, check out a previous one: PSC Go Full Steam Ahead in the Transport Industry