High levels of hygiene are essential when it comes to flooring for butchers. Working with raw meat, blood, bones and organs, processed foods are susceptible to bacteria, especially if high levels of hygiene are not maintained. Therefore, strict requirements on hygienic flooring are in place to run a butcher shop. As a leading butcher flooring contractor we offer high quality hygienic food grade coatings to full optimise the environment in line with regulations.
Moreover, butchers must take account of regulations from Environmental Health and the Food Standards Agency. The Food Standards Agency guidance states that "Food preparation areas must have a design and layout must permit Good Hygiene Practices and protection against contamination. Floor surfaces must be sound and easy to clean – must use impervious, non-absorbent, washable, non-toxic materials. Where appropriate, adequate surface drainage necessary."
Related: Newark and Sherwood District Council | Working to the client's needs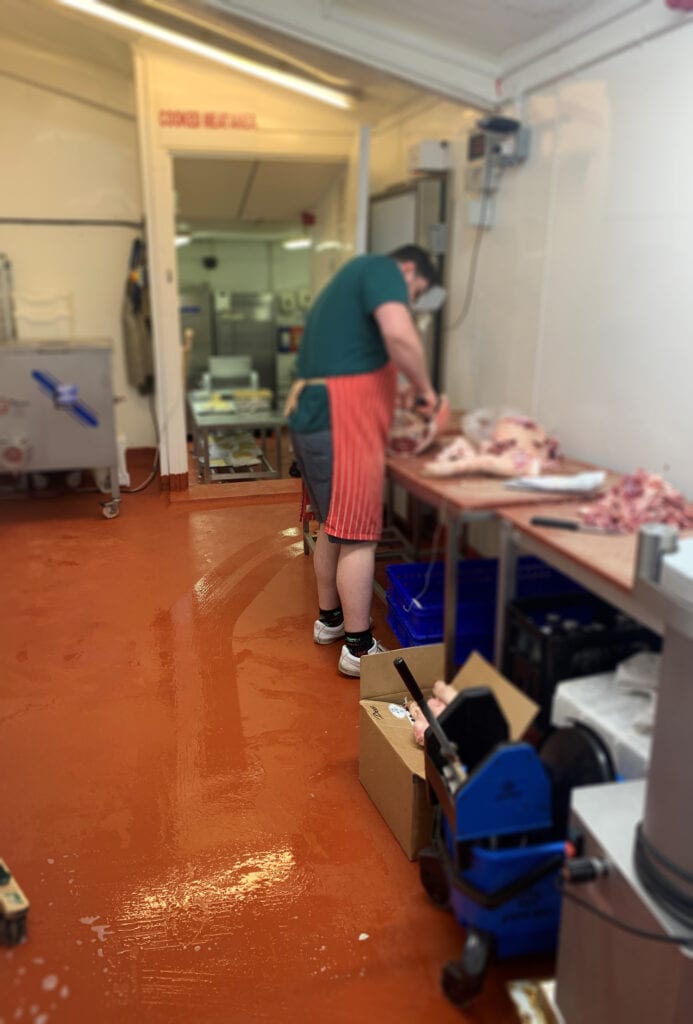 Why Concrete Alone is Not Enough
An unprotected concrete floor will be of no use in meeting these important health and safety standards. This is since it's porous, and some moisture movement will always occur. Moisture is a vehicle for many harmful contaminants therefore, suitable meat processing flooring is essential.
Polyurethane resin screed systems are ideal as they offer a seamless finish. Also, polyurethane resin can be complemented by coving and render, to allow for a smooth transition from the wall to the floor. This does not support bacteria and microbial growth.

Welshpool Butchers
PSC Flooring was called in by John WF Bebb Construction Ltd. We went look at the Cutting Room and Sausage Room floor at Rikki Lloyd Butchers of Welshpool. The concrete surface had fallen to a central drain. Furthermore, it was evident they had previously painted the floor themselves and it was not lasting.
The Cutting Room floor were totalling at 35.5 square metres and the Sausage Room totalling 19 square metres. So, after assessing the situation, it was recommended that the best surface would be a 6mm Resdev Pumadur RT screed. Ideal even in the most arduous environments.
This product is the most hard-wearing on the market and designed to withstand impact and abrasion. It can also withstand animal fats and proteins, frequent cleaning, and chemicals. Resdev Pumadur RT screed offers excellent slip resistance in the wet. It can also be laid to falls to help drainage helping to meet high health and safety standards.
Floor Preparation
Initially, the butcher flooring was thoroughly cleaned and prepared to remove the extensive build-up of failed floor paint, using the totally enclosed handheld 110v PCD grinding machine, with the edges being prepared with a handheld total enclosed 110v diamond grinding machine. All residues and dust were vacuumed with a 110v triple motor vacuum.
Laying the Hard-Wearing Flooring
A 6mm x 6mm saw cut was added to the perimeter of floor area, door thresholds, around drains and gullies and where necessary to toe in and anchor screed, before a nominal 6mm heavy duty Resedv Pumadur RT polyurethane, textured, matt, red was laid.
The existing Coving System was also in need of recoating. However, in order to meet the client's tight deadline, the client decided that rather than we return, the client would coat that themselves so we supplied 3 units of 3.2kg Resdev Pumadur TF polyurethane coating system, in a matching matt, red.
The whole job was done in just one day – a Sunday, to avoid downtime in the busy butchers. Mr Danny Bebb, Director of John WF Bebb Construction Ltd stated:

"PSC were most accommodating in achieving our client's tight deadline and even with such a tight timescale they have completely transformed the floor."
PSC Flooring
If you are looking for a butcher flooring contractor to install food grade and hygienic flooring, you've come to the right place. As a leading industrial flooring contractor, we can assist with any questions you may have.
Furthermore, if you've found this blog on flooring for butchers useful, you may wish to read our previous blogs: As Good As It Gets – A Workshop Epoxy Floor We Can Be Proud Of!