Dealing with a range of industries PSC Flooring are more than aware of the need to be flexible. This is to ensure the client can maintain as best as possible their working schedule.
2020 has been a particularly strange year for the industry. This is due to unplanned COVID-19 enforced shutdowns and additional pressures on the frontline industries. It has been important more than ever to be as flexible as possible. A flexible approach enables us to better support our clients. This is because we are working in a way that works for them. Furthermore not as solely as how we would want to work with them. As a best practice, it is important to take the time to really understand and learn about the clients before even engaging fully with them and offering a proposal for the work. By doing so, you learn how to best work with them to meet their needs.
Related: Recommended Flooring For Butchers
Limitations and expectations
The floor within any industry has limitations and expectations aligned to it. In any industry, it is not possible to install skyhooks and for the clients work to carry on as normal whilst the flooring repair or installation is carried out.  Repairs and installations of new flooring systems can be disruptive to working patterns unless the installer is flexible.
Being able to adapt to a client's needs is one of the things that PSC prides itself on and when contacted by Newark and Sherwood District Council to look at their busy vehicle workshop area that they use for service and maintenance of all their refuse dispose of vehicles and council vehicles, it was especially important to work within their downtimes to ensure the essential work of the council would continue.
Flexible working
The workshop area was 320 square meters. It also had signs of constant wear with residues of dirt and oil throughout and damaged localised concrete. The client was keen to bring the floor up to a working stand so that the space was easy to keep clean and maintain with the large number of HGV vehicles that use it.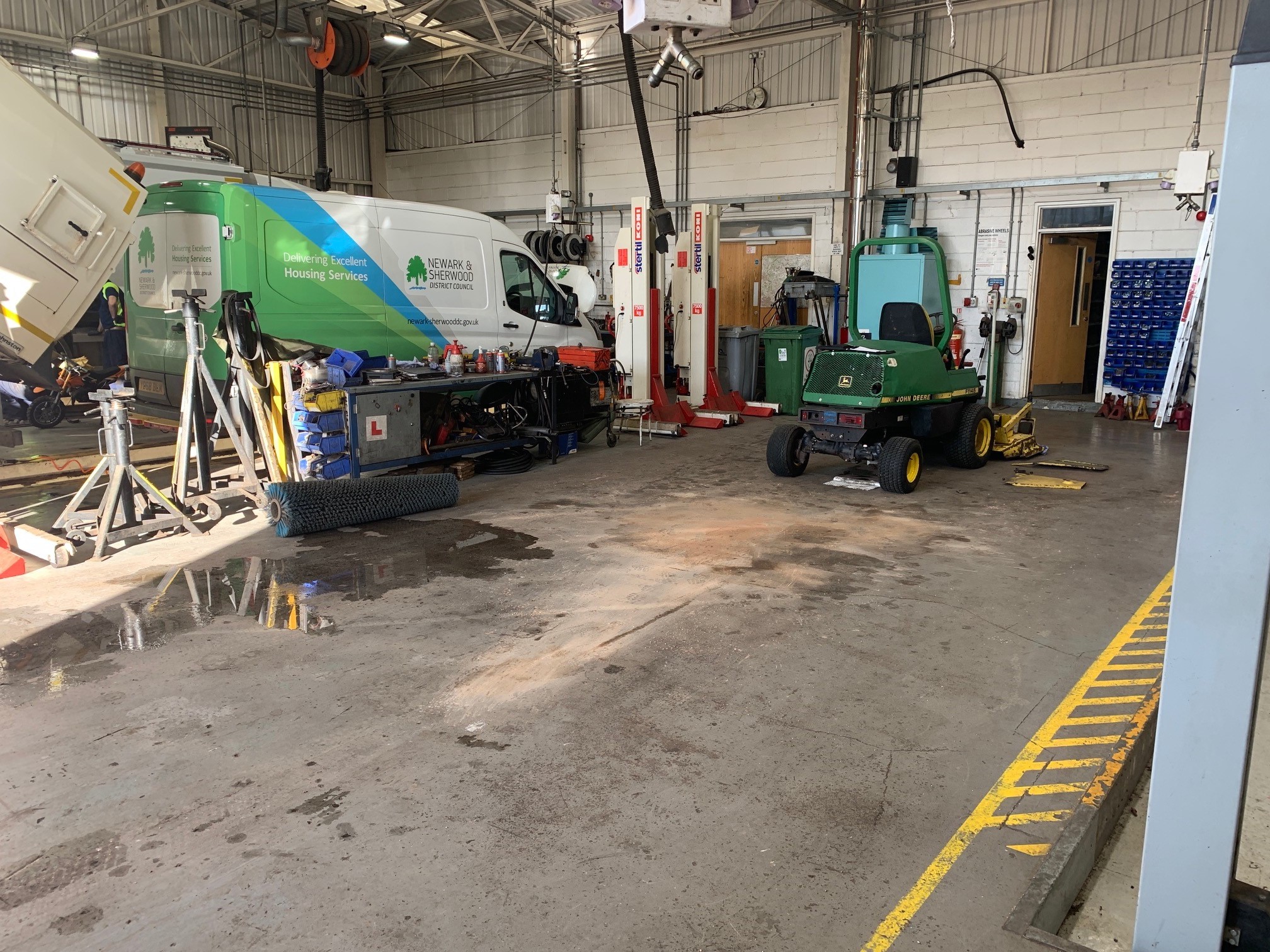 The Workshop area was fully prepared and vacuumed clean to remove all residues and dust. This was before localised areas of the damaged concrete were repaired using resin filler and resin screed.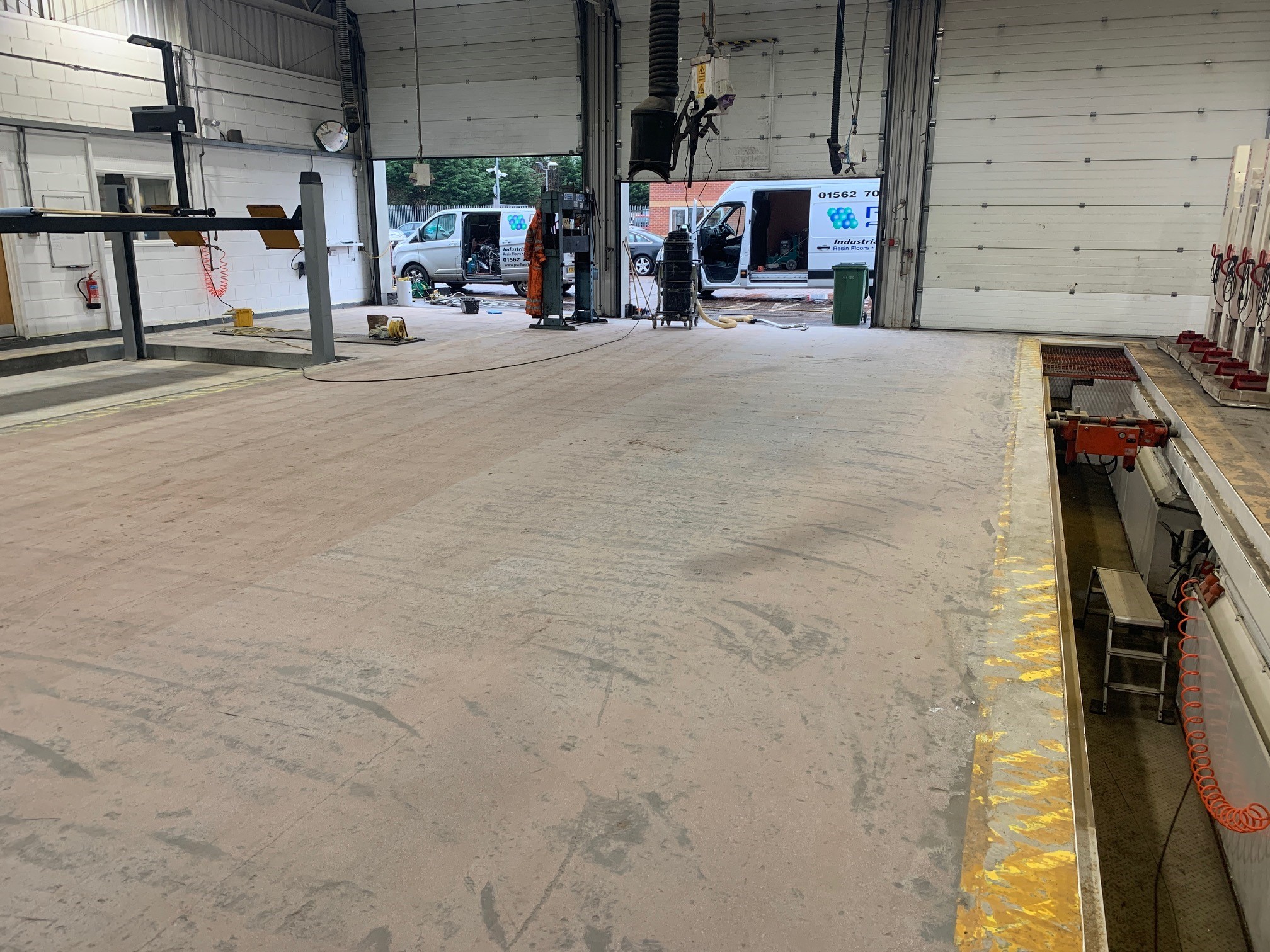 Two coats of Resdev Pumatect high build, epoxy resin flooring system, gloss in the client chosen blue were applied and finished off with 200mm edging lines in Resdev Pumatect V high build epoxy resin, in safety yellow around 2 x HGV pits, 2 x rolling roads and ramp area.
Newark and Sherwood District Council | Vehicle Workshop Flooring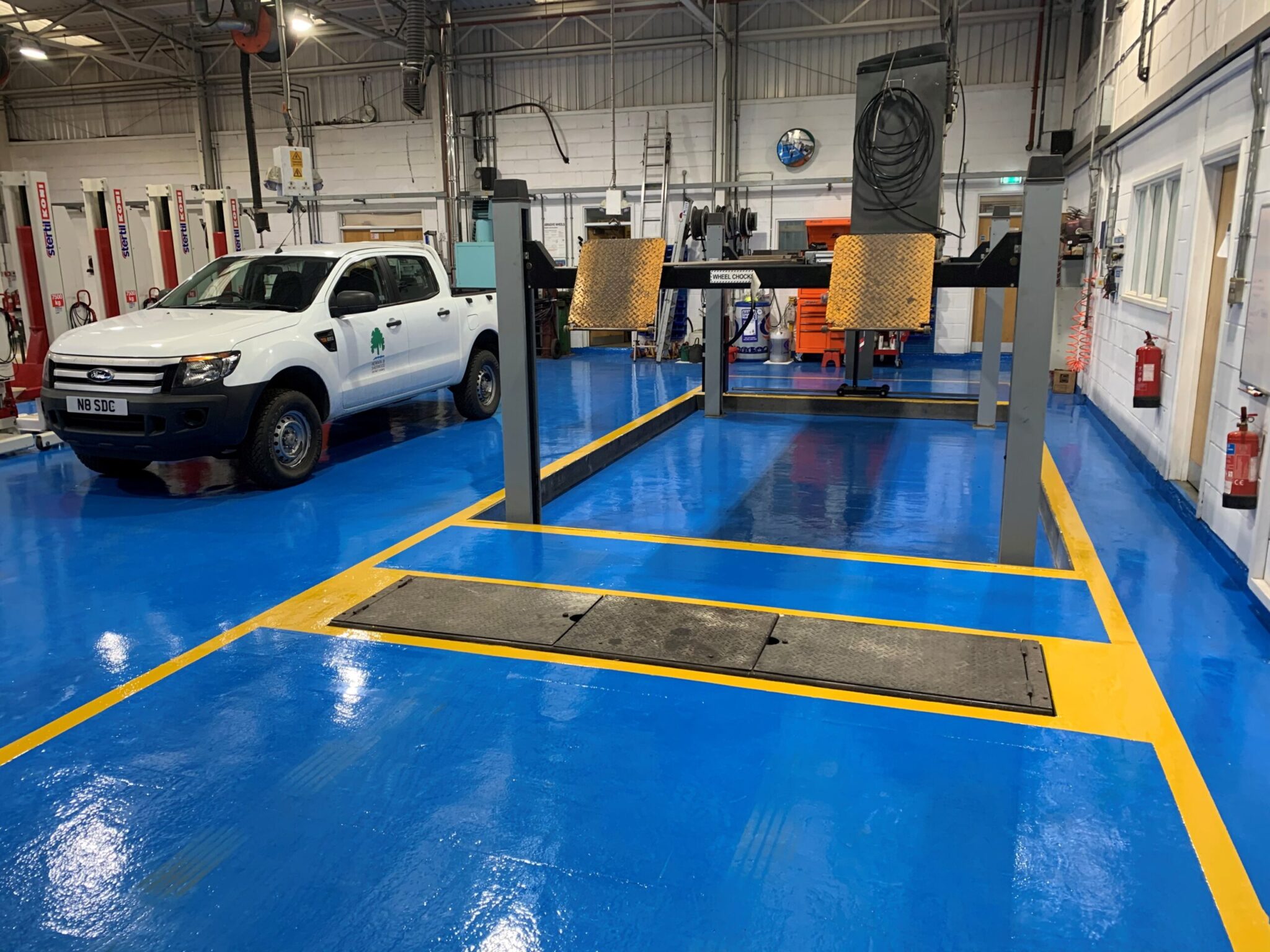 To ensure the busy workshop could continue to function as normal during their working week, the job was split over 2 consecutive weekends. 
Newark and Sherwood District Council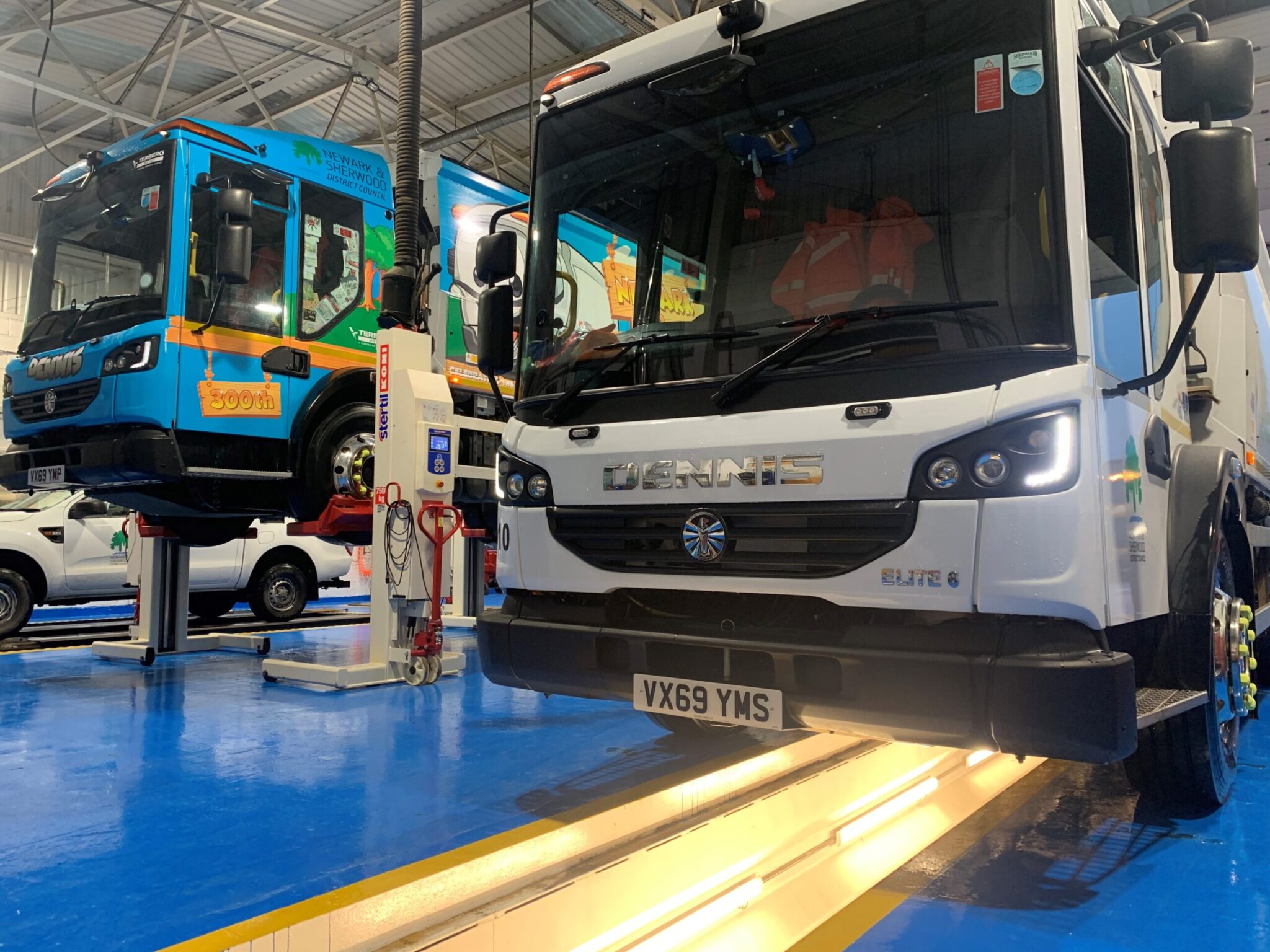 Mr Richard Cull of Newark and Sherwood District Council said "Exceptionally pleased with the fantastic job done by PSC Flooring Ltd. Nothing was too much trouble, Very highly recommended."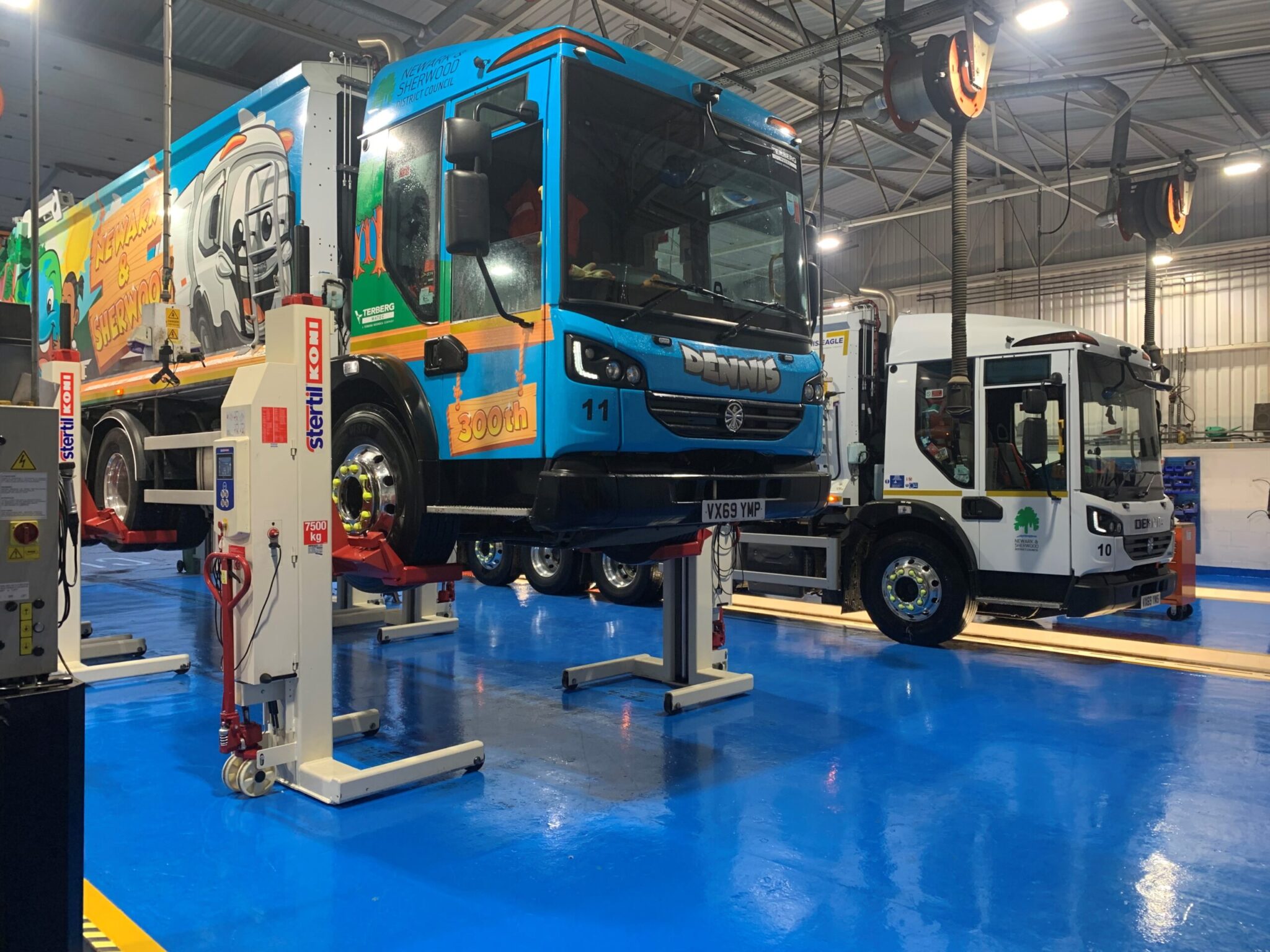 Contact us
Get in touch with us at PSC Flooring today to discuss your factory flooring requirements. With over 30 years of experience, we have plenty of knowledge regarding vehicle workshop flooring and any other industry flooring you may need. Furthermore, if you've found this blog useful, you may wish to read our previous blogs: Happy Customer… Happy Life! or As Good As It Gets – A Workshop Epoxy Floor We Can Be Proud Of!