If you are looking for non-slip commercial kitchen flooring, then look no further than PSC Flooring Ltd. As one of the country's leading commercial kitchen flooring fitters, we have plenty of experience with industrial flooring solutions. When it comes to meeting the high sanitisation standards in a commercial kitchen, you can't cut corners. However, there are tools to speed up the cleaning process. Using steam cleaners is a common solution in the food industry. They help to avoid food contamination during processing and packaging. Additionally, they provide unmatched solutions to commercial kitchen's most common maintenance problems. 
Related: Flawless Finish – Pump Screed Application
Steam cleaners – How Steam Cleaners Work
The water heats past the boiling point and is forced out as pressurized steam through a nozzle, brush, or other attachment. The vapour loosens dirt and kills dust mites, mould, staph, and other allergens and harmful bacteria. There is no requirement for a suction since the high-heat moisture dries quickly. Steam cleaners are ideal for cleaning commercial or industrial kitchen flooring. This is because the steam cuts through grease, oil, sugar deposits etc associated with cooking/kitchens. It also eliminates bacteria, mould, germs and viruses; all of this without the use of chemical products.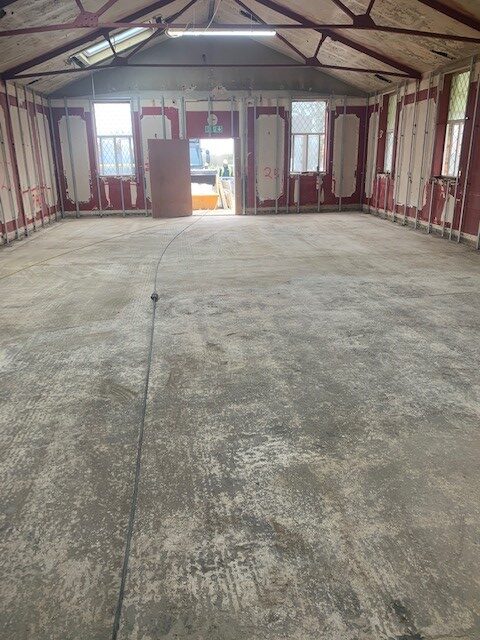 The importance of non slip commercial flooring
A commercial kitchen floor requires unique characteristics to meet the highest health and safety standards. PSC Flooring Ltd work closely with many commercial kitchens. As a result, we understand the industry's needs when choosing the correct floor. The normal choice of floor for this sector, is a heavy-duty polyurethane RT or HF screed, either 6mm or 9mm thick.
More and more commercial kitchens are choosing a resin screed as their non-slip commercial flooring. This is because sheet vinyl can rip and tear and the welded joints can come undone. All of this poses a health and safety threat and can lead to harbouring bacterial growth.
Why Polyurethane RT and HR resin?
Polyurethane RT and HF resin floors are a must for commercial kitchens. This is a result of their chemical and physical properties. Commercial kitchen floors must offer excellent thermal protection, especially close to the ovens. Polyurethane resin screed systems are ideal as they are easily cleanable. In fact, you can steam clean them up to 120 degrees at 9mm thick. Offering excellent thermal properties, the non-slip commercial flooring can withstand direct heat up to 120 degrees.
Commercial kitchen floors must be hygienic and seamless and not support bacteria and microbial growth. Polyurethane resin screed systems are ideal as they offer a seamless finish. The hard-wearing commercial flooring can be complemented by coving and render, to allow for a smooth transition from the wall to the floor that does not support bacteria and microbial growth. 
Case Study
When called into RAF Fairford Swindon to look at flooring for a busy Military Mess Kitchen a 6mm Resdev RT polyurethane screed was the obvious choice.
The high traffic Kitchen Prep Areas, Washing Areas, Lobby and Food Serving Area totalling 465 square meters had a concrete floor that was prepared using a diamond grinding floor surface preparation machine. The area was then swept and primed before a nominal 6mm Resdev RT polyurethane screed was laid in dark grey.
The floor was finished with Resdev DD polyurethane clear seal coat and 100mm high Pumadur CG polyurethane cove in a matching dark grey.

The stores' area totalling 160 square meters was prepared then received a Resdev Pumatect epoxy resin coating system in a matching, dark grey.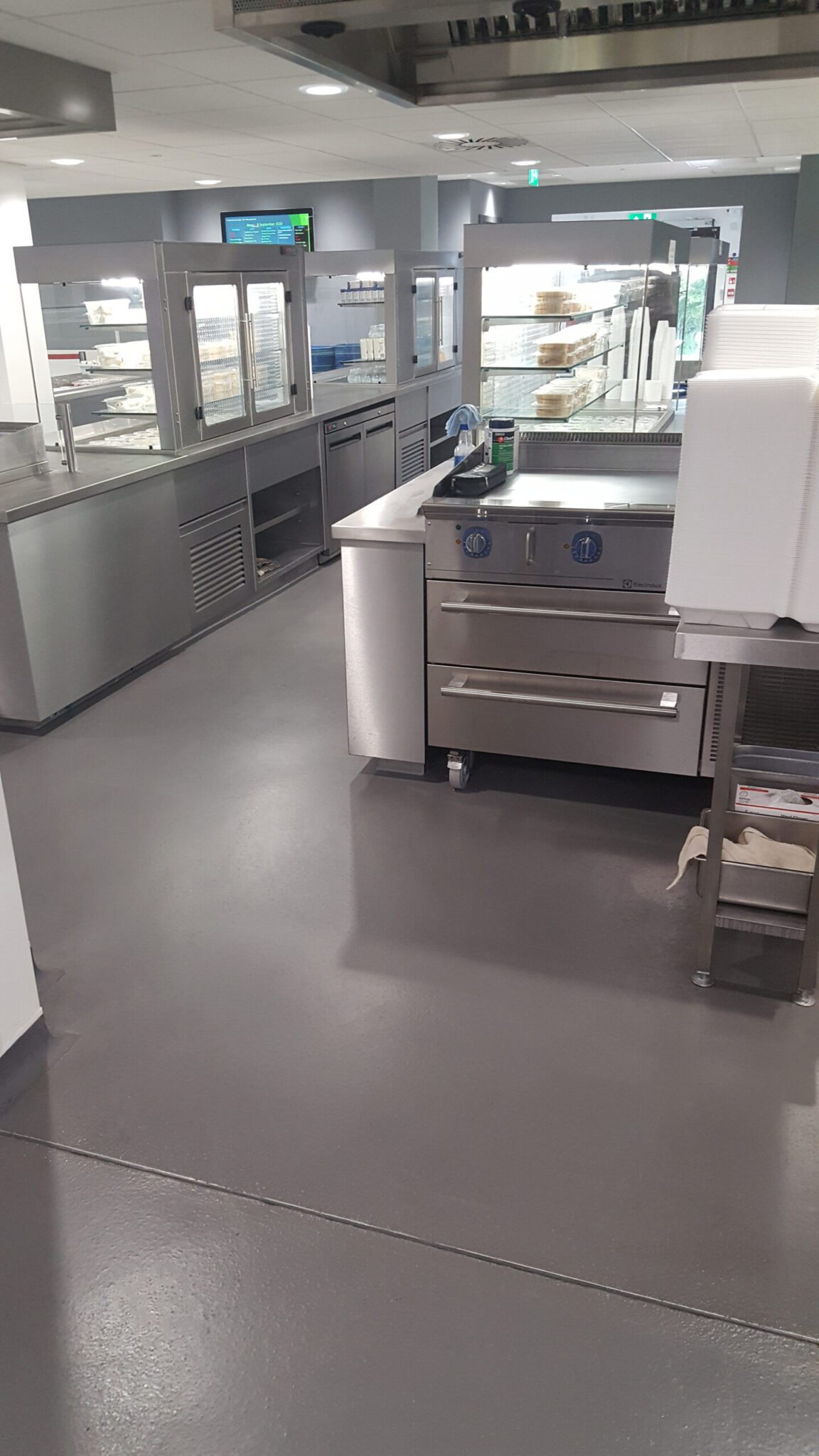 Contact us today for commercial kitchen flooring
If you would like to find out more about our industrial kitchen flooring, then get in touch today. You can call 01562 702047 to speak to a member of our team or head to our website for more information.
If you have found this blog helpful, then you may wish to read our previous blogs on Why are expansion joints so important? or Everything You Need to Know About Polyurethane Screeds