As leading industrial flooring experts, we ensure that health and safety within working environments is a priority, especially in the case of garage workshops. This is through the use of demarcation safety lines on the floor.
Strict guidelines are in place for the safety inspection intervals for all commercial vehicles. A recommendation that inspections for compliance should fall between 4 – 13 weeks. The standard interval is generally 6 weeks. However, depending on the type of work you're doing, the mileage covered and the terrain the vehicle is usually travelling on, this can differ.
According to the HSE (Health & Safety Executive) there have been over 7000 injuries and 33 deaths in the motor vehicle repair (MVR) industry over the last 5 years. Enforcement of health and safety law in MVR is split between HSE and Local Authorities (LA's). In general terms, HSE enforce at body shops and mechanical repair/servicing premises, during vehicle recovery activities. As well as during any mobile MVR work e.g. at domestic premises or at the roadside. Most accidents in servicing/mechanical repair involve slips, trips and falls or poor manual handling.
Health and Safety in a Garage Workshop
It is recommended that to create a healthy working environment, there are a number of building requirements:
a clean workplace with a reasonable working temperature
good ventilation
suitable lighting
the right amount of space and seating
prevision of welfare facilities
the right number of toilets and washbasins
drinking water
having somewhere to rest and eat meals
a safe workplace with well-maintained equipment
no obstructions in floors and traffic routes
windows that can be easily opened and cleaned
Safety lining features heavily in recommendations to ensure that changes in height and floor levels are adequately marked and signposted. When dealing with any moving vehicles in a busy vehicle workshop demarcation lining is high on the agenda. PSC were recently called in by Gammond Transport Ltd of Hereford. They were called in to look at refurbishing the floor surface of their 280 square meter workshop area. Gammond Transport Ltd is a road haulage company which offers a range of services. They transport goods by road and as such have a fleet of HGV's (Heavy Goods Vehicles) to service.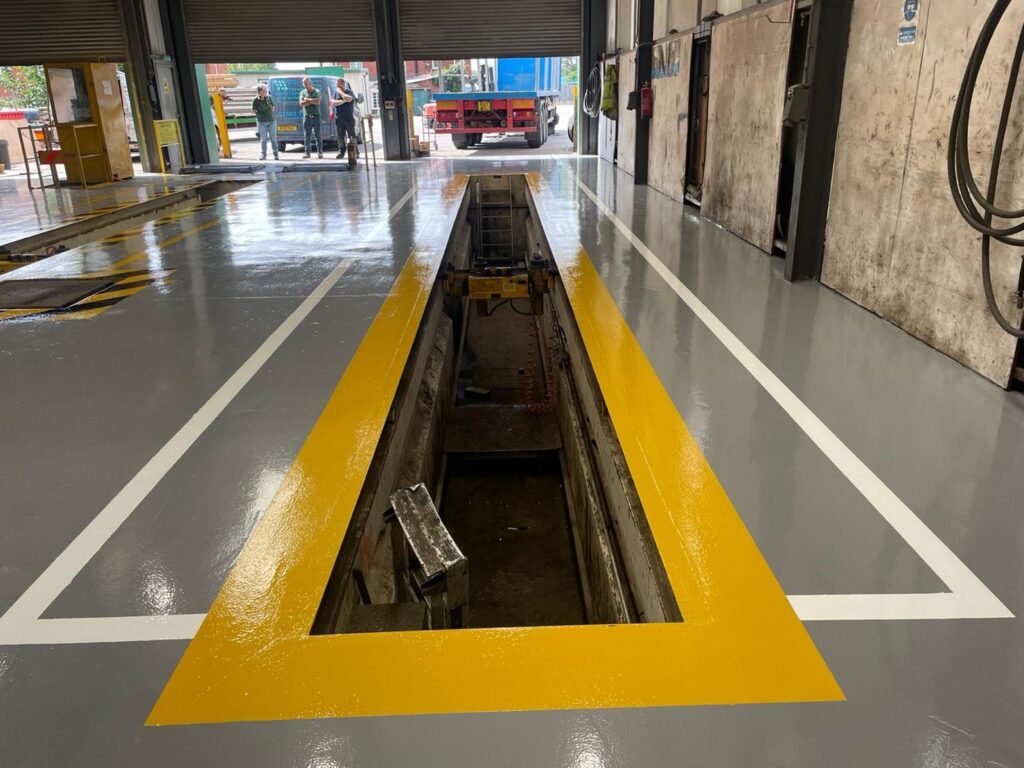 Client Brief and Recommendation
The client was keen to transform the space to make it brighter, lighter whilst still being hard wearing and easy to keep clean. Functionally they were looking to enhance the safety warning lines to adhere to strict health and safety guidelines. Upon inspection the 280 square metres was very worn/old concrete. Also it had mechanical grease and grime build up and the yellow safety lining was worn. It was recommended to install two coats of high build epoxy resin with demarcation lines.
Preparation of the Floor Surface for 280 Square Metres
In order to thoroughly clean and prepare the existing concrete surfaces Team PSC used the totally enclosed diamond grinding machine. This was combined with the handheld 110v diamond grinder before vacuuming clean all residues and dust. Repairs were made to any localised damaged concrete, cracks, as required using epoxy mortar compound and epoxy resin filler. Once prepared the entire floor surface was given two coats of Resdev Pumatect, high build epoxy resin flooring system, in the clients chosen light grey gloss.
Related: PSC Go Full Steam Ahead in the Transport Industry
Healthy and Safety Demarcation Lines on the Workshop Floor
VOSA compliant safety lining was added using Pumatect V high build epoxy safety yellow, black and white including:
Around the main pit androlling road a 400mm wide VOSA compliant safety lining band was masked out and applied in yellow and black, then around that a 100mm wide reversing line was added in safety yellow.
Headlight Aim Tester Markings were added at 5m, 6m, 8m, 11m and 13m intervals in safety yellow.
The Service pit area received a 400mm wide band around the perimeter in safety yellow and 100mm wide reversing lines in white.
200mm wide VOSA compliant safety lining band was added to the top of the pit steps area in safety yellow and black.
Overall to complete the job it took just 4 days and was completed on time and in budget.
"PSC have completely transformed our HGV workshop. We are extremely pleased with how the job has turned out and are grateful for all the hard work put in by the team!"

Mrs Melissa Prosser of Gammond Transport Ltd
If you have found this blog useful, take a look a previous one: Garage Workshop Flooring Solutions at PSC Flooring