The UK food chain is changing rapidly and dramatically as a result of the COVID-19 crisis. The unprecedented sight of empty supermarket shelves across the UK due to panic buying brought into question whether our food system can cope with the impacts of COVID-19. The distribution network is dependent on logistics working to put essential food on the table.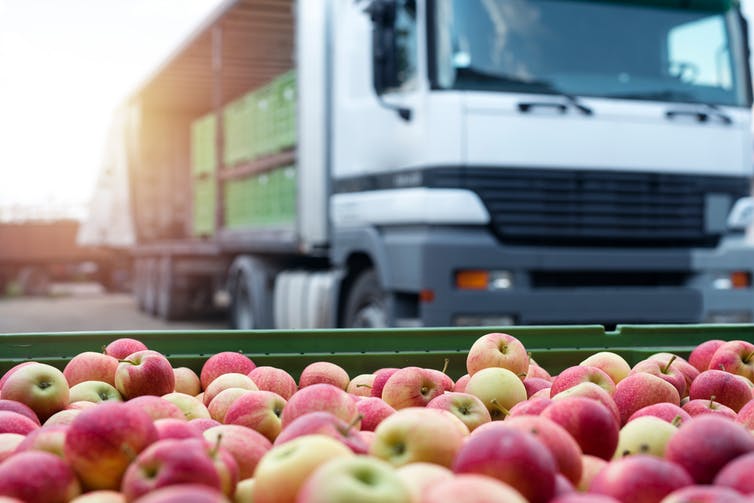 Reducing costs by choosing suitable warehouse floors
Most food manufactures and wholesalers work on "just in time" logistics to help to reduce the cost of warehousing. Investing in the correct warehouse floors can also help to reduce cost. Afterall, the beating heart of any manufacturing or distribution business (a busy warehouse) is one of the toughest flooring environments out there. Warehouse floors have HGVs, pallet trucks, stillages and fork trucks shifting heavy loads on them up to 24 hours a day, seven days a week. Therefore, the industrial flooring needs to be hardwearing and safety compliant. The wrong floor choice, or a damaged flooring can lead to Costly wear and tear on machinery such as forklifts and pump trucks.
Why should you choose warehouse epoxy flooring?
Across the UK thousands of people are working in warehouses day and night to keep the supermarket shelves stocked. You will notice that there are many different industrial floor solutions available. So, why should you choose warehouse epoxy flooring?
Right for the job – Epoxy has options to accommodate busy and heavy-duty forklift truck traffic
Hard wearing – This warehouse flooring is resistant to impact, abrasion, chemical and heat damage.
Easy to clean and maintain – Epoxy resin is totally impervious. Therefore any grease, oil and fuel will remain on the surface until cleaned up. As a result, it is ideal for a warehouse floor.
Slip-resistant – The anti-slip safety flooring can be applied to high traffic pedestrian areas such as gangways and loading areas.
Health & Safety – Epoxy floor paint supports a safe working environment. Particularly when you opt for designated walkway and gangway demarcation.
Quick to install – When installing epoxy, we always strive for minimum operational downtime.
Warehouse flooring at PSC Flooring Ltd
As leading industrial flooring contractors, PSC Flooring Ltd fully understands the need for warehouses to remain operational. Especially during this period of high dependency. Therefore, we are proud to be offering out of hours and phased work programmes to help clients lay new, make repairs and refurbish their industrial floors. The team at PSC have all the necessary PPE equipment and training and are continuing to safely install high build epoxy resin flooring across the UK. We are working hard to ensure this vital market sector can carry on its essential work by repairing and installing warehouse floors throughout the UK.
Contact us today
PSC Flooring Ltd have immense knowledge and experience in warehouse floors. As a result, we can offer you solutions which meet your needs at competitive prices. If you are interested in finding out more about PSC Flooring's professional epoxy resin floor solutions, or any other industrial floor coatings, head to our website today. Alternatively, you can call 01562 702047 to speak to a member of our helpful and friendly team. We can arrange a free site survey at your business and advise you on the most effective epoxy resin floor coating for your working environment. At PSC Flooring, we are professional epoxy resin flooring contractors, therefore you can be sure you will find your best flooring solution with us.
If you have found this blog helpful, you may wish to read our previous blog on The Best Type of Warehouse Flooring.