In the printing world the manufacturing environment needs to be not only clean but also well lit. The right type of lighting is important for print production, as poor light can cause your eyes to tire out much quicker and hence the smaller detail would be missed.
Mid Blue High Gloss Epoxy Resin floor
So when Leading Edge Labels in Kent decided to expand their production into an existing warehouse, their specification for a floor was quite detailed. The printing production area is a high traffic area with a variety of equipment, staff and forklift traffic so the usual requirements of hardwearing, durable and attractive, are a given. But specifically the floor was required to be highly reflective to ensure the working space was as well lit as possible. Leadings Edges refurbishment spec included the addition of heat and lighting to the new production area and this was enhanced by the addition of a Mid Blue High Gloss Epoxy Resin floor.  
Client specification:
Attractive

Easy to clean

Hard Wearing and Durable

Heavy use including forklift use

High traffic – 24/7 production area

High Gloss – to reflect the light

Minimum lifespan of 10 years.
Once shot blasted, the application of 2 coats of primer and a 3mm high gloss epoxy resin self-levelling screed to the existing concrete floor ensured that the new production area floor was attractive, easy to clean and hardwearing with a minimum projected life span of 10 years.
Shot blasting the original concrete floor ensured that the base level was as smooth as possible without defects, allowing the 2 coat primer system to adhere beautifully. Application of a primer is paramount to ensure the 3mm high gloss epoxy resin self-levelling screed can adhere and avoid de-lamination in the future.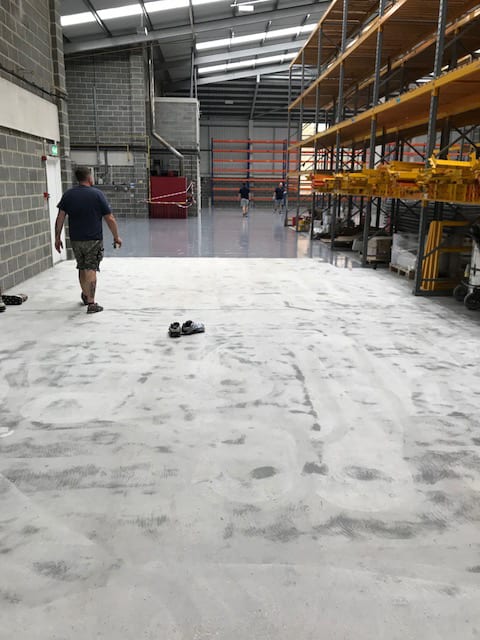 Reflective Properties to Improve Lighting
Available in a variety of colours, a mid blue high gloss epoxy resin was specifically chosen for its reflective properties ensuring clarity of light. This teamed with the new enhanced lighting Leading Edge had installed, enabled the light to bounce off the highly reflective floor and achieve the best working environment possible.
Additionally, as this is a busy high traffic working area, the demarcation of fork lift areas in a mid grey ensured that the high traffic areas met with the highest of health and safety standards. The addition of an anti slip coating ensured the surface was ideal for people or vehicles moving around; decreasing the risk of falls and injuries in the workplace.
Overall the transformation of the previously allocated warehouse space was exactly as the client specified, making the most of the increased production facilities.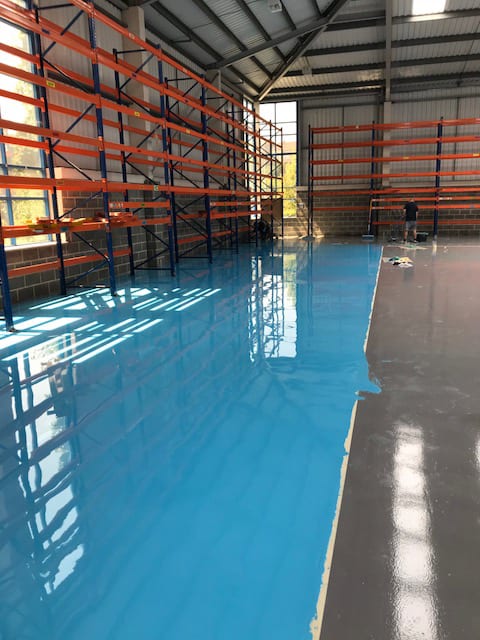 Call us Today
If you would like to find out more about our Epoxy Resin Flooring please read the epoxy resin flooring section on our website or give our industrial flooring contractors a call on 01562 547035.
If you enjoyed reading this article you may also like to read our previous post on resin coatings.