Drywite Ltd Halesowen, who make food products for the fast food industry contacted PSC Flooring Ltd about safe food manufacturing flooring in their acid mixing area. The existing resin floor was eroded with the acid and was very uneven and unsafe. Drywite Ltd wanted a new resin floor that was chemical resistant, hard wearing, slip resistant, seamless, easy to clean and could meet the high food hygiene standards.
PSC Flooring Ltd proposed a 6mm Resdev Pumadur RT, heavy duty polyurethane screed.
Hygienic & Seamless Flooring
The benefits of the polyurethane screed in the food industry is that are hygienic as they are seamless, impervious and do not support microbial growth. They are also easy to clean and maintain and they can be steamed cleaned at temperatures up to 120C at 9mm thickness.
A polyurethane screed offers the maximum chemical protection of all resin products and could easily withstand exposure to the numerous acids and chemicals that would be used in the area.
Slip Resistant
They also offer excellent slip resistance in the wet. Food grade resin floors are consistently subjected to spillages and water due to constantly being cleaned down. It is vital that even in the wet that certain split resistance is met. That is why the polyurethane screed is excellent in this environment as it has inbuilt anti slip properties, making it the perfect choice for food grade floors.
Industrial Floor Experts
The old, rotten resin floor was firstly removed with kangos and then the exposed concrete was diamond grinded clean, to remove any contamination. All toe in channels around the perimeter, drains and doorways were carried out, then repairs were carried out to repair damaged concrete, holes and expansion joints. Once fully vacuumed clean of all debris a coat of epoxy resin damp proof membrane primer was laid, followed by the 6mm heavy duty RT polyurethane screed in a red.
Maximum Protection Ensured
Once the polyurethane screed was dry, the next process was to render all the bund walls and tops with a heavy duty polyurethane render system. This would give the area maximum protection if there was an acid leak and is very hygienic as it prevents any bacteria from forming in the corners.
Efficient Service with the Least Obstruction to Production
The total project took 6 days to complete. The project was on time and on budget and provided Drywite Ltd with a very robust, chemically resistant, hard wearing floor, that provided excellent slip resistance in the wet. The polyurethane RT resin screed is seamless and easy to clean and the perfect floor for the food industry.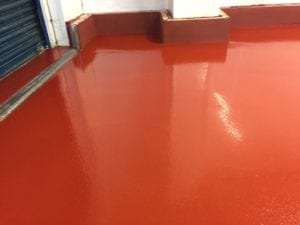 For more information about our food grade flooring please visit our website or call us on 01562 702047 and one of our expert industrial flooring contractors will be happy to advise you.
If you enjoyed reading this post you may also like to read our previous article on anti-slip flooring.