What's better than a new client enquiry for epoxy flooring in your inbox? An existing client who wants to work with you again! Repeat clients are great because you've already established a working relationship. This means you can both work at speed to suit proceedings. More so, a call back means they have confidence in the quality of work you produce. Repeat business for resin floors means all parties have an understanding of the work involved. It also means everyone understands the information needed to get an accurate quote for the job at hand. 
Quoting for epoxy industrial flooring
As one of the country's leading industrial flooring contractors, we take quotes for epoxy floor systems very seriously. We have a process that our flooring experts follow, which ensures we can give you the most accurate quote at the most competitive price. 
Understanding the process
The application of resin floors is a timely process with preparation of the substrate being highly important. The process is very different to laying a concrete floor onto a dirt or hardcore base. When laying resin onto a concrete base the two elements must bond. To do this, the concrete needs to be prepared before the resin is laid. 
Rising moisture through the floor substrate can detrimentally affect the resin finish. Therefore, application of the correct amount of damp-proof epoxy resin primer is important. Too little DPM and the moisture will continue to rise.
Accurately measuring of a site –  especially a new site- is extremely important.  Measuring ensures that feasible timescales are put in place and enough materials are ordered to site. Each part of the resin flooring system process needs adequate time to dry. So, if there is a shortfall on one or more of the materials when you get to site, then the application timescale can not be met. 
Working with many clients new and existing PSC know the importance of health and safety in the workplace and the role that the correct floor plays. We're able to advise of different types of industrial floor finishes,  including anti-slip flooring, demarcation, and walkways.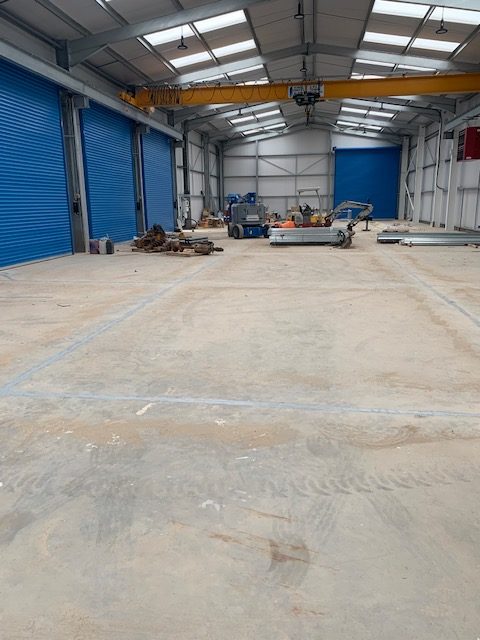 1000 square metres of new HGV workshop
PSC Flooring worked with Roger Dyson Group for a long time. In fact, we've worked been installing workshop floors for the UK Recovery & Transportation System Manufacturer since 2003. Our good working relationship and guaranteed quality of work meant that PSC Flooring were first port of call when considering flooring for their 1000 square metres of new HGV workshop.  
On an initial site visit PSC were able to identify that moisture content in the new concrete. So, two coats of Resdev Pumaprine Damp Proof epoxy resin primer would be needed. 
Once the 2 coats of DPM were applied, two coats of Resdev Pumatect high build epoxy resin in the chosen light grey were applied. This gave the flooring that clean and corporate look that Roger Dyson required. Finally, epoxy resin demarcation lines were laid around pit areas and also alongside each pit to help HGV drivers reverse into the workshop. This important safety feature is key to the Roger Dyson's meeting the HSE's requirements.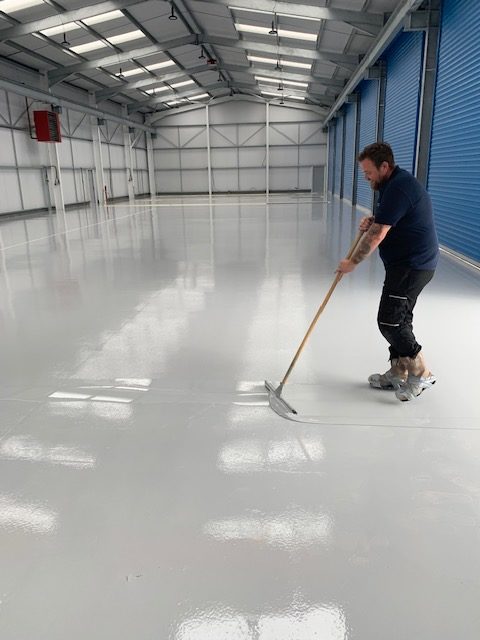 Overall the total job took 6 days, which met the client's expectations.  Mr. Matthew Pettican, Aftersales and Project Manager for Roger Dyson Ltd said "Working with PSC Flooring has many bonuses, they are very local to us being just down the road in Kidderminster, they are reasonably priced, and the quality of their workmanship is outstanding!" Mr Pettican went on to say "We value our working relationship with this supplier, as reliability is extremely important. I would not hesitate to recommend PSC Flooring."
Contact PSC Flooring today
We can provide industrial flooring solutions for a wide range of industries and applications. If you would like to find out more about our epoxy flooring solutions, head to our website today. Or, call 01562 702047 to speak to an industrial flooring specialist. 
If you have found this blog helpful, you may wish to read our previous blog on Poured Resin Flooring.