Something a bit different to the usual work we do at PSC. For the second time PSC Floorings have been asked to install epoxy resin to a helicopter pad. For confidentiality and securing reasons we can't say where or who the new pad is for, but there could be a royal connection???
What is the difference between Pumatect and Pumatect MT?
The Resdev Pumatect High Build Epoxy Resin coating system that we all know and love. It is an easy to clean, tough and durable high build coating system with excellent chemical resistance. Therefore, making it ideal for places such as warehouses, factories, workshops, showrooms, packing and storage areas. It can even be used in Aircraft Hangars as it has reasonable resistance with short term contact to Skydrol in conjunction with an effective cleaning regime.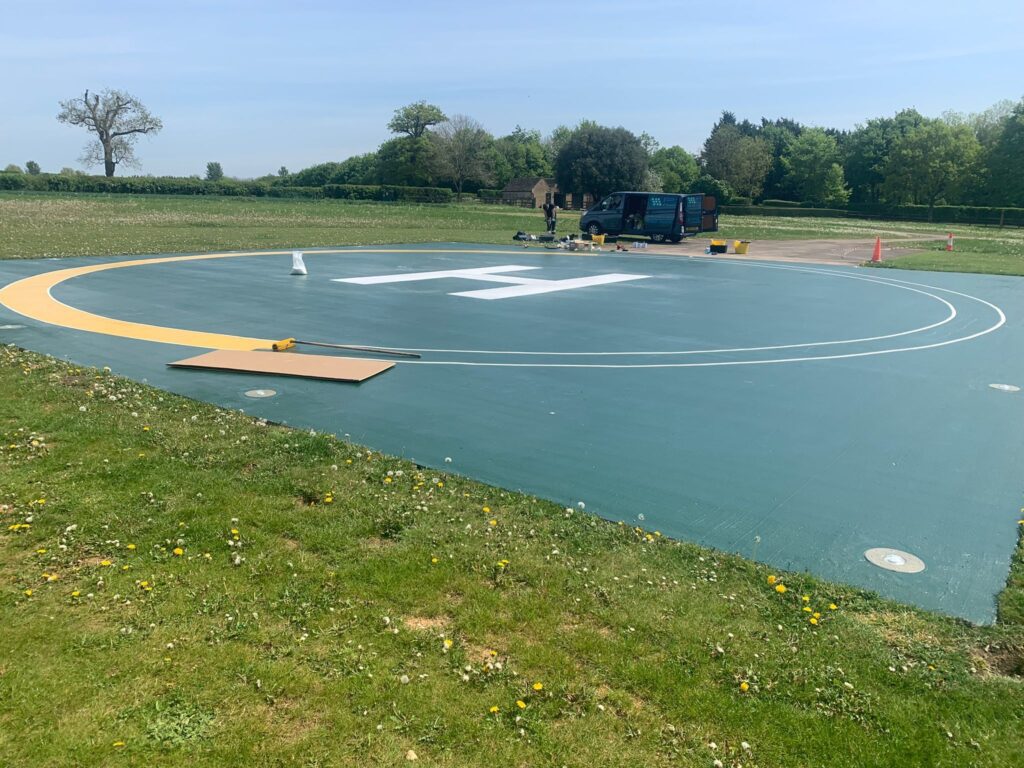 Whereas Pumatect MT is a two-component virtually solvent free moisture tolerant epoxy floor coating offering excellent abrasion and chemical resistance. Pumatect MT provides a tough, hard wearing coating for medium duty traffic giving high film build and wear resistance. And as the name suggests is moisture tolerant making it ideal for resurfacing outside areas. Such as, walkways, undercover areas and of course helicopter pads. With a Lower Gloss finish than standard Pumatect, Pumatect MT is available in a range of attractive colours. A minimum 2 coat application of Pumatect MT provides excellent adhesion to damp concrete and polymer modified sand/cement screeds. Hygrometer readings up to 98% RH as measured in accordance with BS 8203:2001 can be accommodated.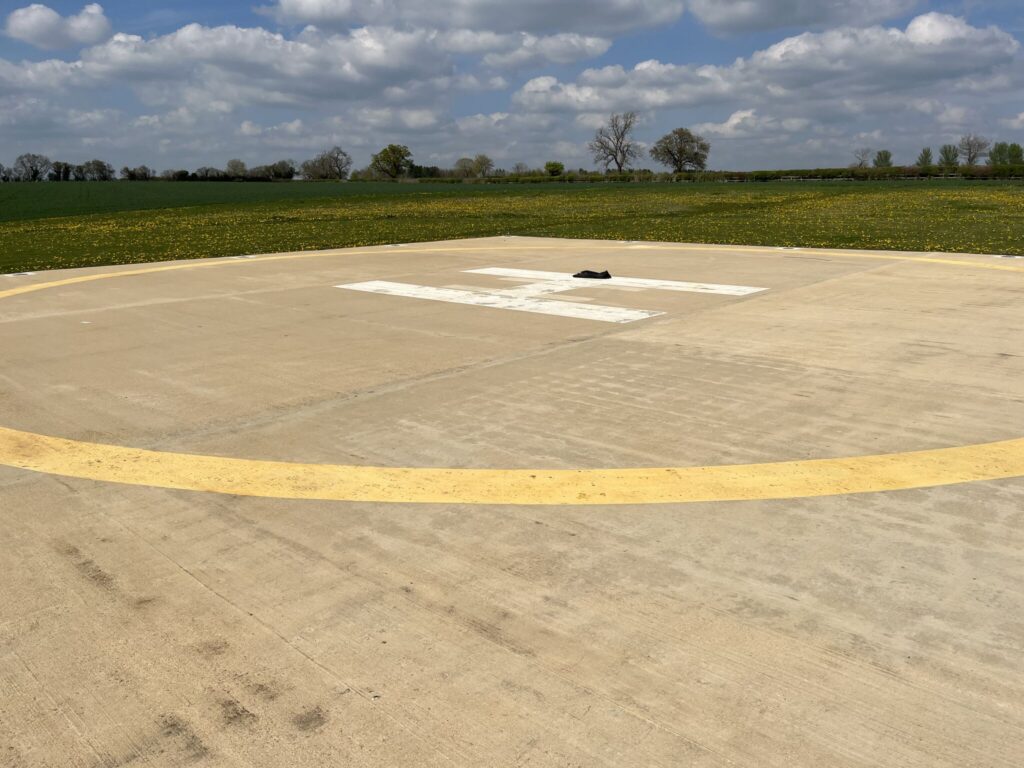 400 Square Metres Epoxy Resin Helicopter Pad
When the team at PSC Flooring were on site it was obvious that the existing helicopter pad which was plain concrete had an issue with flaking floor paint. Before any new flooring system could be installed, the flaking floor paint would need to be removed. Moreover, we recommended that a two coat Resdev Pumatect MT (moisture tolerant) epoxy resin system be installed.

Preparation of the Floor Surface
The concrete surface of the helicopter pad was prepared and cleanedusing the captive shot blasting machine, normally powered via 3 phase power supply but in this case because of the remoteness of the location it was necessary to use a generator mounted on a lorry.
Once thoroughly cleaned and any mirror repairs made the surface was ready for two coats of Resdev Pumatect MT moisture tolerant epoxy resin in a special green, incorporating a 0.3 to 0.6mm anti slip aggregate as a base colour. The circle and the "H" were then marked out and laid in Resdev Pumatect V, in safety yellow and white. Finally, the entire area was over coated with Resdev's Pumadur DD, polyurethane clear coating system in silk.
With the weather on our side the job was completed in just 5 days.
The client was kind enough to comment that:

"The helicopter pad is now fit for purpose. Thank you for the excellent and knowledgable team from PSC."
I think we can all agree the new helicopter pad looks amazing. You could say it was fit for a king….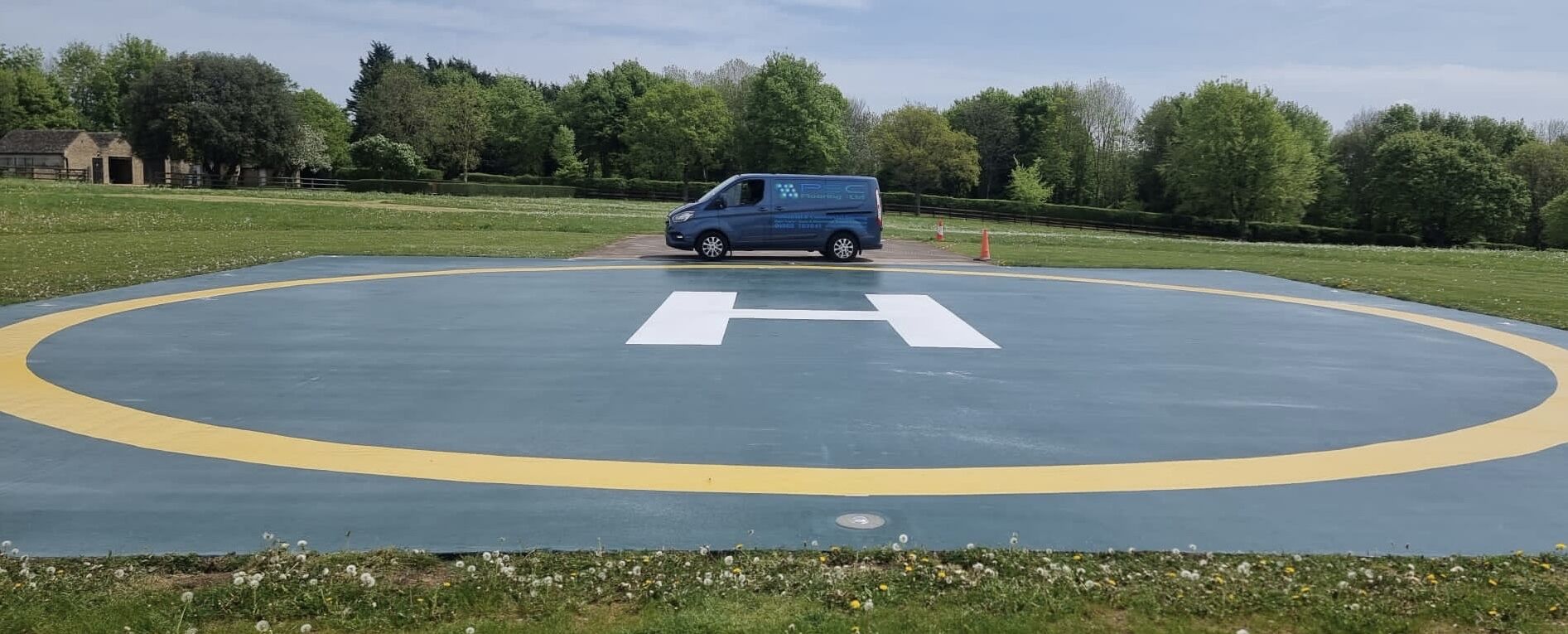 Are you looking to install helicopter flooring? As leading epoxy resin flooring contractors, PSC can help you with any flooring requirements. Get in touch today to Book a free Site Survey or call our team on 01562 702047.
Furthermore, if you found this blog useful, please take a look at a previous one: Heavy Duty Industrial Floor | Why it's Important