Epoxy coating is an incredibly versatile floor coating, and here at PSC Flooring, we're proud to have provided the industrial coating to a wide range of industries. Epoxy resin has many interior applications, but the outside applications are sometimes overlooked. As one of the country's leading epoxy contractors, we're proud to have recently assisted in creating a helipad with the coating. 
Epoxy coating – a stable finish
When applying epoxy coating to outside spaces the stability of the colour must be accounted for. The sun's rays can easily jeopardise the performance of the resin, but by adding a clear topcoat of Resdev Pumadur DD polyurethane UVR sealant you can prevent this. 
What else is polyurethane coating suitable for?
The Resdev Clear UVR polyurethane coating is available in a matt, silk or gloss finish. It makes a great topcoat for non-UV stable materials as it has excellent UV resistance properties. It is suitable with decorative resin systems such as Mozaico seamless resin terrazzo, and Intrica Fusion decorative resin quartz flooring. It is also often used as an anti-graffiti coating to protect the materials beneath. 
Helipad paint at PSC Flooring
When asked to quote for a resin coated finish for a helicopter pad, the team at PSC Flooring immediately thought about how to protect the surface from the UV rays in such an exposed position.  
To begin with though, the newly laid concrete pad needed a Diamond grind to clean the concrete and prepare it for the epoxy coating. Due to the external position, two coats of epoxy resin damp proof membrane primer were added to regulate any moisture coming up through the concrete.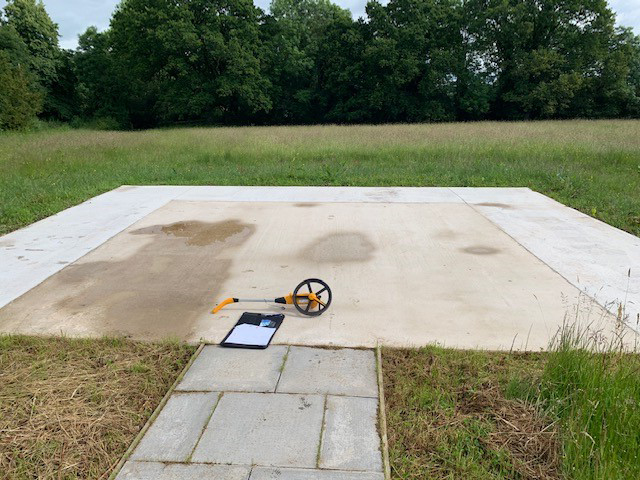 The client chose a green and yellow design in order for the helicopter pad to blend into the surrounding countryside. Two coats of Resdev Pumatect high build epoxy coating resin in green were applied, incorporating a fine 0.2 to 0.4mm polymer bead aggregate for to enhance anti-slip properties. 
The 'H' and circle were marked out and laid in a Pumatect V, high build epoxy resin coating system. The final stage involved applying a topcoat of Resdev Pumadur DD polyurethane UVR seal coat in clear, silk. This was to protect the epoxy resin coatings from UVR rays which would discolour the green paint over time.
The job was completed in 6 days due to the number of stages involved, but the weather was kind and the client was pleased with the speedy turnaround time. They said, "PSC Flooring Ltd have done an excellent job." The owner of a large construction company went on to say "I am extremely pleased with the end result and will not hesitate to recommend PSC Flooring Ltd for resin work in the future." 
Contact us today
If you would like to find out more about our epoxy coating services, then head to our website today. Or, call 01562 702047 to speak to a member of one of our specialist industrial flooring contractors. 
If you have found this blog helpful, you may wish to read our previous blog on Surface Preparation.