Our industrial epoxy resin flooring is incredibly versatile and can be used in a wide range of industries. It's one of the most popular types of industrial flooring. Here at PSC Ltd, we're proud to be experienced industrial flooring contractors of the flooring solution. 
Installing industrial epoxy resin flooring
Industrial epoxy resin flooring is one of the many types of flooring solutions that we can install. And, one of our main aims is to ensure there is minimal disruption to your business when it comes to the installation. Some of us may think that making upgrades or improvements to the working environment can be costly. But, when it comes to implementing those works, it's the production disruption that can end up being the unaccounted for cost.
The static costs of a factory/manufacturing building (such as rent) stay the same whether the production line is running or not. So, busy production plants often have a shift-based work force to keep production costs down and the productivity levels up. In the past, manufacturing plants like this used to have a "Factory Fortnight" where all production stopped. The workers were given an annual holiday. With the traditional "Factory Fortnight" long gone in most industries however, the task of planning refurbishment works becomes ever more difficult. 
Working around the clock
We worked with Arrk Europe to ensure productivity continued. The company supplies car parts to Jaguar Land Rover and is based in Kings Norton. Fitting in essential refurbishment and improvement works to the factory floor just simply couldn't stop production. PSC Flooring Ltd had previously completed 1500 square metres for Arrk Europe. Now, they were required to complete other areas too. An additional 1500 square metres – of which 800sqm was production areas and 700 square metres warehouse flooring – needed to be installed. 
Installing flooring with workers on site
Used to being flexible and working around the client's needs, the PSC team made sure that every effort was put into the pre-start preparation. We made sure our client understood the type of work going on around them, the health and safety implications and the overall constraints. This helped to give the client realistic expectations and ensured that all parties were working together on a coordinated plan of attack. 
Epoxy resin flooring – the installation
The first issue faced was that the existing floors had multiple layers of failed floor paint. All areas needed to be heavily shotblasted to clean and prepare the concrete. This stage of the preparation is both noisy and dusty.
Working around the production line meant that the job had to be split down into four areas. Each day the equipment and materials needed for the job had to be moved to the new area. To ensure any of the manufacturing machines are protected, sheeting is erected as protection. Once all repairs were completed then two coats of Resdev Pumatect high build epoxy resin were laid. The chosen safety red was applied to the warehouse areas. The light grey epoxy resin was applied to production areas. To give clear demarcation, the walkway was coated in green epoxy resin.  As additional support for health and safety, all fire exits were completed with safety yellow chevrons.
So, what is epoxy resin?
Epoxy resin is a coating system that is applied in two or more coats.  Epoxies themselves are thermoset plastics made by the reaction of two or more industrial chemical compounds. Epoxy resin is a type of resin that possesses tough mechanical properties, good chemical resistance, and high adhesive strength, which makes it highly useful for various applications.
Fast installation of epoxy 
Despite all the challenges of working around a busy production line the total installation process took 2 weeks. PSC Flooring Ltd industrial flooring contractors worked very closely with Arrk Europe to complete the work in phases so production could continue.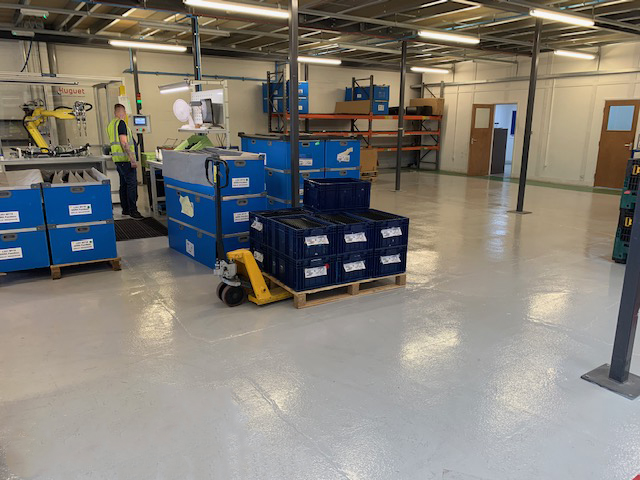 Mr Jonathan Bryant, Production Manager said, "We used PSC Flooring Ltd 12 months ago on a large project and I had no hesitation in calling them back in. They offer a professional service at competitive rates and are always very helpful. This project wasn't easy logistically, as we had to keep production running for JLR but PSC Flooring worked with us to get the resin floor installed at minimum disruption. We are delighted with the new resin floor"
Contact us today
If you would like to find out more information about industrial epoxy resin flooring, then head to our website today. Or, you can call 01562 540992 to speak to a member of our helpful and friendly team.
If you have found this blog helpful, you may wish to read our previous blog on Food Grade Flooring.