Expert Tooling have just completed a new £5m purpose built factory in Coventry – previously having 3 separate factories in the Coventry area which have been sold off in order to invest in building a state of the art new 5100 sq metre manufacturing facility where we recently lay a new high build epoxy resin floor.
PSC Flooring industrial flooring contractors has a long standing relationship with Expert Tooling, over 10 years, having completed projects within all their other factories, including one in the north east. 
Out to Impress with High Build Epoxy Resin Flooring
Looking to impress their many blue chip clients in the automotive sector including McClaren, Aston Martin, BMW and Jaguar Land Rover, the client specification for the new Coventry factory was:
Visually pleasing – Attractive

Easy to clean

Hard Wearing and Durable

Heavy use including forklift use

High traffic – 24/7 production area

Demarcation of the HGV loading bays
The 5100 sq mtrs consisted of newly laid power floated concrete floor that required a light shotblasting and 2 coats of epoxy resin damp proof membrane primer. The use of an Epoxy Resin Damp Proof Membrane (DPM) is essential to suppress and regulate the moisture content in the concrete floor before applying the epoxy resin screed.
The finished surface chosen was a Resdev Pumatect high build epoxy resin in light grey. Resdev's Pumatect high build epoxy resin is used in a wide range of environments including food preparation, warehousing, general manufacturing and laboratories. The flooring finish is tough and resistant, non-dusting and suitable for regular pedestrian and light duty fork lift truck traffic. Providing excellent long term wear and chemical resistance, the Resdev Pumatect product was the obvious choice.
Successful use of colour for demarcation
As well as the two coats of light grey Pumatect laid to the whole area, the HGV loading bays received additional demarcation in red. For health and safety reasons demarcation is required. Red was particularly chosen – Signalling danger, red demarcation is used to alert people or vehicles that they need to stop.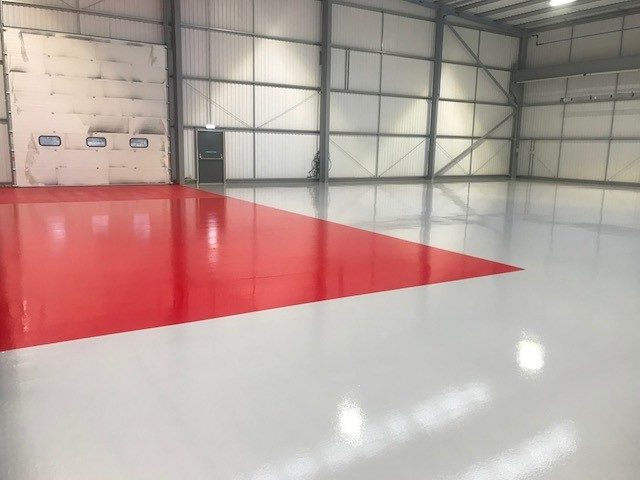 The project took just under 3 weeks and was delivered in time and on budget resulting in a tough impervious epoxy resin floor that has transformed the 5100 Sqm factory floor area making it attractive, hard wearing and easy to clean.
Craig Forester, Facilities Manager, said, "We are totally delighted with the new resin floor. It's completely transformed the new factory and looks amazing. PSC were very professional and easy to work with and very accommodating "
Call Us Today
If you would like to find out more about our epoxy resin flooring and the other floor coverings we can provide at PSC Flooring please take a look at our website www.protectivesurfacecoatings.co.uk or give us a call on 01562 702047 and we can book you in for a free site survey.
If you found this article helpful you may also like to read our previous post on industrial floor paint suppliers.