Whilst value for money is always high on the list, when a space has high traffic flow, then hard wearing flooring is defiantly top of the list, but does it have to mean hard work? Costly wear and tear on machinery such as forklifts and pump trucks can be significantly higher when using a damaged floor, but many companies are reticent to take the plunge and invest in epoxy resin coating systems for fear that it will be hard to maintain.
What constitutes high traffic flow?
When it came to a warehouse for a pharmaceutical manufacturer, in Nottingham the answer was constantly in use with forklift and pump truck traffic. The old floor showed signs of constant use and the existing concrete, was coated with an old floor paint that had become very worn and flaky.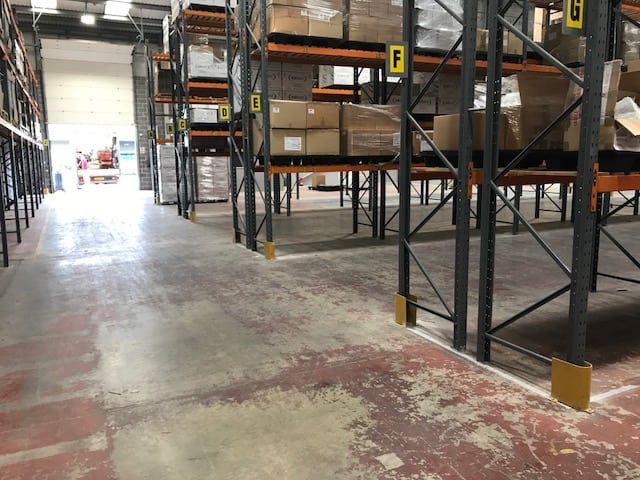 After being heavily shot-blasted, diamond ground, and fully vacuumed clean, the joints were repaired and two coats of Resdev Pumatect high build epoxy was laid in a soft grey. To improve health and safety a striking blue walkway was marked out and laid using two coats of Resdev Pumatect high build epoxy resin coating system in Chelsea Blue.
Two years on…
Called back two years later to look at quoting for additional warehousing space the company expanding into we had the chance to see how 2 years of hard work has affected the floor. These images show the floor 2 years after being laid and as you can see despite the constant use by forklifts and pump trucks the floor looks almost as good as the day it was laid.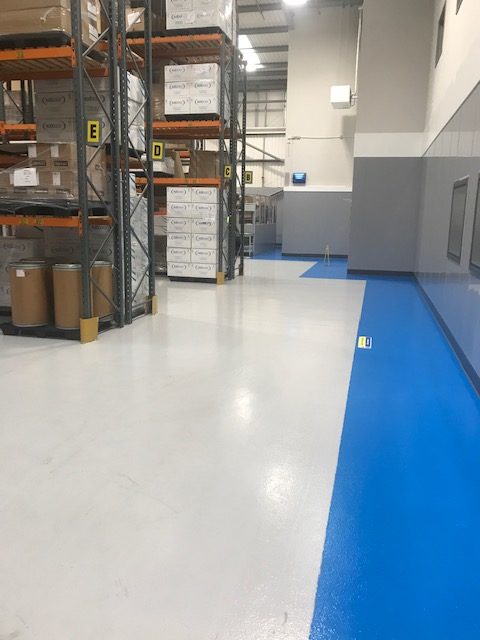 When speaking with the Technical Manager, Mr Andy Swain, he said, "We are extremely pleased with our epoxy resin floor, it has transformed our warehouse. As promised, it has proved to be not only hard wearing but also easy to clean and we are grateful to PSC Flooring, hence we are calling them back to do more work for us as we expand into new space"
Call us Today
Are you looking for industrial flooring contractors? If you would like to find out more about our hard wearing flooring options take a look at our range of industrial flooring or contact us today to book a free site survey on 01562 702047
If you enjoyed this post please read our previous blog on polyurethane coatings.