Food and drink manufacture is the number 1 biggest manufacturing industry in the UK with a consumer spend £230bn on food and drink each year. The Department of Trade & Industry reported that UK food and drink manufacturing is growing rapidly due to strong consumer demand. Therefore, food safe flooring is a must for the growing industry. The food and drink manufacturing sector includes a bakery, sugar confectionery, dairies, breweries including beer and cider production, wines, spirits and and whisky distilling, maltings, butchers, meat, poultry and fish processing, slaughterhouses / abattoirs, fruit and vegetable processing, food warehousing and distribution, restaurants, commercial kitchens and food manufacturers.
To give context, approximately 400,000 people already employed in the food and drink sector across 10,000 + businesses in the UK. As a result, Faced with investment in UK food production, choosing the right floor for a food production area is essential #foodgradeflooring

Hygienic & Seamless
Food production floors are subject to strict EHO guidelines and must be kept clean to prevent bacterial spread. As a result of endless washing down with water and chemicals, issues such as slip hazards and damage to the flooring substrate. When looking for an all-round solution polyurethane resin screed systems are ideal. Food grade/safe flooring offer a seamless finish. Polyurethane resin can be complemented by coving and render, to allow for a smooth transition from wall to floor that does not support bacteria and microbial growth.
Anti- Slip
Across all parts of the food industry the flooring needs to offer excellent slip resistance and be extremely hard wearing. Food grade flooring offers anti-slip safe  flooring that is still easy to clean.
Chemical Resistant
In food and drink production some ingredients are acidic by nature, and will, if unchecked, slowly corrode concrete. PSC recommend Polyurethane resin screed systems because they offer the best chemical protection. This flooring is designed to be impervious and withstand organic acids, which are very common with bakery and beer production.
Food Grade Flooring – The Obvious Choice For This Sector
Heavy-duty polyurethane screed, either 6mm or 9mm thick is the obvious choice for the UK food and drink manufacturing sector because it is:
Chemically resistant – designed to be impervious and withstand organic acids
Easily cleanable – can be steamed cleaned to 120 degrees at 9mm thick
Very hard wearing – can withstanding heavy loads
Hygienic & seamless – does not support bacteria and microbial growth
Can be laid to falls – to help drainage
Anti-slip in wet and dry working conditions
Four Anjels Ltd – 1354 sqm Food Grade Bakery Flooring
It is great to hear that a customer is doing so well that they are expanding into new premises. Having previously in the summer of 2020 completed 190 square meter food grade/safe flooring for Four Anjels Limited (an award-winning bakery based in the heart of the Cotswolds), it was great to hear they were expanding into new premises. The new factory in Bishops Cleeve, Cheltenham had a 1354 square metre new concrete production floor area. Consequently this area required food grade flooring – a mixture of nominal 6mm and 9mm Resdev RT polyurethane screed and coving to 381 linear metres.
In Preparation
Firstly, the job involved thoroughly cleaning and preparing the new concrete floor surface. The main area and edge work were cleaned by diamond grinding system. The area was vacuumed clean of all residues and dust. Saw cuts 10mm x 10mm were made to door thresholds, around drains and gullies and perimeter of floor area and where necessary to toe in and anchor screed.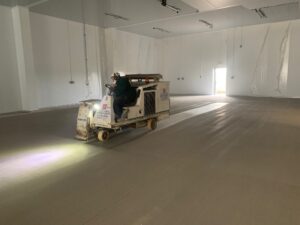 Secondly, we tackled the 537 linear metres of exposed day joints to new concrete that needed infilling. The joints were infilled with moisture tolerant high build epoxy resin.  Resdev Pumaprime DPM Damp Proof Membrane epoxy resin primer was applied with heavy scatter of 0.7 to 1.2mm quartz aggregate.
Next we laid a nominal 6mm heavy duty Resedv Pumadur RT polyurethane, textured, matt, to the 1295 square metres. A nominal 9mm heavy duty Resedv Pumadur RT polyurethane, textured, matt, to oven area totalling 59 square metres. Finally, once dry the existing expansion joints were recut, where necessary, knock out and infill with matching jointing compound.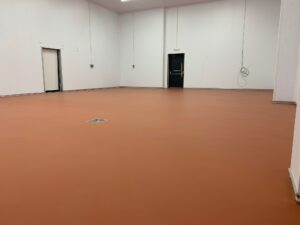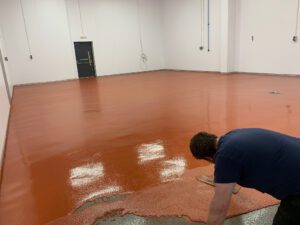 Mrs Julie Painting, Technical Director for Four Anjels Ltd commented: "We did not hesitate to call back PSC Flooring to look at our new premises in Bishops Cleeve, Cheltenham. The complete refurbishment involved a number of trades and the team at PSC have done a great job to work around the other trades. The overall result is exactly as we requested; we are very pleased."
If you would like to know more about food safe flooring jobs that PSC Flooring carry out either check out our case studies page or follow us on social media. Otherwise, please take a look at a previous blog: Food Grade Anti-Slip Flooring – the key to a safer working environment