Summary. Food processing factory flooring requires heavy-duty, hygienic solutions like the 6mm or 9mm polyurethane screed, ideal for diverse food sectors due to its durability, thermal protection, chemical resistance, and slip-resistant qualities. PSC Flooring specialises in such flooring for food factories, ensuring a safe, long-lasting, and seamless surface.
With the different types of flooring available it is very important to find the right one. In the food industry and food processing factories, the normal choice of floor is a heavy-duty polyurethane screed, either 6mm or 9mm thick. This type of flooring offers a range of advantages. But most importantly it has a food grade level of hygiene and safety.
Food Businesses that Benefit from Food Grade Flooring
Bakeries,
Confectioners,
Dairies,
Breweries Including Beer and Cider Production,
Wineries,
Spirits and Whisky Distilling,
Butchers & Meat,
Poultry and Fish Processing,
Slaughterhouses / Abattoirs,
Fruit and Vegetable Processing,
Food Warehousing and Distribution,
Restaurants,
Commercial Kitchens,
and Food Manufacturers.
Why Choose Food Grade Flooring?
There are many advantages of choosing Food Grade Flooring for your commercial food preparation and handling spaces. Additionally, heavy-duty polyurethane screed outperforms other domestic kitchen floor coverings. It offers much higher resistance to day-to-day wear and tear in a busy commercial spaces.
Furthermore, heavy duty polyurethane screeds also offers:
Excellent Thermal Protection
Polyurethane screed floors are very durable and offer excellent thermal protection. Therefore, the flooring is ideal for food factories where typically has higher temperatures from commercial ovens etc.
High Chemical Resistance
Some food ingredients are acidic by nature, and will, if unchecked, slowly corrode concrete. Polyurethane resin screed systems offer the best chemical protection. It is designed to be impervious and withstand organic acids, which are very common within Food production. Consequently, making the floor ideal in Food Factories, giving manufactures and distributors alike total confidence in the working environment.
Slip Resistant
Polyurethane resin screed flooring is perfect for wet production areas in the food processing factories. It offer excellent slip resistance when the floor is wet and is specifically laid to prevent falls. It also helps with drainage which in turn assists in companies meeting high health and safety standards.
Hygienic & Seamless
All food production floors must offer a Food Gravel level of hygiene safety. Hence, polyurethane resin screed systems is the ideal solution. Offering a seamless finish, polyurethane resin can be complemented by coving and render. Therefore, allows for a smooth transition from wall to floor that does not support bacteria and microbial growth.
Food Grade Flooring for a Cheese & Charcuterie Processing Facility
PSC have recently completed a Food Grade flooring installation for Ghinn & Co – specialists in complete build management solutions. We installed a 6mm RT Polyurethane resin screed system in a new 180 square metre cheese and charcuterie processing facility.
Client Brief and Recommendation
When invited to site for an initial visit it was noted that the 180 square metre concrete floor had been newly laid. Talking through the project with the representative from Ghinn & Co we were made aware that the client was looking for a food grade floor solution.
This solution needed to be seamless, hard wearing, impact resistant, chemical resistant, anti-slip and last 10 plus years. As resin specialists we recommended a nominal 6mm heavy duty RT polyurethane screed with 100mm high coving and a DPM primer.
Furthermore, we emphasised the need to thoroughly clean and prepare the new concrete floor beforehand. Then, we laid a DPM epoxy resin primer with a heavy scatter of 0.7 to 1.2mm quartz aggregate, recommended for its ability to address the potential residual moisture in the newly laid concrete. The quartz aggregate helps to gain traction when laying the RT Screed.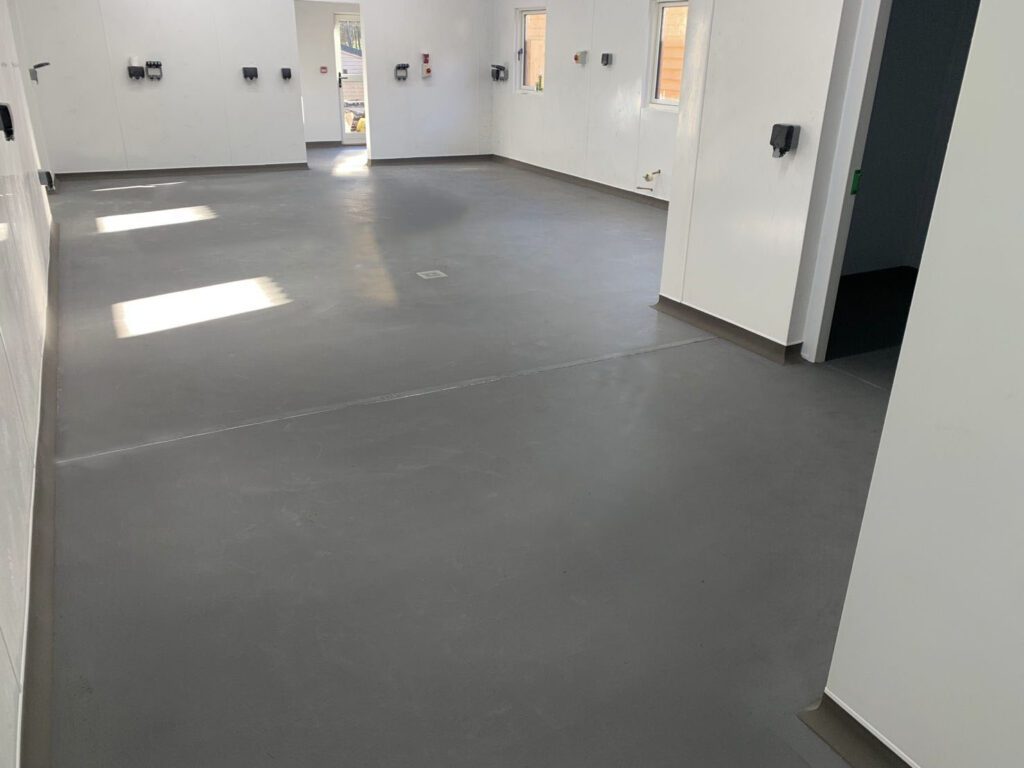 Preparation of Floor Surface
As part of the preparation process, the entire floor was ground back. This was done using a captive doubled headed diamond grinding floor preparation machine for the main area. As well as a handheld total enclosed 110v diamond grinding machine for all the edge work.
Once we vacuumed up the residual dust and residue from the grinding, we made 9mm x 6mm saw cuts to the floor area's perimeter, door thresholds, around drains and gullies, and wherever necessary to toe in and anchor the screed system. Then, we applied a DPM (damp proof membrane) epoxy resin primer and heavily scattered it with 0.7 to 1.2mm quartz aggregate.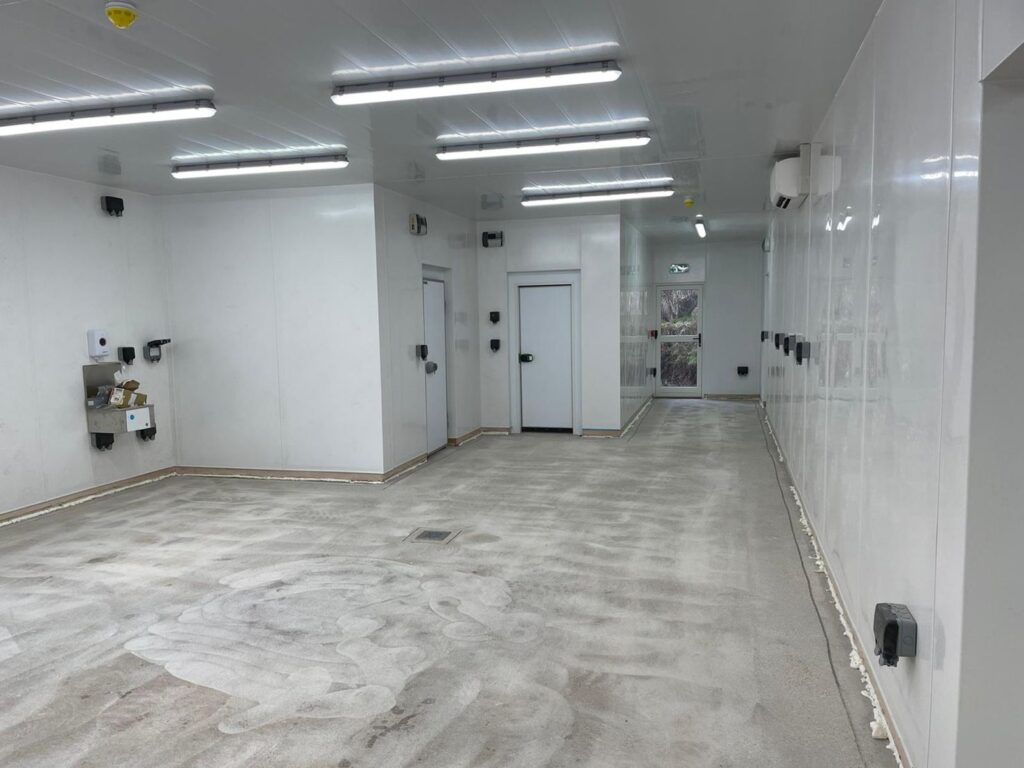 6mm RT Polyurethane Resin Screed System to 180 Square Metres
The client had chosen a textured, matt grey heavy duty RT polyurethane screed that was hand trowelled to a nominal 6mm on to the entire 180 square metre floor. Once the screed was dry, the team installed 160 linear metres of 100mm high CG polyurethane cove system around the perimeter of the room.
From start to finish the new 180 square metre food grade floor took just took just 5 days. Completed on time and within budget ready for the new cheese and charcuterie processing facility near Chichester to open shortly.
Ghinn & Co Ltd commented "The new food grade floor in Chichester looks great, the client is really pleased and so are we. We will not hesitate to call on PSC Flooring Ltd for our next resin project. "