Keeping the risk of food contamination low in the food industry is tough. Therefore, managing hygiene and safety procedures is a key priority. Food production facilities are required to comply with the food safety management system known as HACCP. It is set by the UK Environmental Health Department. Furthermore, the strict regulations govern every aspect of the storage, processing and preparation of food. In addition, applying to all aspects of the industrial or commercial environment of food facilities. One example of keeping within the food safety guidelines is floor coving, which is usually applied to FeRFA (Resin Flooring Association) 5-8 flooring.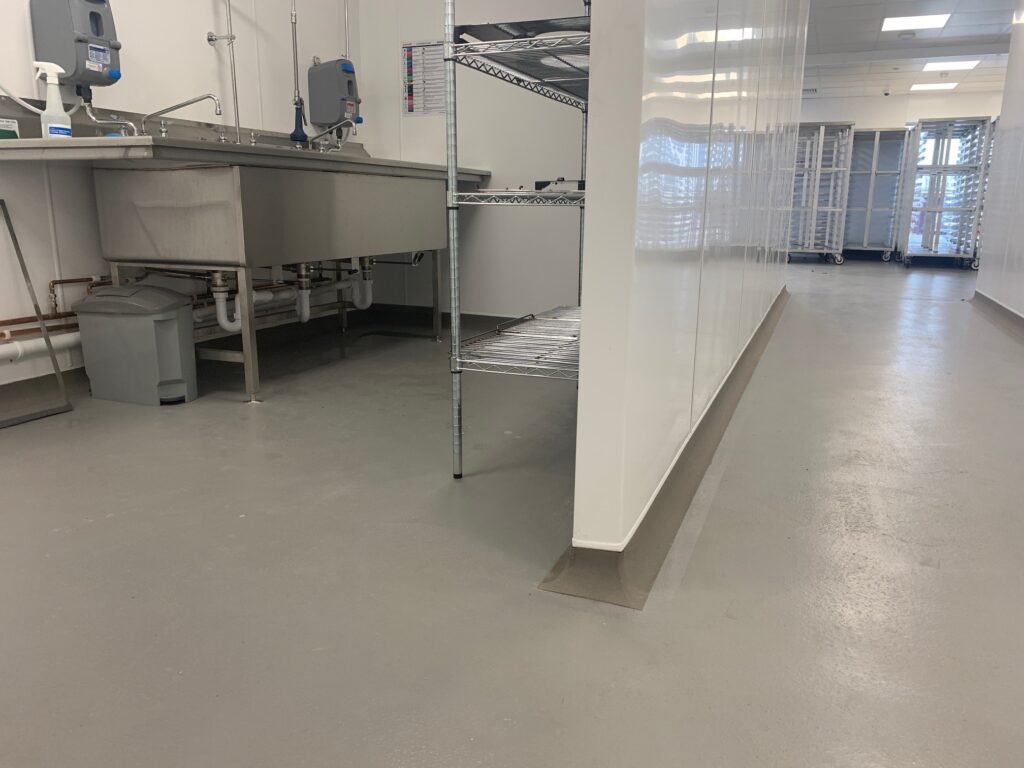 Food Grade Flooring Meeting The Standards 
The right flooring in these facilities is imperative to meet a rigorous list of criteria and standards. The addition of coving, allows the floor material to extend seamlessly up the walls. Therefore, leaving dirt, dust, and germs with no place to hide. Coving is recommended for food and beverage facilities to ensure a hygienic, food safety floor that meets every standard.
FeRFA Resin Flooring Association
Since you can clean them easily, coving is applied to floors with resin and polyurethane seal. In addition, coatings provides a seamless, impervious connection between the floor and the wall, or other vertical surface. FeRFA, represents major UK product manufacturers, specialist contractors and suppliers. As well as, service providers, all within the resin flooring, screed and surface preparation industries. Coving is mostly applied to FeRFA Types 5–8 flooring.
FeRFA Type 5 – Flow-applied flooring: Often referred to as 'self-smoothing' or 'self-levelling' flooring. It also has a smooth surface. This is Medium/Heavy Duty flooring has a typical thickness of 2 mm to 3 mm
FeRFA Type 6 – Resin screed flooring: Trowel-finished, heavily filled systems, generally incorporate a surface coating to minimise porosity and provide a wearing surface. This is Medium/Heavy Duty flooring has a typical thickness of less than 4 mm.
FeRFA Type 7 – Heavy duty flowable flooring: Has a smooth surface. This is Heavy/Very Heavy Duty flooring has a typical thickness of 4 mm to 6 mm
FeRFA Type 8 – Heavy duty Resin flooring: Trowel-finished, aggregate filled systems effectively impervious throughout their thickness.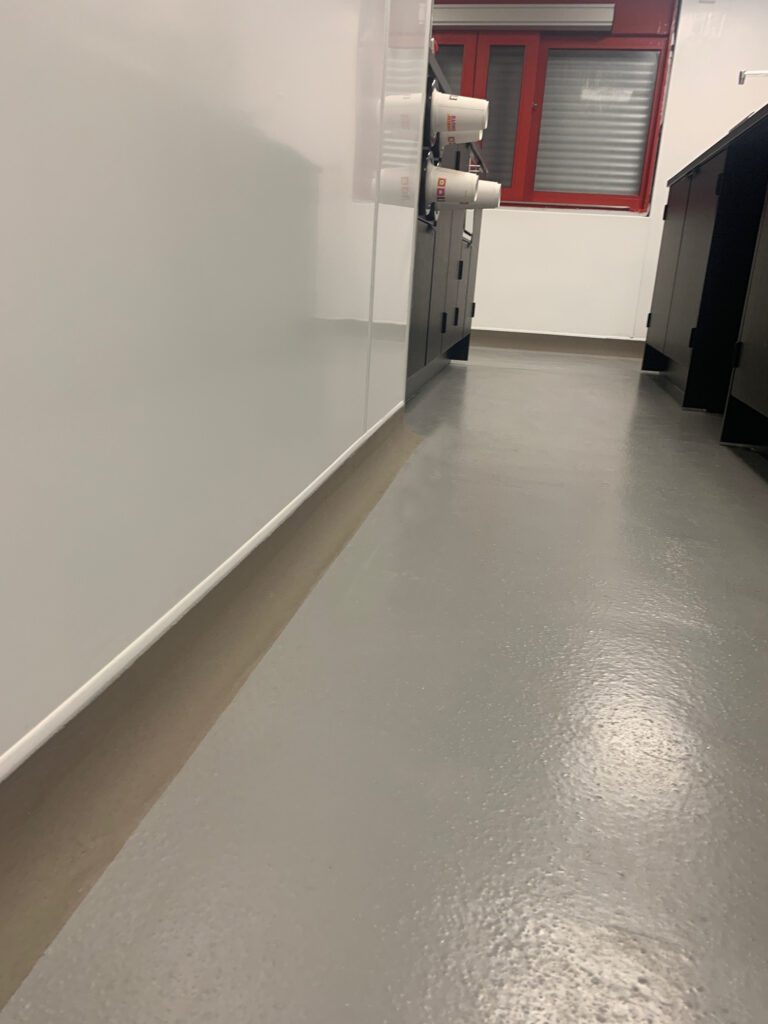 Seamless Coving – Food Grade Flooring
PSC Flooring were called in to refurbish the food production floor area at new Dunkin Donuts facility at Blackburn by QFM Group Ltd. They are a Multi-site and Multi-brand franchise business based in Sheffield.
The former KFC site had a floor area totalling 347 sq metres. It required a nominal 6mm Resdev RT polyurethane screed, with 100mm high polyurethane floor coving system to 244 linear metres for food safety.
Preparation
In preparation for laying the RT screed it was necessary to remove the extensive build-up of latex, adhesive, mortar and previous nominal 6mm of polyurethane screed. This was achieved using small 320 planers, scarifiers, PCD disk grinders and a doubled headed diamond grinding machine.

Repairing The Damages
It was necessary to make 10mm x 10mm saw cuts to door thresholds, around drains and gullies. As well as, perimeter the floor area in order to toe in and anchor the new screed. Additionally, where walls had been knocked out, and had damaged concrete, repairs were in need. They were made using polyurethane mortar compound and resin screed. The holes and damaged concrete in the former KFC section, were totalling circa 100 sq metres.

The Transformation
Furthermore,  6mm aluminium movement joints were fitted to all door entrances and where necessary. After that, a nominal 6mm heavy duty Resedv Pumadur RT polyurethane, textured, matt screed was laid to existing concrete contours and to 6 stair treads. Itwas laid in the clients chosen colour – mid grey. Subsequently, once cured, the existing expansion joints were recut, knocked out and infilled with matching jointing compound. Then, one coatof Resdev, Pumadur DD polyurethane seal coat, clear, silk was applied.
244 linear metres of 100mm high, 50mm radius Coving floor system was installed including to 7 upstands, circa 200mm high using Resdev Pumadur CG polyurethane coving system.
Mr Arjun Patel of QFM Group Ltd said "The floor and the coving look great; PSC have done an amazing job".